Washington DC Ever have to leave the bar because you need to take your dog out, just as things were starting to get interesting? It's the worst. Luckily, you don't have to choose between responsible pet ownership and a whole lot of cold beer any longer. We scoured the city for the best places to bring Fido (or in this case, a corgi named Megan). What we found was quite... wait for it... fetching!
Recommended Video
Mac & Cheese With Bell Pepper Bowls, Because Dishes Are the Worst
Art and Soul (info and address)
Capitol Hill
Sure, they'll set out a bed and water bowl at Art and Soul, but that's just the beginning. They also offer a pooch patio menu that has everything from non-alcoholic Bowser Beer to a Hungry Dawg 6oz grilled steak. This commitment to pleasing pups is a reflection of Chef Art Smith's love for dogs. Continue Reading
The Heights (info and address)
Columbia Heights
When you get home from work, leash up and head over to The Heights in the heart of CoHi. Then, grab a seat at the communal table on the patio so you can take advantage of one of the most generously long happy hours in the District (3-7pm Mon-Fri and 4-7pm Sat-Sun). You'll have a $6 craft cocktail in hand in no time, plus water and biscuits for your pup.


Cantina Marina (info and address)
SW Waterfront
Your perrito wants to watch you drink Micheladas, Corona-ritas, and margs on a patio overlooking the water, trust us. Just don't forget to break off a bite or two of your tacos. Lots of parking and a super dog-friendly attitude make this spot a top pick.
Rustik Tavern (info and address)
Bloomingdale
For a low-key outing, pop by Rustik Tavern for brunch, happy hour, or dinner in the budding Bloomingdale neighborhood. Patio seats with puppy privileges are pretty easy to come by, and the draft list is decent.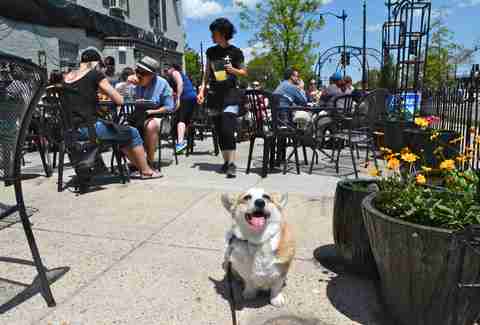 The Argonaut (info and address)
H Street NE
After some time off, The Argonaut is resurrecting their Argo-Mutts Yappy Hour. The partnership with Metro Mutts means dog treats, giveaways, drink specials, and half-price hush puppies for dog owners. The first Yappy Hour of 2014 kicked off March 14th. Give them a ring to find out future dates. You can also bring your pup to the popular H Street patio every Saturday from 12-5pm (otherwise it's off limits). 

Before you call PETA, know that no dogs drank beer in the making of this story.