5 Florida Bars That Could Only Exist in Florida
Florida is a uniquely weird and wonderful state. It has it all: South Beach, Disney World, the Everglades, The Holy Land Experience, manatees, radically engaged high school students making a difference in the country's political landscape, the Keys. So it only makes sense that this state of extremes is also home to some pretty weird and wonderful bars. Here are five incredibly Florida Florida bars.
Oviedo, Florida
There's no more quintessential Florida experience than having a chance encounter with an alligator. Set on Lake Jessup, Black Hammock Adventures offers airboat tours and a live gator exhibit, while the Black Hammock Restaurant houses baby gators in the dining room. The Lazy Gator Bar is the place to be, though. Grab a seat outside, order up some Cajun-fried gator bites and a Margarita, and get to gator spotting. Pro tip: Go on Sundays for a chance to see the alligator feedings.
Orlando, Florida
If you ever wished that it could be Christmas every day, then we're pleased to tell you, your wish finally came true—in Orlando. Frosty's Christmastime Lounge is decked (the halls) out with holiday memorabilia like oversized Christmas decorations, a giant nutcracker, a working choo-choo train, the iconic leg lamp from A Christmas Story and more. Oh, and did we mention it snows in the bar every so often? The cocktails are just as festive as the bar, with a full menu of craft, boozy snow cones and year-round winter beers.
Key West, Florida
There's only one thing you need to know about this Key West bar: It has turtle races. Every Monday, Wednesday and Friday at 7 p.m. "turtle master" Clark Whitt releases four box turtles onto the outdoor "track" where they scuttle their way to the finish line. Guests are invited to grab numbered tickets before the races start, and if their number matches the number taped to the shell of the winning turtle, the lucky ticket holders gets to pick a key and try their hand at opening the treasure box. If the key turns, there's a cash prize that can reach up to $500. There's also live music and great happy hour deals, but let's face it, you're there for the turtles.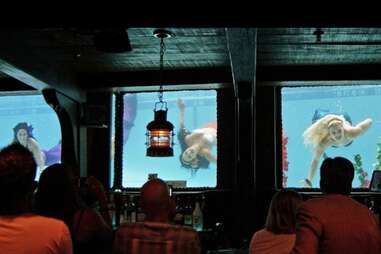 Fort Lauderdale, Florida
There are real, live mermaids at this hotel bar. MeduSirena and her squad of Aquaticats put on a show in the pool behind the bar. Watch through portholes as the mermaids swirl and twirl and make you question a human being's need for oxygen. Every Friday and Saturday there's a PG-rated show at 6:30 p.m., but the real draw is the 9:30 underwater burlesque extravaganza.
Port Orange, Florida
Only in Florida could having a serial killer as a customer be a good thing. On January 9, 1991 Florida police finally caught serial killer Aileen Wuornos while she was drinking at the aptly named The Last Resort Bar. Put to death for killing six men, Wuornos is now immortalized in the biker bar, which has become a major attraction for true crime enthusiasts. There are pictures of her decorating the walls along with newspaper clippings and an airbrushed painting of Wuornos with a list of her victims. There's also a tree hung with old motorcycles out in the back, if you need a break from talking about murder with the regulars.