Japan's 7 Craziest Theme Bars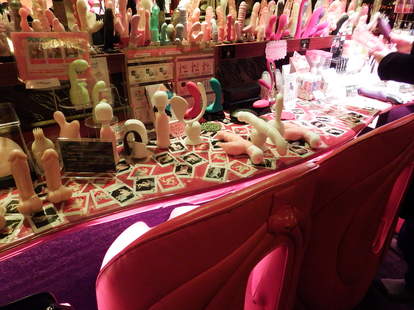 Japan is a wonderland for drinking—the extremely influential cocktail bars and the incredible whisky alone are worth the trip. But, because this is Japan, there are also a few more out-there drinking experiences that belong on your bucket list, such as sake baths, strange green drinks at Tokyo's Giants Stadium and even boozy Kit Kats. And then there are the themed bars. Like Tokyo's famous themed cafes, these bars go all-in on their subject of choice with costumes, crazy drinks and experiences you'll not soon forget. Here are a few of Japan's craziest themed bars you need to visit (or at least tell your friends about).
If you enjoy browsing through sex shops and wish you could sip a beverage while perusing the X-rated wares, then you should definitely stop into Vibe Bar (pictured above), a vibrator-filled watering hole in Tokyo's Shibuya neighborhood. Located above an actual sex shop, the bar is wall-to-wall vibrators and dildos (there are more than 350) in a wide variety of shapes and sizes. Even the door is phallic. You are allowed to touch the tools with a gloved hand, but guests are absolutely forbidden from putting them to use. Women and couples allowed, only.
Skip the cat and owl cafes and head straight to this bar where you can drink in the company of penguins until 4 a.m. Don't worry, the penguins aren't just waddling around the stools and tables. They are kept in an enclosure with a large pool, which is separated from the bar by glass, so you can watch them swim and shake their little penguin tails as you sip a Gin Rickey, Mojito or one of many other classic cocktails. Stop by the bar early for a chance to feed the birds.
The outline of a murdered body sets the tone when you walk into this Tokyo bar, which is staffed by actual detectives. During the day, they're on the streets, hunting down leads. But come nightfall, they're serving you specialty drinks like the creamy Tiramisu Cocktail. Guests can play the part of detective using surveillance gear or paying a premium for a fingerprinting set. Leave the bar with a mugshot and, if you pay a little more, a fake wound.
This Shinjuku, Tokyo, spot is the ultimate bar for nerds who are interested in science but even more interested in drinking. The shelves behind the bar are filled with glassware of all types—from flutes to graduated cylinders—and both bartenders and guests wear white lab coats. You can drink wine out of test tubes, beer out of beakers and sake heated in a flask over a Bunsen burner. If you head there for a solo drink, there's even a newt in an aquarium to keep you company.
For those of you who don't speak Japanese and didn't watch Pacific Rim, a kaiju is a "strange beast" or "monster" that usually spends its time destroying large cities or sparring with military helicopters. But in the case of this bar, the name of which translates to Monster Bar, kaijus are simply there to entertain as you sip down the bar's own shochu. Primarily themed after the monsters from Ultraman (a Japanese sci-fi television series), the bar features figurines, monster memorabilia and weaponry. There are two locations—one in Tokyo's Shimbashi district and the other in Kawasaki in Kanagawa.
If you're homesick for some honkytonk in Tokyo, head to Little Texas, an enthusiastically Texas-themed underground bar. Grab a frozen Margarita or a Texas Fizz and take in the many, many Lone Star State props, including cowboy boots, neon signs, flags and the bar's framed "Honorary Texan" certificates signed by Rick Perry. There's live music most nights, ranging from bluegrass to "new" country, and you can even take a line dancing lesson.
Enter this haunted ghost bar, if you dare. Located in a western suburb of Tokyo, the bar is staffed by "ghosts" who will regale you with tales of how they died as they stir up specialty cocktails. There are severed heads and hands, and the food menu includes dishes like cheesy eyeballs and sausages arranged to look like a cursed straw doll. But the real dish to get is the Russian roulette, which you play with skewers. Get a spicy one and you have to climb into a coffin and join the servers in the land of the dead. Bonus: The bathroom walls are covered in "flesh."