What to Mix with Fireball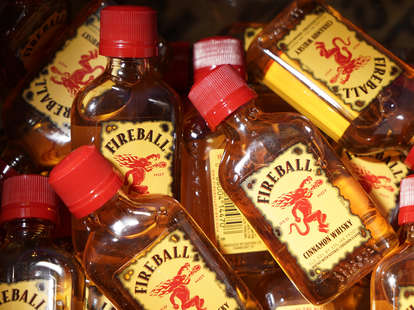 Portland Press Herald
Portland Press Herald
Now that you've finally grown up, it's time to stop taking Fireball shots. But if you're still holding on to your youth, you don't have to give it up altogether—you just have to find some more respectable ways to drink it. Add a jigger's worth of the hot stuff to a glass and top it off with one of these mixers, and you'll be well on your way.
Coke
Generally, whiskey and Coke are a good pair, and Fireball's heat doesn't change that. In fact, it blends well with Coke's familiar flavors (we can't prove it, but we bet there's a little cinnamon in Coke's secret recipe). Just because Pepsi messed up their spicy cola experiment doesn't mean you have to as well.
Hot Chocolate
People have been adding cinnamon to chocolate drinks probably as far back as the Aztecs. Fireball and hot cocoa takes advantage of that centuries-old tradition and adds a whiskey kick that's just the thing for a bleak winter's day.
Ginger Beer
Consider this an amped-up version of a Whiskey Ginger that takes full advantage of ginger beer's bold flavors and Fireball's heat. The two different spices will be duking it out in your mouth.
Coffee
There's never been anything wrong with adding a little whiskey to your coffee. And if that whiskey is Fireball, the result is a delightful cinnamon pop. If you're drinking it after dinner, toss a dollop of whipped cream on top and enjoy.
Apple Cider
If you're looking for an easy fall drink, look no further than a cinnamon whiskey apple cider. It's almost like a slice of apple pie in glass. If you really want to feel cozy, pour it in a mug and warm it up first.
We can't really claim that this is healthy, but it does taste good—like earthy baking spices. If you don't currently have any carrot juice in the fridge, this might be a reason to go out and buy some.
The drink of your college years meets the drink of your middle school years. When you put these two together, you end up with something that tastes mysteriously almost exactly like a box of Red Hots.