The Ultimate South African Gin Tour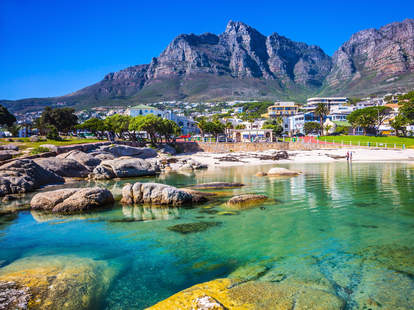 In the last three years, nearly 100 South African craft gins have popped up across South Africa. There's no longer any debate that gin is the spirit du jour, especially in Cape Town, where dozens of craft distilleries are creating interesting blends of indigenous local flora like fynbos (plants unique to the Cape Floral Kingdom), blood orange, African rosehip and even kelp from the Atlantic Ocean. But it's not just the botanicals that set these gins apart. Distilleries are even particular about their blending water—like Wilderer Distilleries, which uses natural spring water from the Franschhoek Mountains in order to bring down the gin to its final bottling strength. And, not content to simply make the G of a G&T, distilleries are making their own tonics that best complement their gins. The country is quickly becoming a gin lover's heaven.
While Cape Town produces the highest concentration of craft gins, it's not the only juniper hot spot in South Africa. Durban and Johannesburg are also main stops for distillery tastings and local gins served at hip bars. Can't make it to South Africa? Online retailers like Yuppie Chef and Cyber Cellar make it possible to access many great gins across the entire country. Can make it to South Africa? Great, here's what you need to know before you go.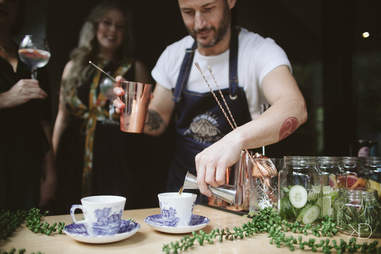 Kelly Daniels Photography
Cape Town
Starting at the bustling Cape Town harbor, take in views of the iconic Table Mountain from the outdoor lounge at the Shimmy Beach Club. The upscale venue launched an Afternoon High GnT experience that takes place each year in September. This event showcases not only international gin brands but many local brands that use native ingredients unique to South Africa such as the fynbos botanicals or rooibos (native red tea leaves) found in and around Table Mountain. 
 
There's nothing like getting up early for the South African sunrise and then having a gin tasting by midday. Located in Salt River—named after the river formed by the confluence of the Liesbeek and Black Rivers—the Hope on Hopkins distillery is set against a backdrop of palm trees and mountain ranges in the distance. Gins include the London Dry gin and Salt River gin (a contemporary gin made with wild rosemary and a flowering plant called buchu), and the married duo behind the label—Leigh Lisk and Lucy Beard—use 100-percent South African grown barley as the base for the spirits.
Inside The Twelve Apostles Hotel in Camps Bay, an affluent suburb of Cape Town, sample three gins—Inverroche Amber, Musgrave Pink, and Woodstock Inception Beer Base—in the Gin & Bare It Experience at the Gin Lab at the Conservatory Bar. The sundowner (the term for happy hour in South Africa) includes a tasting flight of three gins all individually paired with different tonic waters, a variety of botanicals and spices, and canapés designed by Chef Nicholas Goldschmidt.
 
To see a repurposed relic of Cape Town, head to the Willaston Bar at The Silo, which was built in the grain elevator portion of the historic grain silo complex six floors above Zeitz Museum of Contemporary Art Africa. The bar uses a selection of local gins for cocktails such as the Kalahari Safari (Cruxland Kalahari truffle-infused gin, homemade rooibos syrup and tonic water) and the Rose Ginvino (Musgrave Rose Gin, Chenin Blanc, lime, grapefruit, rose syrup and egg white).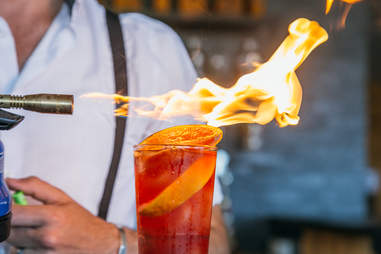 Distillery 031
Durban
Arriving in Durban, you are surrounded by the city's quirky and colorful art deco buildings that may remind you of a drive down Collins Avenue in South Beach. Durban is also known for its popular surfing spots, as well as recently being named Africa's first City of Literature by UNESCO in 2017. Gin has seen resurgence of late in Durban, with several pop-up bars opening throughout the city. For example, The Secret Gin Bar, which opened late 2017, has a selection of over 35 different local and international gins, offering a DIY G&T experience with a range of gins, mixers, garnishes (think black pepper, star anise or curry leaves) and bitters (such as rhubarb, peach or fennel). The Secret Gin Bar has been popping up at different locations since opening, and was recently at Mamma Luciana's restaurant and Distillery 031.
Distillery 031 is planted in the Station Drive Creative Precinct in Durban and is known for its D'Urban Dry Gin, made with a blend of 10 botanicals, including African rosehip. It has strong citrus notes and a distinctive but subtle juniper flavor. The other favorite, D'Urban Barrel Aged Gin, is aged in French oak barrels, which impart subtle spiciness and vanillins. On the Distillery 031 facility tour, you'll see the process behind distillation, and sniff the complex flavors and aromas of the different botanicals added to the gin. 
On Florida Road, Durban's dining and entertainment district, The Gin Gallery features a wide range of gins and gin-based cocktails with ingredients like lavender sugar syrup, freshly picked herbs and locally-sourced fruit.
Distillery 031
Johannesburg
The second largest city in Africa used to be one of the world's richest gold-bearing reefs, which were discovered under its sweeping savannah plains. Today, the discovery of craft gin in Johannesburg, or "Joburg" to locals, is in full effect. For an hour and a half, you can taste five gins at Time Anchor in Maboneng—the eastern side of the city's business district—which includes the distillery's Alchemy Trials and its experimentation range, like its Gincello and Sloe Gin. To top it off, you leave with a souvenir for the gin lover back home: 50 milliliters of gin that you bottle and label yourself.
When hunger pangs hit, head to The Countess restaurant and feast on dishes that range from fish burgers to rib eyes. And for libations, the venue has an impressive gin menu that features 22 local gins like the Cruxland African Truffle Infused Gin and Wilderer Fynbos.