Why Canada's Caesar Is Better Than a Bloody Mary
Michelle Lessard / Yeg Caesars
Michelle Lessard / Yeg Caesars
The Bloody Mary is great. Savory, spicy and topped with an entire buffet's worth of garnishes, it's a Sunday morning (or, for many of us, afternoon) tradition in America. It's the world's greatest brunch drink, many would say. But those people have never tried a Caesar, Canada's superior answer to the spiked tomato cocktail.
When you look at the Caesar's origin story, it seems unlikely that it would go on to become Canada's national drink. The accepted history is that restaurant manager Walter Chell, inspired by a dish of pasta with clams and tomato sauce, created the cocktail at the Calgary Inn in 1969. Usually, in my experience at least, gimmicky drinks inspired by comfort foods don't have much of a future. (When was the last time you saw a McNuggetini on a menu?) And yet, the clam juice-laced cocktail went on to become an intrinsic part of many Canadians' lives—it even has its own holiday every May. And it's not just like National Cherries Jubilee Day (September 24) here in the states—people actually celebrate it.
The Caesar is not, as you might have heard it called, the "Canadian version of a Bloody Mary." It is, in fact, the next step in the Bloody Mary's evolution. "It's the transition from the bachelor pad accident of, 'we only have vodka and tomato juice,' to, OK, let's make a nice drink,'" says Keith Corbett, bar manager at Vancouver's Score on Davie, which is known for its menu of extreme Caesars.
Like many Canadians, Corbett grew up surrounded by Caesars. "I come from a pretty traditional Canadian family that loves Canadian football and is into big family gatherings, and they like to celebrate when they get together, which often means having a number of drinks," he says. "The virgin Caesar, made without vodka, was introduced to me when I was fairly young, about 10 years old." But Corbett didn't catch Caesar fever until he was 21 years old. "I was on a patio in the summertime in the Okanagan on the lake and I had one, and then, subsequently, I had about 10 more after that," he says. "Since then, if it's a correctly made Caesar, I really don't think you can beat it."
Others who now worship at the altar of the Caesar (don't call it a Bloody Caesar, by the way, that's just its Americanized name) also grew up in Clamato-soaked households. "I remember my first Caesar," says Garreth Burrows, bartender at Tavern on Whyte, an Edmonton bar that recently won the title of Edmonton's Best Caesar with their Happy Birthday Canada 150 Caesar (it came garnished with a food from every province). "It was at my uncle's during holiday festivities. I remember being really surprised at the taste: spicy, smooth and just a little twinge of something I couldn't put my finger on. I didn't find out until later that there was actual clam juice in Clamato." For Michelle Lessard, who now runs Yeg Caesars, an Instagram/blog dedicated to finding and documenting the best Caesars in the Edmonton area (YEG is the airport code for Edmonton International), Caesars were part of everyday life, with family members drinking both spiked and virgin versions of the cocktail all the time. Now, she is passing her passion for Caesars onto her nephew, who accompanies her on her Caesar escapades, weighing in on the virgin offerings.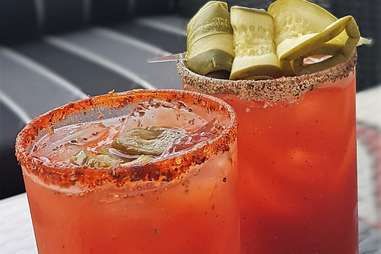 Bloody Marys may be huge in America, but they're not typically staples at family gatherings. And not many kids grow up gulping down glasses of virgin Bloody Mary mix. And even if they are part of a family's tradition, it's typically a brunchtime event. In Canada, the Caesar transcends time of day. "I have close friends who will have their two pints and then finish their night with a Caesar," says Corbett.
"Canadians are very passionate about things we invent (except basketball, you guys can have that) so we really stand by the Caesar, but it's also an amazing beverage. If it wasn't so good I think we'd sweep it under the rug," says Burrows. "It's a perfect representation of our culture in a whole; a bunch of ingredients from different places blending perfectly into a tasty mosaic cocktail. Basically Canada in a glass."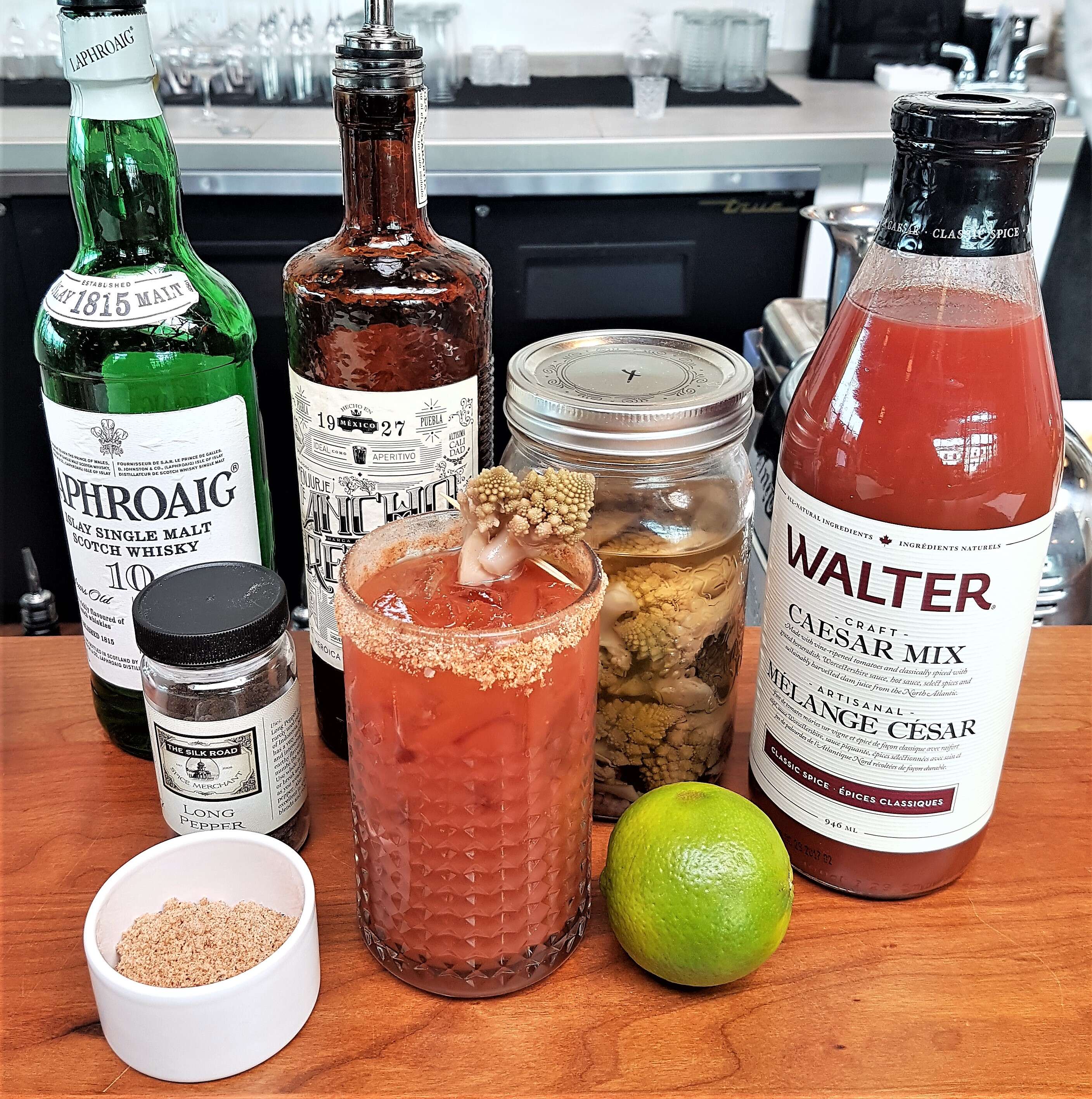 The classic Caesar is made with Clamato (Mott's is the traditional brand of choice, although there are some craft brands on the market now, like Walter Craft Caesar Mix, and some bartenders do make their own clam juice-spiked tomato juice from scratch), vodka, Tabasco, Worcestershire, a celery salt rim, a lime wedge and, perhaps, a celery stalk. The Clamato is truly what makes the cocktail. And it is more than just briny tomato juice. Not only does the Clamato's clam component add that sweet, oceanic quality to the cocktail, but Clamato is also milder and thinner than traditional tomato juice or Bloody Mary mix. "Tomato juice cuts out other flavors instead of facilitating them," says Burrows. "There's a reason you pour it on your dog when it gets sprayed by a skunk." Clamato, on the other hand, allows for nuanced flavors to come out. When you drink a classic Caesar, you aren't drinking cold, spiked tomato soup ("Bloody Marys are basically a meal," says Lessard), you are drinking a savory cocktail.
And before you say anything about any Caesars you've had in the states, know this: The Mott's Clamato we get here is not the Mott's Clamato used in Canada. "Canadian Clamato has a bit of a sharper taste," says Burrows. Think of it in terms of ketchup brands: If you grew up dipping your fries in Heinz, remember the first time you ever tried Hunt's and thought, "No, this isn't what ketchup tastes like. It's like that."
Of course, the Caesar, like the Bloody Mary, is not without its variations. Lessard has experienced many of them, including versions made with Sriracha-flavored vodka, gin, tequila, or even scotch with a little bit of red wine. She's had them made with pickle juice or pickled bean juice or pickled garlic juice. There's a Caesar to fit everyone's taste. "You can get a spicy Caesar or a refreshing one," she says. "You can make it in so many different ways." And, yes, thanks to the over-the-top Bloodies taking over Instagram down here in the states, Caesars are getting the extreme garnish treatment. "If you travel across this country you'll find everything from a slice of lemon to a full roast chicken on your Caesar. It's basically edible Canadian art at this point," Burrows says.
Score on Davie was one of the first bars to popularize the overloaded Caesar. After serving a Caesar topped with a grilled cheese, the bar was challenged to match some of the wilder Bloodies being served in the U.S. And match them they did, with the extremely garnished Checkmate (which sells for $60 and is meant to be shared). But here's where the Caesar (and Canada's treatment of the Caesar) truly is set apart from the Bloody Mary: The bar didn't just throw a four-course meal on top of the drink and call it a day; they thought about it and considered every element. "We realized we should think about the culinary elements," Corbett says. "Let's make sure we have a really nicely cooked roasted chicken in there. And we need a good burger and slider. And we have some of the best chicken wings in town—let's get those on there. We'll have onion rings for sure. And then what's better than pulled pork mac and cheese on a hot dog? And then, if you're going to put a full meal on a drink, you have to have a dessert element, so get the brownie in there." They considered the aesthetic and "Instagrammability," of course, but also the physical balance of the cocktail's massive amount of garnishes and the balance of flavors.
Balance is a common theme with the Caesar, whether it's going beyond the basic salt rim to use celery salt, which better compliments the brine in the Clamato, or taking into account the pure drinkability of the cocktail, or adding in a brownie garnish because you can't have a meal on a drink without dessert. As crazy as the Caesar may get, it will never be only about the garnish, as the Bloody has become, because it will, at its heart, always be a balanced cocktail. "The top is just a bonus," says Lessard. It will always be about the drink underneath and that drink is, undeniably, better than a Bloody.