Why You'll Never Find Me in a Bar on New Year's Eve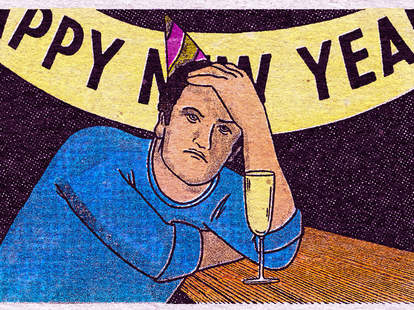 For many, New Year's Eve is the event of the year. It's a night to get dressed to the nines and hit the town. It's a night to see and be seen. It's a night to down glass after glass of sub-par sparkling wine and "woo-hoo" your lungs out while laser-lit confetti rains down on you. For me, though, it's a night spent avoiding bars.
I've tried it. I've done the Big Night Out. I've gotten dolled up and brushed my eyes with glitter and paid a cover charge and counted down to midnight in a packed bar while music bumped and my closest 200 friends hollered, "Happy New Year!" All the while, I was thinking how nice it would have been to have spent the night with a select few friends, cozied up in an apartment with some good drinks and "Pitbull's New Year's Revolution" on the television.
It's not just my mildly antisocial tendencies that keep me away from bars on NYE. I will happily go to a bar on any other day of the year—in fact, thanks to my job, I often do. But, sorry bars, on the eve of the new year, you're never where I'll be for these five reasons:
It's Crowded
A crowded bar on a Friday or a Saturday night is one thing, but a crowded bar on New Year's Eve is an entirely different beast. This isn't simply an at-capacity bar, this is bar filled with rabid, Champagne-filled beasts. This crowd is more akin to a riot than it is a group of weekend bargoers.
You Have to Fight for Drinks
Notice, I didn't say you have to wait for drinks. I'm prepared to wait to place an order. I am not, however, prepared to channel some sort of Mad Max-esque mutant warrior and barrel my way to the bar, leaving behind me a wake of sequins and blood. But that's precisely what you have to do if you want to get a drink at a bar on NYE.
It's Loud
I know I sound old, but seriously, 22-year-olds, you can't actually enjoy this level of noise. You're in denial if you say you do. I'd be happier standing next to a speaker at a Norwegian death metal concert—and when I woke up my ears would be ringing less.
It's Amateur Night
Being an experienced bargoer out at a bar on New Year's Eve is like being a lifeguard at a public pool during a heatwave. Looking around, all you see are people who do not know how to handle themselves—spilling Martinis, chugging Gin & Tonics, swinging their arms perilously close to trays of Champagne flutes. They are all liabilities and any experienced drinker nearby is in charge of looking after them, which is no way to celebrate.
You're Trapped There
On any other night, you have the choice to freely bar hop your way through town like a bunny rabbit through a field of wildflowers. But on New Year's Eve you are held captive. Once you pay your cover and elbow your way into a bar, you're stuck there long after Mr. Worldwide has rung in the New Year. And you probably still don't have a drink.