Turkish small plates, reconfigured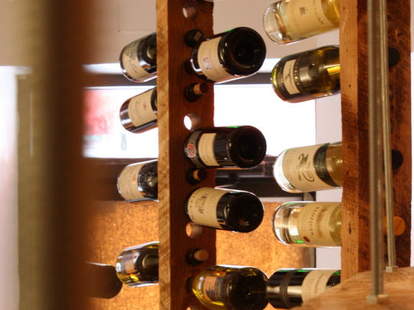 Anagrams can cleverly shield identities, as "Hamlet" did with the Danish prince "Amleth", and "Mij"...no, make that "Mji" does for your friend with crabs, Jim. Damn it! For a less purposeful, far tastier anagram, hit Ezme.
Opening late this week and rustically appointed with an L-shaped marble bar and brick walls lined with unfinished, reclaimed-wood bottle racks, Ezme's a new offering from the Turks behind AdMo's...Meze; while the latter translates as "small plates", the former admittedly translates as "quit worrying about the name and order something why don't you". Serving lunch and dinner, their 40+ inventive dishes are divided into somewhat poetically licensed sections like "Garden" (veggie lentil cakes called Mercimek Kofte, the feta-filled pastry Sigara Boregi); "Air" (the chicken meatball Tavuk Kofte); "Sea" (white wine Mussels, seasoned shrimp Karides Kebap); and "Land", with Karni Yarik (beef/lamb-stuffed eggplant) and Arnavut Cigerie, a pan-fried calf's liver so spicy, you'll...cry yourself a liver. For thirsty Otto-men, they've got 20+ internationally sourced wines, some stored on the racks, some cooled in a large, glass-doored fridge, and the nicest kept in a nitrogen-injected dispenser that keeps opened bottles fresh for days, thereby making nitrogen nobler than Argon.
They're also offering 3-sampler tasting menus, as well as $15 flights, for those whose indecision might be Hamlet-like, but like "Jmi", definitely know they want to get knudr.