A cavernous Dupont lair cures the common club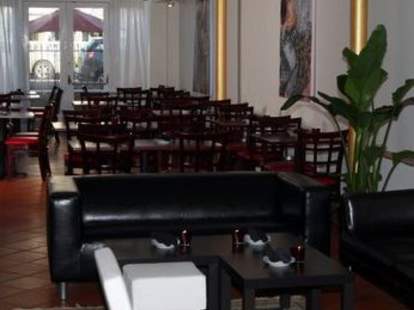 If hanging at the bar is the glue that keeps friends from spiraling off into their professional orbits, it only makes sense that owning a bar together would make for even stronger glue, unless of course somebody reveals a hilariously ironic drinking problem, impregnates a waitress, and burns the place down for insurance money/the f'd up love of watching it all go. Hoping none of that happens, the friends behind One Lounge.
Just opened by drinking buddies professionally engaged in four different fields (finance, government, real estate...bars), One is a red-tiled booze cavern split between a main tippling area dominated by a mahogany/granite bar, and a large dining room boasting a greenhouse-like glass ceiling (too much time spent there will prematurely halt your career advancement). To help you make your own friends, they've got nearly 30 wines, a host of esoteric beers (La Fin Du Monde's Triple Fermentation Golden Ale; Skull Splitter's Classic Scottish Ale), and 10 specialty chick-tails like the Kahlua/Baileys/Van Gogh Espresso "Espresso Martini", the vodka/Red Bull/ginger ale "Moscow Star", and the Malibu/Baileys/grenadine/triple sec/lime "Sex with the Bartender" -- a drink he'll recommend to everyone but you, and yes, it is because of your eyebrow. Casual noshing comes in the form of "medium plates" from a Chaine des Rotisseurs-approved chef (it's some sort of French thing), including the prosciutto/mushroom duxelle "Chicken Cordon Swiss", baby lamb chops w/ a rosemary-Cabernet reduction, spicy tomato/half-shelled "Mussel Bruschetta", and "Mezze Scallops" with an "infused Caper oil drizzle", relieving Snoop Dogg of the burden of reading you the menu.
So you don't have to sprint over, happy hour lasts until 7:30, with all drinks nearly half price, a deal that makes the revealing of your problem not particularly ironic at all.