Nationless 'nadas in Dupont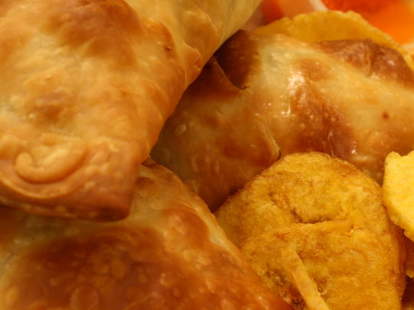 Once every so often, a multi-national spectacle brings the whole earth together and reminds us of all that humans can accomplish: The World Cup delicious empanadas! Giving you that world of flavor, Panas.
Soft-opening today at 11am, Panas is a garden-level 'nada nook serving up bite-sized blasts of flaky goodness, eschewing traditional ethnic recipes to mix n' match from all over the globe; the space itself is lined with bright orange walls partially wrapped in field turf, and's helmed by an Argentinian transplant who probably figured using real grass would just be too Messi. The menu lets you cobble together your own piecemeal...meal...with well-stuffed ~$2 morsels like the TexMex-y "Carne" (beef/green olives/Spanish peppers), the Argentinian-inspired "Chicken Melodia" (thigh meat & mushrooms prepped in a sauvignon blanc sauce), the Italian "Pepe" (with tomatoes/pepperoni/mozzarella), and the Afro-Brazilian styled, coconut-milk-cooked "Samba Shrimp", also Messi's nickname when he plays indoors. Vegginess comes via a peppers/mushroom Smoked Eggplant joint, and the French-inspired spinach/onions/goat cheese "Popeye", plus a host of similarly global salads, like the mango/carrot "Jicama" and the mushrooms/spinach/dried cranberries "Quinoa", built around a gluten-free, high-protein grain originally farmed by the Incas, who were well-documented as having the most "shredded" human sacrifices.
To bring the empanada emporium to you, they'll also have multiple scooters running delivery all day, meaning you can feast without missing one minute of the spectacle that's currently driving the world crazy: relentless vuvuzeling.