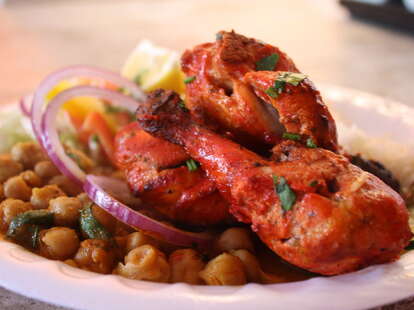 No matter what you're selling, it's good to hedge your bets with a can't-miss crowd pleaser, a truism that's allowed Heather Locklear to carve out a career as America's preeminent "Special Guest Star" (sorry, "and James Eckhouse"). Bringing you South Asian with a hearty hedge of pizza, Sacrificial Lamb.
A biblically named, ceramic-tiled take-out/eat-in nook, Lamb's mainstays are its authentic Indian, Pakistani, and Afghan specialties; however, they'll also be serving pizza, which the owner, in a rare example of business honesty, admits "really isn't our specialty", but feels it'll nonetheless be a godsend to anyone wandering Dupont's 17th Street strip with acute crust-lust. The S'Asian starts with a rotating selection of regional dishes like tandoori chicken, chicken curry, and green pepper/onion chicken jalfrezi, which're augmented by naan wraps, chicken skewers (bone-in or boneless fat-free breasts) and a stalwart kabob menu including lamb, steak tenderloin, and the charbroiled ground-beef "Seekh Kabob" -- though if you're eating it, you've obviously already found it. Meanwhile the pies are of the standby variety, from marinated chicken to the mushroom/green peppers/olives "Vegetable Delight", a name that could cause the restaurant to be sued for copyright infringement by every Chinese restaurant in the country.
Pulling it all together is the charbroiled beef or lamb "Seekh Kabob Pizza", which should have both Subcontinentalists and Sbarr-ontinentalists stuffing their Melrose face.