Custom guitars that feel right at home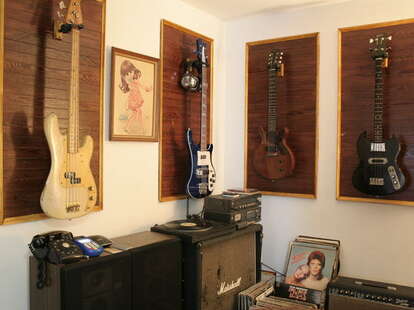 It's been said that a guitar can tell you its life story with the wear and tear its body picks up along the years, but sooner or later, you're probably going to want it to just shut up and play some music. For six stringers that look the part but won't bore you with tales from the good ol' days, drop by Cobra Guitars.
From a musician who started working in local shops right after high school in order to familiarize himself with as many guitar styles/construction techniques as possible, Cobra scratch-builds axes already imbued with the kind of "personality" it usually takes decades for a guitar to pick up, kind of like getting a broken-in baseball mitt, only Casey Affleck won't make love to it. Probably. The unassuming shop sits up front, with previous works showcased on the walls and a couch bookended by Marshall stacks and a turntable/crates of vinyl, while the back's an all-business work studio with a bench covered in myriad tools & parts and from-scratch geets in various states of assemblage, all creating what the owner calls his "fantasy house", though there won't be any talking slut chair or cowboy-Morpheus. Crafted exclusively from meticulously-sourced Canadian wood and hand-aged to "look, feel, and play perfect", some recently-wrapped playable art include a large, Gibson-esque hollow body w/ custom pickups, a trapeze tailpiece, and a control panel in the back; a Les Paul Junior-ish mahogany joint with a wrap-around bridge, inspired by the TV Yellow joint Johnny Thunder used to sling; and a semi-hollow Telecaster-type piece with a cut bridge and specially designed F-hole, which clearly overestimates how much you care what one looks like.
Cobra'll also repair your current six string, and even build a custom axe entirely to your specifications, allowing you to pick everything from the color, to the shape, to the kind of wood used; just don't pick pine, cause that's the last thing you want your guitar doing.