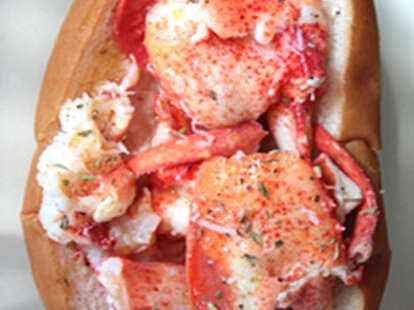 They say you can't go home again, but they didn't say anything about sneaking back in town, stealing everything but that creepy guy from high school who now works at the movie theater, and recreating home right in your new backyard. Doing just that, Luke's Lobster, planning to open Thursday
From a Cape Elizabeth, Maine-born first-time restaurateur, Luke's is a next-level ode to all things Pine Tree State, with fresh ingredients shipped down daily, to be served up in a shack-style room adorned with buoys and fishing nets pulled from ME docks, as well as a 3D beach mural featuring and framed by the state's driftwood, and created by a grad from Bowdoin -- known throughout the Northeast as also producing driftwood. Leveraging connections from his family's Portland seafood processing plant, the best of the morning catch from Millbridge to Casco Bay arrives hand-packed with its origin harbor scrawled on the lid; much of the haul's stuffed into rolls, from huge hunks of expertly shelled lobster lightly seasoned w/ oregano, thyme, & celery salt (mayo's only on the bun), to maximally juicy shrimp, to succulent Jonah crab, a species caught by the Jonas's less virtuous cousins. In addition to chowders and bisques, Luke's is also planning to phase in piping hot oceanic goodness like "snap'n'eat" Jonah crab claws scored in three places for easy breaking; split lobster tails; and lobster knuckles -- tender, sweet, and thus totally ineffective for delivering cheap shots to larger bullies.
To be thematically thorough, beverages get the same treatment, i.e., organic glass-bottle sodas from Maine Root, and, by spring, a horde of ME-sourced beer -- the very elixir that ensures when you go home, you won't be welcome.