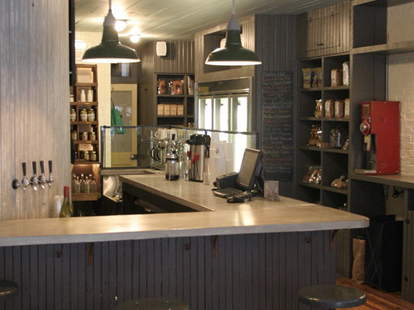 For Manhattan dwellers, country stores tend to exist only in the dreamscapes of distant pastoral lands, like that ill Cracker Barrel off I-95 in Connecticut. Bringing the idyllic marketstaurant to Alphabet City, Northern Spy Food Co.
From San Fran buddies with serious collective food cred (A16, Jardiniere, Myth, Masa's...), NSFC's creating the sort of unpretentious American vittles they say pro chefs cook for friends at home, using small-batch local ingredients they're also selling individually in a modern-rustic space with Cape-style weathered wooden walls, tables/butcher counters made from bowling lanes, a marble bar/takeaway counter, and pantry goods lined up in an old chicken coop, for anyone who gives a cluck. The weekly rotating menu's opening with soups (radish greens w/ Yukons & pecorino; navy bean w/ Swiss chard & celery root), salads (escarole w/ poached egg/country ham/mustard dressing), and sandwiches from country ham with dairyere cheese & pickled onion, to chimichurri'd egg & crispy chicken thigh, making the question of which came first deliciously moot. Meanwhile, plates feature sustainable, healthy proteins like Long Island squid, poached egg on Wild Hive polenta, and roasted Bobo Farms chicken (available whole to-go), plus braises of value-conscious cuts, i.e., Elihu lamb shank w/ roasted green onions; sides range from red quinoa w/ radish, to garlic-roasted delicata squash, to caramelized leeks w/ pecorino & lemon, and can be ordered in trio, just like expiring celebrities.
If you're the cooking type, the stocked pantry reps the likes of Mother-in-Law's Kimchi from the LES, Remsburger Maple Farms syrups and honey from Clinton Corners, Blue Point beer-abetted mustard from LI's Miss Amy's, pickles from Brooklyn Brine, and many others previously only available at the Brooklyn Flea, though if you're gonna go that far, c'mon man, Cracker Barrel!