Organic restaurant runs wild over Eastlake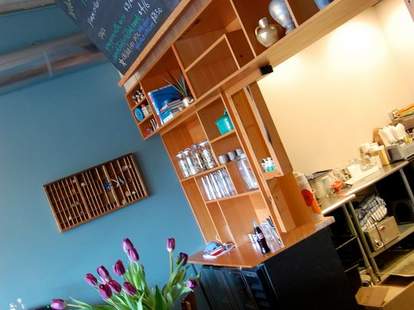 Some things just seem meant to go wild, as evidenced by cats, girls, and Americas (thanks Marty Stouffer!). For a restaurant doing the same thing sans immaculate beard, hit Nettletown.
The first spot from a woman who spent years running a wild food company, this super-healthy mostly foraged/organic food resto's renovated the tiny space formerly home to Sitka & Spruce w/ minimalist seating and sky blue paint job art'd with wild flowers that proclaims "I like you", but in printed words and not vivid hallucinations. Net'll start serving dinner next month, but for now there's daytime grub including sandwiches like lemongrass elk meatballs on Le Fournil French bread, and celery/scallions/jicama creamy organic chicken salad, plus mains like egg noodles on a bed of greens w/ roast pork, seasoned wild mushrooms, & a tea egg, Knoepfli (Swiss egg noodle dumplings), and crab or fish cakes w/ lemon aioli & seaweed, too much'll put you right to (sea) bed. Sides include rotating daily green salads, miso soup, marbled tea eggs, & rice w/ salty toasted seeds & sesame oil; on weekends there's brunch goodness in the form of rice porridge w/ rotating toppings, eggs w/ chunky onion potato cakes, and Sweet Grain Waffles covered in ginger butter, and huckleberry sauce, which, at least in the mornings, is preferable to Sawyer sauce.
Imbibeables include rotating sake & NW wine/beer selections, and when dinner starts there'll be raw bar style seafood dishes & other heavier offerings, many of which can be previewed Mar 29th at a spring foraging dinner prepped w/ the help of the chef from 'Spruce -- bear in mind, things of this elk are otterly-delicious. Wild America!