Ridic cheese sandwiches in South Park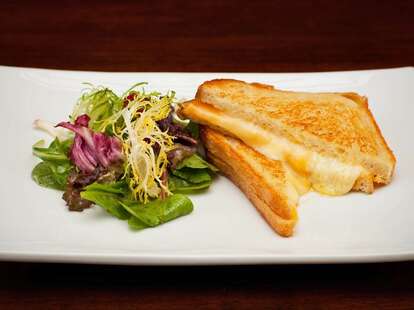 Part of growing up is figuring out methods to satisfy childhood urges in adult ways, e.g., buying cars kills the urge to play with matchboxes, and having sex kills the urge to sit on the sprinkler, even if it's only for like a half hour or so. Now, when a big boy wants a grilled cheese, he hits The American Grilled Cheese Kitchen.
From the seven-time winner of the Grilled Cheese Invitational and her biz-savvy BF, TAGCK's a triumphant homage to the food-diction you never quite kicked, set up in a SOMA space that rocks a big, heat-lamped patio and a nostalgic 50s aesthetic born out by milk bottle light fixtures and a multi-media mural comprised of nostalgic renderings of stuff the couple's friends "think about when they think grilled cheese", e.g., old postcards, cuckoo clocks, the father who loved you more with his belt than his heart toys. For the most part, the (very affordable) sandos're made in accordance with the rules dictated by the GCI (content must be 60%+ cheese, cheese must be melted, etc.), and cooked on a super hot skillet inside a convection oven for less than 2 mins, giving you enough time to do as many pushups as you can, and still have an anxious 90 seconds of waiting. Seven opening offerings include the Mousetrap (havarti/jack/sharp cheddar on buttered sourdough), the Mushroom Gruyere (sauteed shrooms, shredded Gruyere, caramelized onions, thyme butter), and the Reubenesque -- a swiss n' pastrami number piled high with sauerkraut, onions, and bread n' butter pickles made by a local producer called "Lusty B", (NOTE: The Lusty Lady is still where they'll bother with your pickle)
Because they're geniuses, TAGCK's also engineered a smoked tomato soup that's based on Campbell's but isn't bad for you, and're pourin' a handful of craft beers (Firestone, Shmaltz brew, etc.), and delicious house-made sodas in flavors like spicy pomegranate, and orange-cardamom, which is a good trick when there are no sprinklers around and you're down for some MILF.