Pretty much every café in Amsterdam now sells a burger, but (blasphemy warning) that's not necessarily a good thing. There are a lot of misses among the beef pucks, but luckily there are more and more meateries getting it right every year, so here are 13 of the city's rock-solid hits.
Recommended Video
This Restaurant Offers 50+ Garlic-Infused Dishes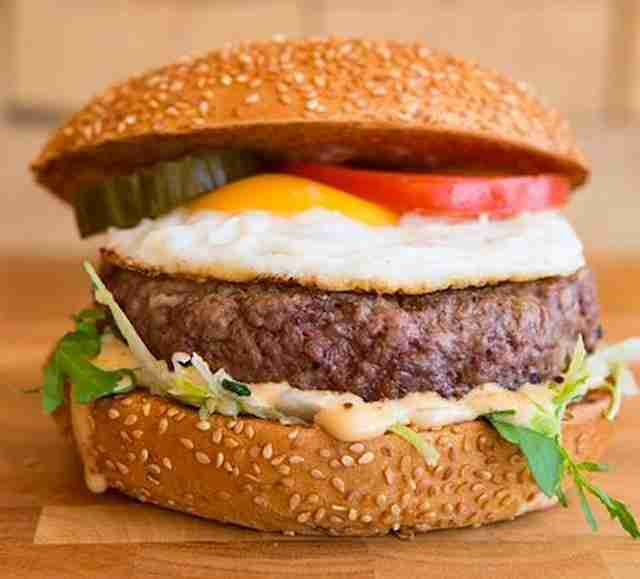 Various locations
Ask an Amsterdammer where you can get a good beefwich after 2am (no, McD's doesn't qualify), and they'll probably send you to one of this homegrown chain's three Amsterdam locations. Even while the sun's still up, about half of the town would name this the city's best burger. The seating is limited, and the line is long, but the perfectly double-cooked fries with your choice of 11 dips make the wait bearable.
What you're getting: This place is choose-your-own-adventure, but a Wagyu patty is pretty good...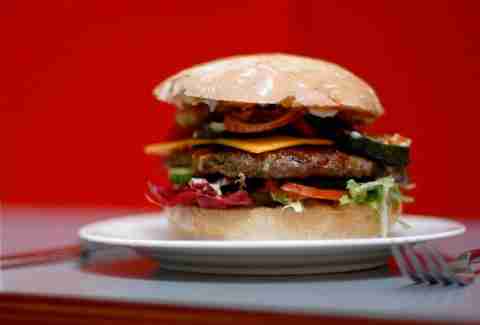 Jordan (& Other Locations)
We're not sending you to the mayor of Burger Town (get a local to explain the punny name to you) for the beef burgers – they do have them, but you're better off staying at Burger Bar for that. Nope, you're coming here for the changing menu of burgers made from pretty much every delicious savory thing you can imagine BUT beef: lamb, chorizo, tuna, pumpkin, goat's cheese, quinoa, etc. (Sample several with the mini trio.) Don't like the current menu? Next month there'll be another new burger.
What you're getting: If you've never had a lamb burger, you're missing out.
Spiegelkwartier
Although signs in the shop boast it's got the "Best Burgers in Amsterdam", this place (open four years now) is still kinda undercover. Its website (in Dutch) barely mentions burgers. Once you get there, though, it's clear why there's a line: it backs up its claim of best-ness with perfectly medium-cooked mounds of meat served under a choice of toppings like kimchi, eggs, or bacon, all on a flavorfully crunchy bun. So, is it the best? Relationships have ended over lesser discussions.
What you're getting: The Wagyu burger has to be the winner here.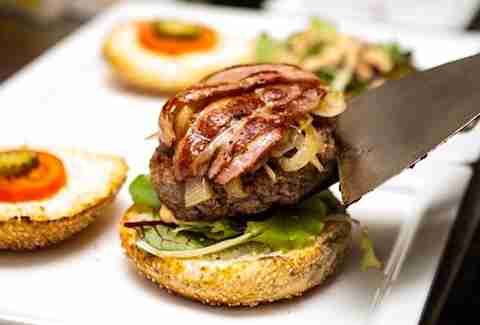 Red Light District
Time for a quick Dutch lesson: "burger" means citizen. And "zaken" means cases. So, if you've spent any time at the gemeentehuis (town hall), you've seen the sign "bugerzaken"... meaning boring government stuff, not delicious meat patties. The cute-but-confusing name makes this 2013 opening (in the old Coffeeshop Extase) tough to find online, which can be the only explanation why this place isn't on every burger junkie's radar yet. The juicy beef (or other meat or substitute) of your choice is surprisingly affordable and comes with whatever toppings you choose.
What you're getting: Again, it's choose-your-own-adventure, but it's best to get one with baked avo on top.
De Pijp
Opened in August, "Flipped" makes all its food right in front of you, from the burgers themselves to the custom compotes and chutneys used to top them. Plus the fries... crispy on the outside with pillowy potato in the middle, coated in a (more than is probably) healthy dose of delicious saltiness. Still, the fries play second fiddle to the solid meat monsters between black sesame seed buns.
What you're getting: We went for the spicy option the day we went and were pleasantly surprised to find they actually deliver the kick they promise.
9 Straatjes
This tiny burger shop has been slinging custom orders to 9 Straatjes shoppers since May. Just pick your meat (or non-meat), pick your cheese, pick your toppings, pick your (homemade) sauce, and say yes to the crispy fries (with the potato skins still on).
What you're getting: You can't go wrong with a fried egg on whatever you order.
Red Light District
Each burger in this big, spangly bar is named after one of Amsterdam's best-known drag queens; and yep, you're likely to find the ladies themselves hanging out here as the night wears on and the volume goes up. The burgers are more than a gimmick, though -- and they pay serious attention to their toppings.
What you're getting: Either the Jennifer Hopelezz beef, cheddar, and guac number, or the Dolly Bellefleur Lamb burger w/ pistachio and mint yogurt sauce.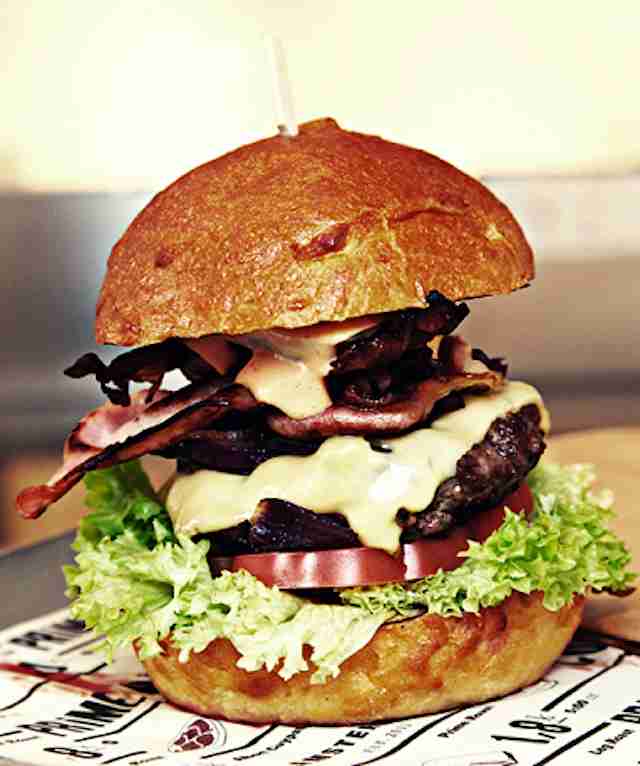 De Pijp
The 14 different types of burgers grilled up at this trendy two-year-old meat spot taste, well, like they came straight from the butcher. The unusually fresh flavor might worry you for a moment once you notice people disappearing through the back "freezer door" without returning. (Don't worry, there's actually a secret cocktail bar back there).
What you're getting: The Daddy has melted local Edam on top...
Plantagebuurt
This place is known for its location next to the Brouwerij 't IJ windmill, and its sweet, sunny terrace. What it should be known for, though, is its amazing burgers. Different than every other burger on this list, the meaty flavor is noticeably influenced by leafy, green herbs, giving it a taste more akin to the flat, flavorful meatball sandwich your grandma never made. You decide which of the 13 possible ways you want it.
What you're getting: The Pizza Burger comes w/ Parma ham & mozz.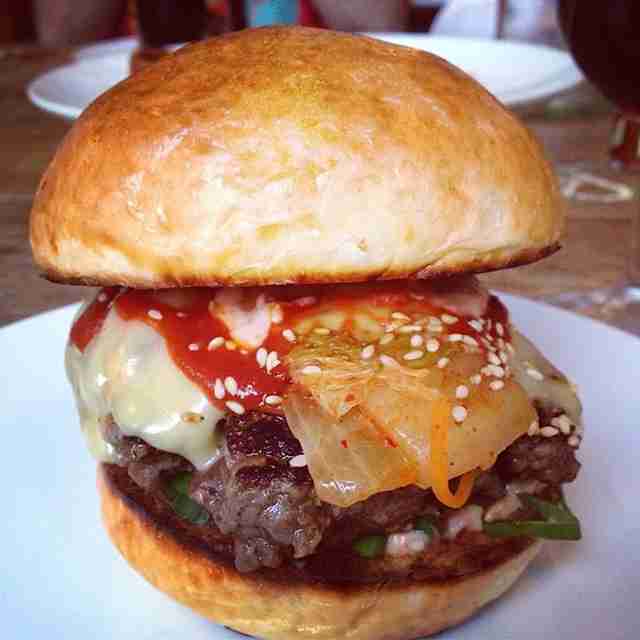 Various locations
Once upon a time there was an epic burger battle. (Kimchi Radio's Burger Beer Battle, to be exact.) And in the battle, despite the extremely high level of competition, The Beef Chief's Berlin-inspired burgers won with a three-part flavor strategy: fresh, local, and simple. (And, luckily, pretty cheap.)
What you're getting: Go for the spicy KimChief, kicking with homemade kimchi and sriracha.
Oud-West
Not that they're calling you out or anything, but the classic burger comes in two sizes: "man" (200g) or "lady" (150g). Either way, you're getting a meaty mix of cheddar, bacon, jalapeños, and the zesty signature sauce, and In addition to the usual line-up, there's a new burger every week.
What you're getting: Get two burgers with the Tex-Mex-inspired Double Nacho Burger.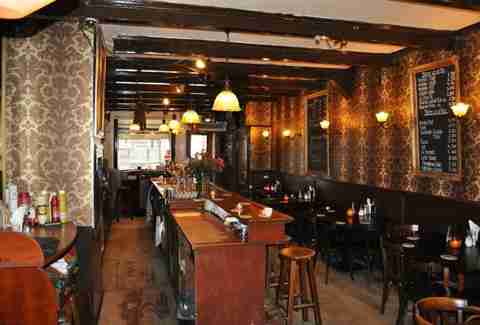 Nes
The "Guesthouse Café" makes one cheeseburger, for lunch and dinner, and it makes it good. 180g of beef topped with aged Gouda cheese, pancetta, pickle & tomato, and "whiskey" cocktail sauce with onions. The classic brown-café vibe somehow makes the whole thing taste better too, especially in the colder months.
What you're getting: There's one option, and you're getting that.
Spaarndammerbuurt
"Café the Whale" offers one of the biggest and beefiest burgers in the city, served with a side of crispy fries. The toppings tend to change, but expect some sort of homemade "special sauce". Come at lunch to get it half price!
What you're getting: Just ask for the Classic burger.