Amsterdam's 9 most important new bar & restaurant openings
Amsterdam's food-smiths have been hard at work over the last couple of months, coming up with more mouth-watering ways to treat your taste buds and test your liver. In addition to Nacional, the NYC-style bistro by Amsterdam's culinary golden child we teased back in March, and Delirium, the first non-Brussels outpost of the world's biggest beer bar that just opened, here are nine more brand-new places to get fed and watered in style.
Jordaan
Move over Hannekes Boom: tucked under the Q-Park at the edge of the Jordaan (yep, the parking garage where they throw parties) is Amsterdam's best and friendliest new central waterside attraction, from the people behind De Biertuin, Bar Bukowski, etc. Waterkant ("waterside") is named after the most lively area of Paramaribo, and the festive atmosphere continues in the colorful interior and on the Surinamese-led menu -- think pumpkin rotis, Jamaican jerk ribs, and watermelon G&Ts.
Museumplein
Tunes Bar remains intact, but the Conservatorium Hotel's restaurant of the same name has been replaced. By this. And no one will be disappointed. The restaurant is named for the giant Japanese drum, and there's one played in the dining room while you eat (seriously). In other words, the dramatic interiors Tunes and Conservatorium fans now expect are now getting a kick-ass soundtrack. Chef Schilo van Coevorden promises all ingredients -- from the Korean BBQ and dim sum to tuna sashimi and Wagyu beef -- are either cultivated locally or flown in from Asia. Go with the Asian theme and forget wine (except the specialized Champagne list, naturally): the sake sommelier will help you pick the perfect fermented rice juice to match your meal instead.
Spaarndammerbuurt
Why is Amsterdam's gluten-free army gathering at this new bruschetteria? Because it has probably the biggest menu of gluten-free pastas in the city. Even the bruschetta itself is wheat-allergy friendly, since the toppings of broccoli, Parmesan, and ginger; or tuna, veal, capers, and arugula, etc., are loaded onto spelt bread. Don't worry, there's plenty of full-gluten Italian goodness on the menu, too. Plus booze. And it's all priced to please.
De Pijp
The new Frites uit Zuyd ("Fries from the South", as in Limburg/Belgium) has an even newer sit-down dining partner that makes fried potaters look downright classy. Although there's a surprising range of wines and some high-end-looking desserts, you can still pick up fish & chips here -- but we recommend the meatier options, like the steak tartare w/ caramelized bacon app. Since Par Hasard doesn't take reservations and is open until 1am, it's the perfect solution when your Pijp pub crawl is ready for some ballast...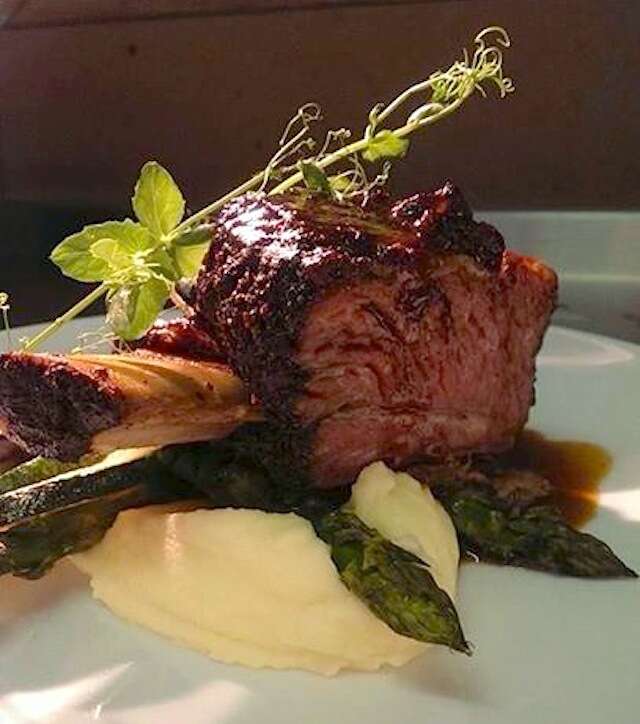 NDSM
Celeb chef bros Evert and Hugo te Pas have emigrated to the Northern frontier to go bigger and better than they could offer at their former (central) eponymous resto. Now "Bistro North" is adding a fancy French layer to this used-to-be-industrial area known as the city's hipster heaven. With a bakery and wine-tasting room on location, they're definitely taking advantage of the space. The extra room for kitchen equipment also pays off in dishes like apple-smoked chicken, super-tender steaks, and a whole menu of well-decorated small plates.
Westerpark
Leftovers from the Albert Heijn chain of supermarkets make up the daily changing menu at this pop-up (around through November). It's a message meal -- "Stop wasting food!" -- but a decidedly delicious one. Expect the usual industrial-cool interiors and picnic-table terraces of the Westergasterrein.
ArenA
FEBO's first sit-down restaurant is surprisingly chic. Seriously surprising. Sure, you can still pull the classics out of machines on the wall, but now you can also let servers bring you an expanded menu of Dutch breakfast, lunch, and dinner dishes -- expect a bunch more burgers, wraps, and ice cream products -- or nab some fresh sandos to go. Plus, beer's added to the indoor/outdoor menu whenever matches or special events are on.
Rembrandtplein
All the Tex-Mex lovers who've been complaining there's no place to get a proper taco in Amsterdam officially shut their burrito holes when this spot opened in July. Yeah, it's fast food... but with the modern desert décor, zingy salsas, and ultra-fresh meats and veggies, you'd never know. Even vegans will leave here with happy bellies. Plus, they serve beers and margaritas!
Oud-West
The massive project to turn " The Halls" (a giant former tram depot) into a place where people gather to eat and spend is finally really getting cooking -- and Brasserie Halte 3 & Meat West are the first restos in the space, each with a menu to match their names. Together, they share a 400sqm terrace. Other cafes are being added. Plus, a permanent indoor food market is planned for October. There's also a movie theater, public library, hotel, hair salon, offices, specialty schools, TV studios, a day care, and some shops. So give yourself plenty of time to explore when you come... about a week should do it.