Now that we're making some serious headway into 2015, it's time to gauge the year to date in terms of what really matters: the new food & drink openings. We've taken a look and tallied them up, and here are the ones you should be hitting up on your next evening out...
Westerdok
Nobody's crying over the demise of the old Nevy (formerly Onassis) now that its spectacularly terraced waterside spot has been remade by owners IQ Creative (known for Supperclub, wine bar Vyne, new one-year pop-up le coq, etc.) and staffed with tattooed super-chef Ricardo van Ede. True to his style, the menu focuses on fresh, inventive dishes featuring some unusual cuts of meat and "forgotten vegetables" -- like cod with Jerusalem artichoke and kale in a roasted-fishbone sauce, or sheep's milk yogurt with cucumber, radish, and nasturtium ("Indian cress").
Utrechtsestraat
Guts & Glory starts with six months of glorious chicken. Local "polder" chicken, that is. And nothing but chicken: chicken whole (cooked on the Big Green Egg) or sliced up and served, part for part, five different delicious ways -- from the breast with cream of parsnip, field mushroom, beurre noisette, capers, and purslane, to the stomach served in a steamed bun with hoisin, black beans, cucumber, spring onion, and yogurt. Once the six months are up, it'll be another animal's turn on the menu.
Jordaan
Techno worshipers crying over the demise of Trouw have been drying their dancers' tears on the first flyers out of January opener club Closure, which have so far featured names like Joe Mull, Tiefschwarz, and Mirella Kroes. The slightly counterintuitive goal of this dark, boxy space is to create an "intimate" atmosphere for a crowd of 700 with a steady lineup of turntable talent.
Oud West
This brand-new hotel is already pulling in the locals with its sleek black-and-white restaurant and minimalistic modern bar. Expect French-style fare (from sea bass ceviche to sandwiches), and expect it to be tasty -- though the 10pm closing time means you're probably coming here for lunch, an early dinner, or for after-work drinks, and ending your night elsewhere.
Overtoom
This late-February opening might be named after Amsterdam, but its soul is all French -- from the long wine list to the brick and backlit-wood décor to menu classics like the steak tartare with quail egg, pickle, and crispy onions, or the veal cheek with lentils and rutabaga in a bay leaf sauce.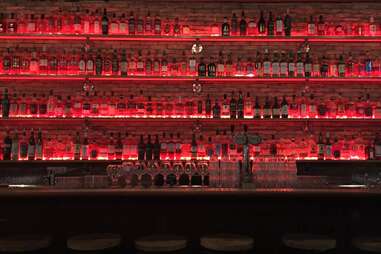 Jordaan
And then there were two. (Shout out to Whisky Café L&B, no longer Amsterdam's only whiskey-focused action in town.) JD William's looks like a Brooklyn bar without seeming to try (although, that indoor graffiti and crumbling brick could be authentic). More importantly, it pours not only a full range of whiskeys but also a specially crafted whiskey cocktail menu, AND it serves whiskey-friendly foods on the side: bourbon-glazed ribs, chicken karaage (soy, ginger, and sake-marinated fried chicken), and ahi poke (Japanese-style tuna ceviche). Tuesday is taco night!
Transvaalbuurt
Technically this opened in December, but since so many of us were too busy with the holidays to notice, we're going to sneak it in here. The names behind Smokin' Barrels, Bar Bukowski, and half the other big Oost openings of the past few years are pushing out even farther, now onto the Krugerplein. The theme is Italian pastas, but most people are buzzing about/from the long list of G&Ts and the €6.50 Prosecco cocktails.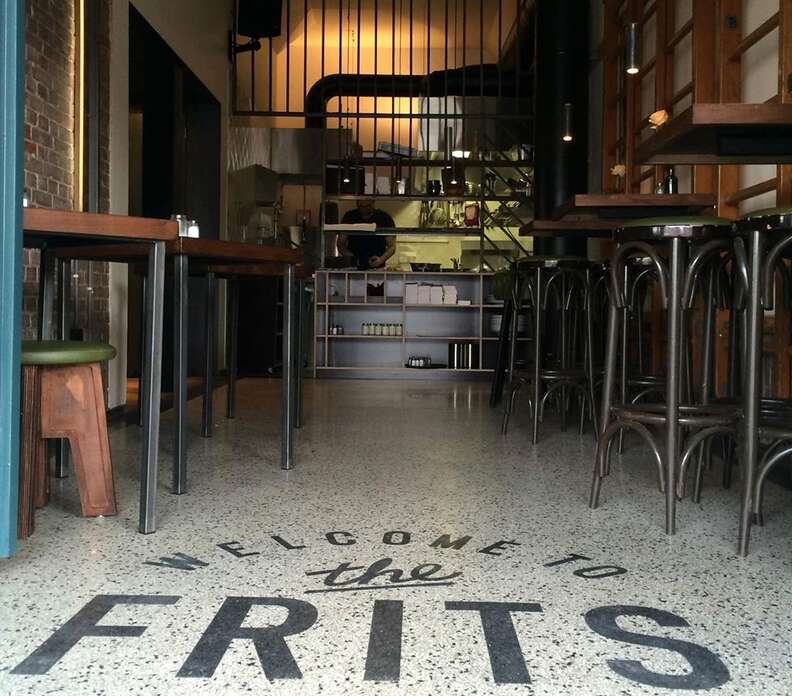 De Baarsjes
We had you at "burgers & beer," right? This dark and atmospheric den with carefully placed lighting lends the tried-and-true combo a little extra je ne sais quois. It's the perfect date spot -- also because, if your date isn't into the menu here, you might want to just call it there. (Relax, we're not being too picky: it serves veggie burgers, wine, and G&Ts too!) And just wait until the large terrace opens up.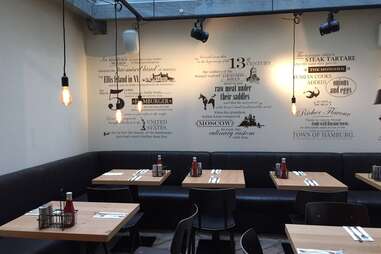 Leidseplein
More burgers! (Seriously, when are there ever enough?) Ellis made a big splash on its opening day in February by handing out free burgers to anyone who bothered to stop by, but the reputation of this Belgian chain had already preceded it. The meal is served sit-down style, and the menu goes way beyond beef, offering up patties of everything from portobello mushrooms to chicken and salmon or even beef with duck liver.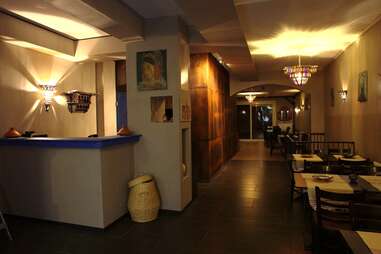 Kinkerbuurt
The Kinkerbuurt is another eatery richer with this new Moroccan spot, open since New Year's Day. The food spans the familiar (a tapenade spread with spinach, broad beans, eggplant, etc.) and the classic (Rfissa, a type of Moroccan crepe, with chicken), focusing on traditional flavors rather than trends. That makes it a must for fans of the Moroccan kitchen and noobs alike.
De Pijp
This pop-up is going for a hillbilly beach theme, right down to the sandy floors and affordable prices: the most expensive surf & turf menu for two is only €42.50. And the cocktail menu keeps things summery, between the margaritas and daiquiris, the dark & stormys, and the Long Island iced teas. But, this is Amsterdam, so there are five warm-weather-appropriate G&Ts too.
Overtoom
Watch out Delirium -- you may still have the biggest overall selection, but Craft & Draft is now the beer bar with the most taps in town (40), each open every day until midnight. And, as this is from the same guy as Proeflokaal Arendsnest and the BeerTemple, you know the selection is killer, with lots of local love. Find something you like? This spot's also a shop, so grab some bottles or growlers to go.