When you've got so much delicious FEBO food right there, it's easy to ignore other restaurants completely -- but you totally shouldn't, because already in 2014, Amsterdam's had a whole bunch of great ones swing their doors, and we've put together a list of the best...
Recommended Video
Please Don't Hang Up: The Best Things to See, Eat, and Do in Seattle, WA
KU Kitchen & Bar
Rembrandtplein
A sleek combo of natural and mod materials highlighted by neon backlighting... yes, the Utrechtsestraat is one fantastic new Pan-Asian eatery richer. This is no '90s flashback, though: expect a thoroughly modern menu of sushi, duck rolls in paper-thin wrappings, etc., complemented by cocktails like their yuzu-loaded mojito, and their Sake Colada.
Oostblok
Oost
Two old Amsterdam theaters have been reincarnated as alternative venue Oostblok -- and, more importantly, they've opened a restaurant. It's only Thurs-Sun, and you have to reserve in advance, but the changing short prix-fixe menu offers tongue-pleasing options like a crispy pulled pork salad with BBQ-apple dressing and Black Angus steak with fried mini-potatoes covered in a warm tarragon mayonnaise for just €20 for two courses.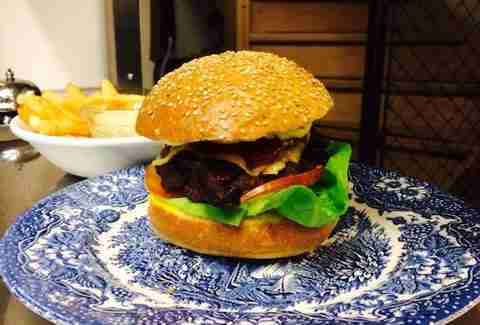 Bar Mick
Westerpark
Just across the street from 2012 newcomer favorite Cafe Walvis is a new reason to trek on up to the Spaarndammerstraat. Their slogan is "Coffee until it's time for beer" (as should yours be) and, indeed, they serve a menu of classics (from croissants to potato-bacon soup to ravioli, cod, and burgers) all through the day into the evening. 
Restaurant I-Dock
Western Islands
This new eatery at the Centraal Station-adjacent Hotel Aitana is all about the view: the IJ harbor from the terrace, the shiny Med-influenced décor inside, and the well-heeled guests and locals populating its seats. The menu covers all cravings, offering both surf and turf via oysters, swordfish, steaks, duck, paella, fish & chips, and more.
DopHert Lunchroom
Westerpark
The Spaarndammerstraat is the spot of yet another super-good 2014 opening: the DopHert vegan lunch room (until 8pm). So, yeah, it's a little specific. Yes, it's a little hipster-ish. But these vegan-catering pros are convinced they can win you over (at least for a meal) with dishes like veggie lasagna with chestnut mushrooms, couscous with dried apricots and orange-harissa dressing, and roasted Brussels sprouts with pomegranate, lemon, and pumpkin hummus. And they probably can.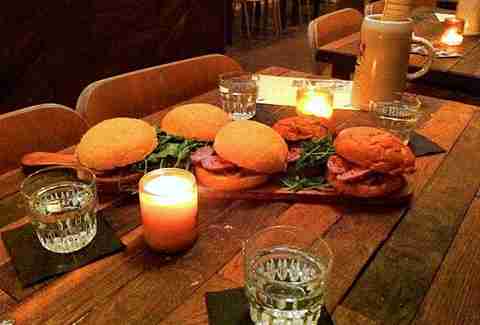 Bar Huf
Rembrandtplein
With this new Reguliersdwars hotspot serving quality comfort foods like milkshakes, fried bar snacks, and even Philly cheesesteaks until midnight, there's finally a late-night alternative to the fast-food army surrounding Rembrandtplein. It's the latest in the Casper Reinders all-consuming portfolio... the third to open recently on this street alone. (Plus Pan-Asian Chow in December in the Jordaan.)

We can't wait for...
Nacional
Leidseplein
More Reinders magic, this time with a NY-style French bistro theme. Sure -- with Jimmy Woo, Chicago Social Club, and the recently revamped Bo Cinq right there -- he's kinda taking over the place, but we're not objecting... yet.
Fat Dog
De Pijp
Champagne and hot dogs inspired by London's Bubbledogs. Culinary legend Ron Blaauw at the helm. What else is there to say?
Volkshotel
Oost
Basement club DOKA is already in full swing, but this newspaper giant turned hotel will soon also boast a rooftop restaurant (when Canvas reopens), hot tubs with a view, a coffee bar, and a speakeasy.