Amsterdam's 10 hottest new bar & restaurant openings
Amsterdam's horeca scene (that's "hotel-restaurant-café", now get your mind out of the gutter) is booming and blooming just in time for summer, and it even includes the hot dogs & bubbly place we were talking about in March. Since the number of new spots popping up around town this spring has been kind of overwhelming, we've narrowed it down to the top 10 newbies you really NEED to check out...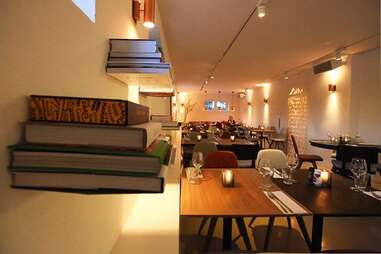 Vondelpark3 (address and info)
Vondelpark
Vondelpark's grand old Filmmuseum building is reborn! Summer can begin! The Med-styled interior and sprawling terraces look even better than you remember thanks to a complete renovation. On a sunny day, though, the service is still slower than a turtle on crutches. The menu is long and comprehensive if unsurprising, with salads, sandwiches, and classic European stuff. But we're here for the terrace, people.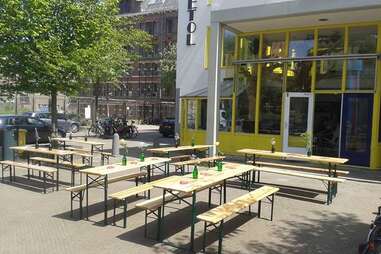 Basis (address and info)
De Pijp
Basis was arguably the most popular (and crowded) bar in the city in its previous location on the Vijzelstraat. After a year away, their new location is less central but more awesome, with more space both inside and out. So let the crowds come. Everything else remains the same, from the quirky décor to the dance parties to the BYO food policy. (They've got their own small menu of snacks, too.)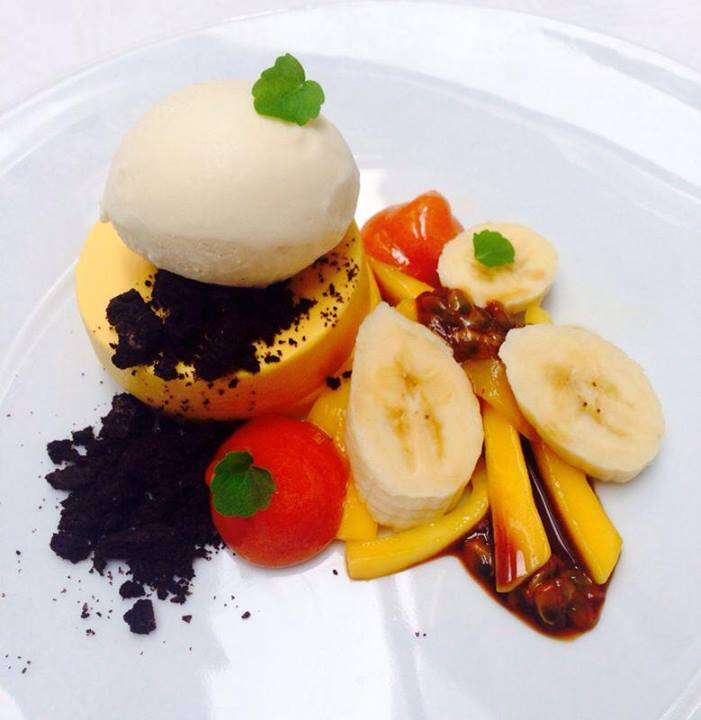 Bar-Restaurant Henk (address and info)
Leidseplein
This foodie pop-up has been on everybody's lips since it launched in May, and you've got 'til the end of the year to get to this classic-car-inspired resto-homage to Henk (the dearly departed pops of the three sisters who run the place). The urban-rustic canal-house kitchen serves lunch and snack dishes like shrimp croquettes and quinoa sushi, plus full three-course dinners. Or just head straight to the gin-and-tonic bar downstairs.
Oliver Gastrobar (address and info)
Eastern Islands
A hike out to Java Island will be rewarded with one of the most inventive (and allergy-friendly) menus in Amsterdam. The idea is to mix and match €9.50 plates, including smoked salmon in a yogurt, mint, and chickpea soup; chawan mushi, a warm custard with puffed grains, confit de canard, shiitake mushrooms, and acorn-fed jamón (pictured); "spring rolls" filled with banana, chocolate, and cardamom-almond cream; etc. Also, this being Amsterdam's most islandy island, expect sweet views.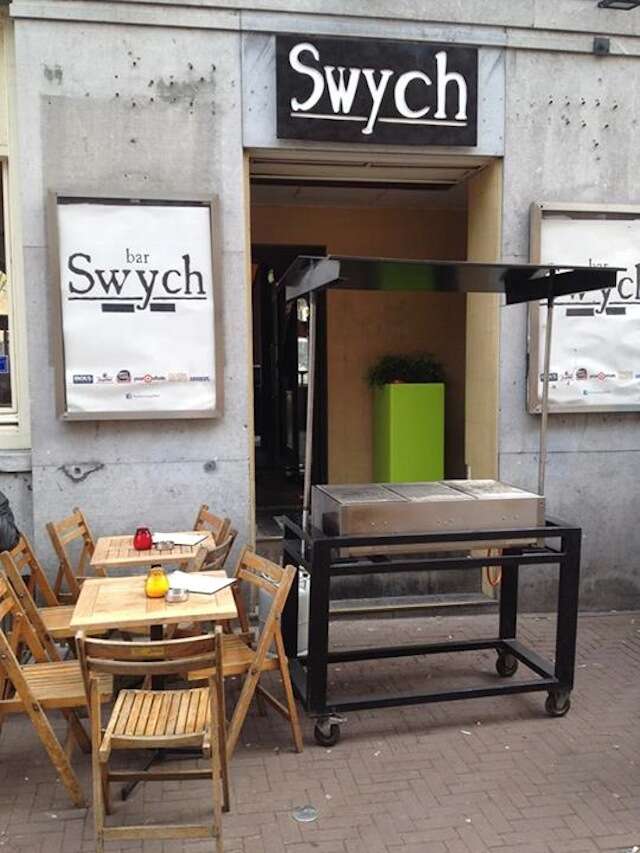 Swych (address and info)
Medieval Center
Bar Swych is the most established on this list, launching "way back" in April. It'll also be the first to go: another pop-up, the bar will close when the Doelen Hotel renovations are complete, which could be as soon as August. The location is most famous as the spot where Rembrandt painted The Night Watch, and then where it hung for 150 years, so in tribute, the cocktail menu leans heavily on Rembrandt's old favorite, jenever, and its little upstart brother, gin.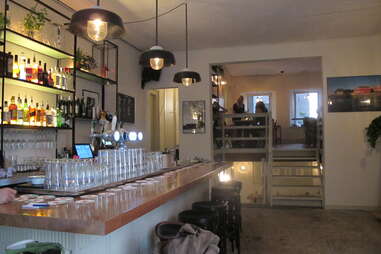 Bar Hutspot (address and info)
De Pijp
If this June opener bears the same name as your favorite mini-chain of shops stocked with designer randomness... it's no coincidence, as the eponymous bar is stuck right onto the flagship store. While the shabby-chic drinker's den should make this end of the Van Woustraat a little livelier, come instead for the short-but-crazy-good menu of massive burgers, balsamic-marinated eggplant lasagna, and more.
Bar Brouw (address and info)
Oosterpark
Bar Brouw promises (and delivers) smoked meat and craft beers, but as this is actually the second site of the popular resto, the real Cinderella story here is the location. With this addition, Beukenplein has officially gone from a random collection of coffee, ice cream, and cafes to a real foodie destination (with newly laid terraces). It gets even better: at the end of July another new restaurant, Smokin' Barrels (by the same people behind Café Maxwell across the street), will start dishing out their own meat, lobster, and beer next door.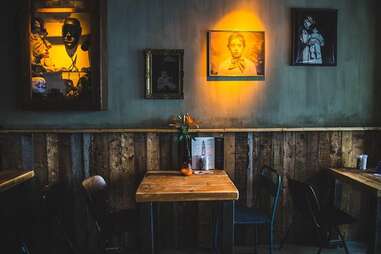 Cannibale Royale (address and info)
Spui
Did somebody say cardiologist's nightmare? Because meat & beer are this creepy-chic carnivore temple's raison d'être. The latest from the peeps behind Hannekes Boom, Cannibale is proud to be a place "where you can feel like a prehistoric being again". They've also got salad, snacks, sweets, and cocktails, and they've got it all until their 1 or 3am closing.
Mossel & Gin (address and info)
Westerpark
It's no surprise that gin is hot in the place that invented it, but Mossel & Gin -- with its spiffed-up industrial interior, hideaway garden terrace, and self-explanatory name -- is the town's slickest juniper joint yet. The fresh mussels come loaded w/ Roquefort cheese, Thai spices, or other deliciousness, and the G&Ts are served in giant wine goblets, running the flavor gamut from rosemary to basil to lemon w/ pink pepper. Bonus: the terrace has a damn fire pit.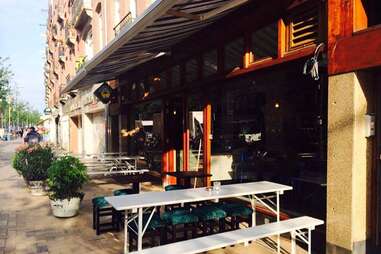 Walter's - The Walter Woodbury Bar (address and info)
Oost
The bar is named after an enterprising photographer who did an awesome early photo spread of Indonesia's Java Island way back in the day -- the bar's on the Javastraat (get it?). Open for brunch, lunch, and dinner, as well as drinks, the Eastern-fusion menu is inspired by the Javastraat's traditional multi-culti mix.
This list -- and all the rest -- look even sexier in our iPhone app. Get it now!