As the city holds its breath for terrace weather, carnivores are prepping their palates for the inevitable BBQ picnics to come. From American, to South African, to Korean styles (and more), there's a world of delicious 'cued meat that you'll want to put in your belly immediately. With this in mind, we've diligently hunted down all the places with top cuts so you know exactly where to go to get your fill.
Schinkelbuurt
South Africa beckons at this alcohol-free, outdoor-only eatery along the water. (Braai is the Afrikaans word for grill.) The ribs are small, but flavor-packed, thanks to South African charcoal and BBQ sauce. You can order a half rack, but then you'll have to wait in line again when you inevitably go back for the other half. You can also order a burger or chicken, but you'll probably regret it with each fragrant order of ribs that passes by. Given the lack of a roof, the place is also popular with the city's many food delivery services.

Stadionbuurt
The big brother of Odessa -- one of our pizza hot spots -- bests its younger sibling by not betraying us by closing for the winter. With a location clear on the other side of town, Marathonweg boasts a menu that is a similar mix of crispy-crusted, decadent pizzas and tasty luxe meat dishes grilled up on a Big Green Egg.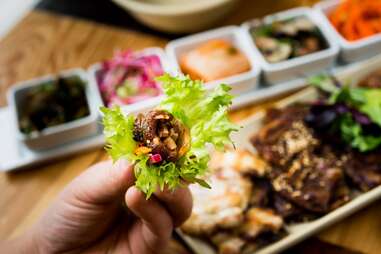 Red Light District
Another one of the world's recognized barbecue masters, Korea is represented here (by a European chef) with a modern -- but definitely not traditional -- take on the classic smoky meat dishes, as well as a unique three-types-of-social concept. Bring some friends and you can procure your own grill table.

Centrale Markt
This is barbecue in its most recognizable form for Americans (who kind of hold the title in the BBQ heavyweight championship). The food, like the decor, is authentic Texas roadhouse, and you'll find every stateside Southern specialty you're craving, from brisket and crab cakes to collard greens and succotash (not to mention mac & cheese). Some find it all a little too... too smoky, too saucy, too blackened (the catfish, that is). For the rest of us, that's why this spot keeps beckoning us back.
Spui, de Pijp
Did we mention ribs? We recently called this spot's fall-off-the-bone variety the best in the city. The burgers are also definitely in the top five. And the dark décor is decadently creepy, with horror-inspired detail in everything, down to the Psycho-shower-scene-ready weapons that pass as steak knives. Oh, and the kitchen at the original Spui location is open until 2 or 3am. Note: if you want to test your fortitude with the one-kilo hunk of meat known as "L'Absurde" (and get your name on the chalkboard), you need to let them know 24 hours in advance. P.S. Try the house beer.

Leidseplein
No frills, no website, and no reservations, de Klos is nevertheless always packed. Be prepared to wait. Your patience will be rewarded with a carnivore's wet dream served in a Golden Age time capsule of dark wood and rough-hewn tables. There are a dozen or so meaty options and a handful of sides (baked potato, escargot, a seriously cheesy onion soup), but most people get the ribs for a reason.
Leidseplein
Amongst the throngs of tourist-sucking Argentinian steak houses, this is Leidseplein's other worthy dinner stop for meat lovers. Unlike de Klos, Castell has some frills. Like cocktails. And everything is super laid-back: expect to eat your steak and ribs (prepared on the barbie in the middle of the restaurant) on a tray while sitting at the bar or sinking into a plush sofa.

De Pijp
The spot may be relatively new, but the vibe inside is centuries-old-school. The meal comes piled on wooden planks, and is meant to be shared. Forget fussy forks: here, you're encouraged to dive in hands-first (which is more easily done with the charcoal-grilled chicken, ribs, and shrimp than the five premium cuts of steak.)

Kinkerbuurt
Though its eastward expansion efforts didn't work out long-term (RIP Bar Brouw Oost), Brouw remains one of the city's major meat meccas. Here's a classic barbecue joint that isn't afraid to pile on the (smoky, sometimes downright spicy) flavor, keeping the menu focused on sausages, ribs, burgers, pulled pork, and other hunks of animal flesh. Oh yeah, and that beer menu...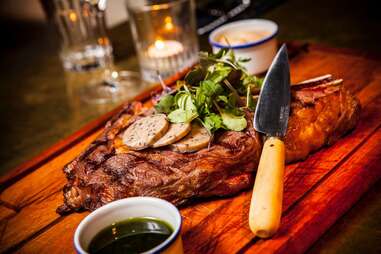 Kinkerbuurt
Living up to its name, Panache has style in spades. You know what else it has? Damn good meats and fishes from the grill, served in a European-influenced Argentinian style. Oh, and cocktails by the pitcher... yes, by the pitcher.

Kinkerbuurt, de Pijp
Nearby neighbor (with a second Pijp location) Van 't Spit is a chicken specialist. That's all that's on the menu. You can choose between a half or whole chicken, and a handful of sides and desserts (the rest of the menu is drinks). It's so good in its craft that we're going to give it the lead of the Amsterdam rotisserie-trend pack. It not only treats its customers well, but its free-range chickens, too (you are invited to go visit them in Brabant to see how they live, or spy on them online), which comes through in every juicy bite.
Leidseplein
OK, there are three places in Leidseplein worth your meat-eating time, if you know where to find them. We're reluctant to point out this one "hidden" up a flight of stairs on Amsterdam's busiest square, though -- before you know it, there'll be queues as bad as Klos. The mostly local and organic menu here has a decidedly European flair, giving you a chance to try smoked rooster, pork sausage with spiced bacalao (cod stew), and the BBQ version of confit du canard. The "Green Grill" part of the name refers to their two Big Green Eggs, and if you're a grill person, you know what that means in terms of sweet, tender flavor.

Jordaan
Surf. And. Turf. Sure, you can make your own at some of the other spots on this list, but you'll wind up looking greedy. This place specializes in finding that perfect on-the-plate balance between smoky land and salty sea. The new lunch menu even features "S&T burgers." The idea is to share, and if you show up alone, there's a special "meet and greet" table for you. Unlike the artist whose piece it's named after, this excellent "apprentice" grill may have surpassed the also-impressive "master" Nachtwacht (named after Rembrandt's most famous painting).
Sign up here for our daily Amsterdam email and be the first to get all the food/drink/fun in town.
Elysia Brenner is a freelance writer and foodie geek who has mysteriously developed a sudden urge to order a rack of ribs as soon as she finishes this sentence.