Power-ranking the FEBO automat's wall of food
Elysia Brenner
Elysia Brenner
If you're even the slightest bit inebriated in Amsterdam and you're not eating fried food from a wall, you're doing it very, very wrong. Yes, there are wall venders in town other than FEBO (pronounced "fay-bo"), but when you're dipping this low down the nutrition chain, you should go name brand. And seeing as your judgment tends to be impaired at these moments, we took the trouble to power-rank the classics for you -- simply insert coins, open door, and gorge.
10. Fries (frites)
The classic round-the-clock comfort food is passable, but its bland potato flavor doesn't hold a candle to the Belgian-style fry shacks around town. Plus, to get it you have to go to the counter and, ugh, speak to people.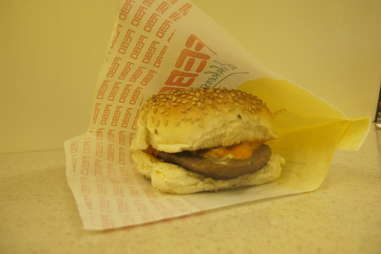 9. Grill burger
If you're dying for a burger, the ones here will stand up to other fast-food chain basics. They're topped with cocktail sauce, lettuce, and onions. Not spectacular, but passable.
8. Chicken burger (kipburger)
We might have to agree to disagree about #8 and #9, but man is that chicken tasty (see #5). For this sandwich, they sub in a tangy mayo-based sauce with a mustard kick.
7. Bami
This Indonesian-named snack is a deep-fried square of spiced noodles and veggies. It's cultural! FEBO's version is a bit heavy on the onion flavor, though.
6. "Frikadel" sausage
You'll either love or hate this controversial Dutch snack favorite (spelled frikandel everywhere else). The FEBO version looks like a present your dog left you, but offers a surprisingly moist mix of sausage mystery meat with flecks of spices thrown in.
5. Chicken stick (kipcorn)
This juicy stick of breaded chicken puts the puny, oddly textured McDonald's chicken nuggets to shame... but thankfully, they seem to use the same spice mix.
4. Beef croquette (rundvleeskroket)
The croquettes, concrete blocks to the gut that they are, are the essence of FEBO. Of the three most common fillings, the plain beef impresses the least with its grey gravy middle that tastes vaguely of beef stock.
3. Saté croquette (satekroket)
Racier than its croquette cousins, this Indonesian-influenced take is filled with a spicy peanut sauce. It would be yet higher up, but the lack of meat gives it a mushier middle.
2. Veal croquette (kalfskroket)
... which is where this sucker comes in. The juicier chunks of meat and the creamy, buttery mix of potato powder are perfectly balanced.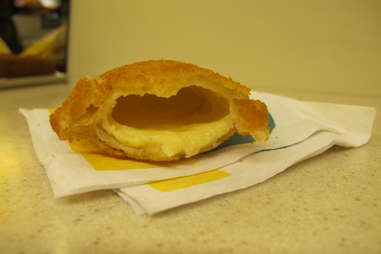 1. Cheese soufflé (kaassoufflé)
FEBO's full name includes the slogan "de lekkerste", or "the tastiest". This is what they were talking about: aged Gouda, breaded and battered and deep-fried, oozing out of its crusty shell with each bite. We have a clear winner.
The costs
Each item costs €1.60-2.20. You won't get any change back, so make use of the change machines. All wall items are also available at the counter, if the wall is out.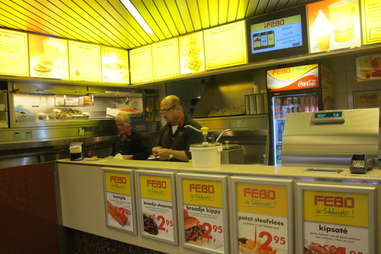 Also at the counter
Soft-serve vanilla ice cream, sundaes, shakes, and half a dozen varieties of fried chicken.