Hotel Restaurant Caracol
Hotel Restaurant Caracol
We spend a lot of time talking about Amsterdam, and for good reason: it's amazing. But there's a whole country out there, and hard as it may be to accept, many of the Netherlands' best restaurants lay outside the capital city's borders. Here are the 13 best...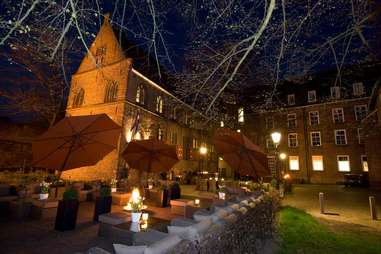 Zwolle, Overijssel
What you're getting: A customized five- to seven-course menu featuring dishes like doe venison with blood sausage and tulip bulb or foie gras with green beans and pear (€175-190).
Located in a 15th-century Dominican abbey, "The Library" was into the locavore movement before your hipster cousin had ever heard of it. But Chef Jonnie Boer doesn't shy away from international accents and unexpected combos. Mrs. Boer (Thérèse) serves up wine to match. And Michelin has served them with a rare three stars.
You can also get a taste without leaving Amsterdam: Librije's Zusje (literally "Librije's Little Sister") serves up a similar menu from Chef Sidney Schutte, who's worked with the Boers for years, in the Waldorf Astoria -- and has two Michelin stars of its own.
Rotterdam, Zuid-Holland
What you're getting: This spot is especially known for its goose and duck liver (served, for instance, with Granny Smith apples and gingerbread) -- if you object to that sort of thing, the steak tartare is also delicious; or go for a full chef's menu of three to seven courses (€35-71).
Though the food is worth a visit year-round, this inner-city townhouse restaurant becomes twice as popular in the warmer months, when the garden out back is open. (Unlike some other restaurants on this list, you won't have to reserve 100 years in advance or spend over €100 on your dinner.) The chef, Sieberen Meerema, is truly an artist. We mean literally: those are his impressionistic landscape paintings all over the walls. But on the plate as well -- his Harmonie cookbook was nominated for 2007 Cookbook of the Year, and the restaurant won a "Golden Ladle" for Best Restaurant in the Rijnmond Region in 2013.
Kruiningen, Zeeland
What you're getting: The four- to eight-course menu changes daily, featuring dishes like octopus with lavender, yuzu, sea banana, onion, and apples or Anjou pigeon with rhubarb, eggplant, tea, and parsley (€95-165).
Local foodie guide Lekker has named this rural manor restaurant in the country's Waterland the best place to eat in NL for the second year in a row. The restaurant has also held onto its two Michelin stars over the years, with current chef Jannis Brevet's complex kitchen concoctions complemented by wines from over 500 top wineries.
Amsterdam, Noord-Holland
What you're getting: The traditional kaiseki menus come with three to nine courses (€67.50-107.50) and include veggies, raw fish, and/or Wagyu beef; there's also an a la carte menu with plenty of sushi (€5-45), deep-fried lobster (€50), and bento boxes for lunch (€40).
Okay, we had to throw one Amsterdammer on here. And here's why: Yamazato was the first Japanese restaurant outside Japan to land a Michelin star... and that's probably because the Japanese-trained chefs do everything they can to ensure, on the plate at least, that you'd never know you weren't in Japan. Plates aside, waitresses even wear kimonos. Can't get in? Don't worry, the equally Michelin-starred Teppanyaki Restaurant Sazanka shares the same Hotel Okura real estate.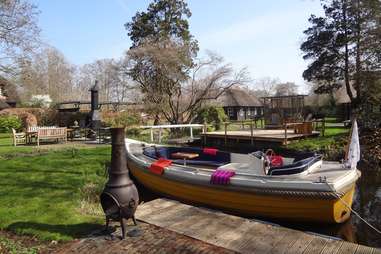 Giethoorn, Overijssel
What you're getting: Go all in with your favorite boo -- a four-course dinner, an overnight in one of the two suites, and breakfast the next morning all goes for just €165 every Sunday (or throw in another four courses, a lunch, and a boat tour for €480 any day of the week).
The location, a patchwork grid of car-free islands that locals get around by boat, is officially Monopoly-worthy: the picturesque village nabbed the only non-major city square in the upcoming international edition of the game. The village's best restaurant, in a huge farmhouse with a thatched roof and a big, ridiculously charming garden, has been deemed Michelin-worthy as well. Double Michelin-worthy, in fact. The French-style menu mixes a variety of fish and birds with fresh veggies, like lobster with salad and a sweet-sour sauce or spring hen with Jerusalem artichoke and sage. Seasonings are grown on-site, and the wine cellar could make an oenophile weep.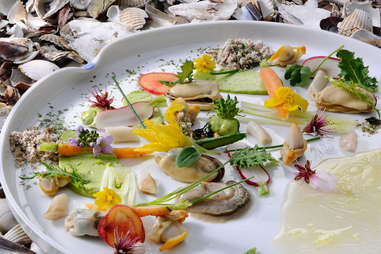 Cadzand, Zeeland
What you're getting: A six- or eight-course chef's menu of small plates with an emphasis on seafood and fresh plants (€79/98, wine pairings €47/58).
When Sergio Herman shut Oud Sluis (for decades the country's most highly lauded restaurant) in 2014, he said he did it to give all his love to his two newer restaurants (you know, the ones not handed down from his parents): The Jane in Antwerp, Belgium and Zeeland's Pure C (as in "sea," referring to the view and the menu). This restaurant's kitchen, however, is really run by Syrco Bakker, who got his training at restaurants like De Librije before becoming Herman's right-hand man in the Oud Sluis kitchen. Now he oversees this seriously chic beach bar with stark-white pod seating and a Michelin star.
Vaassen, Gelderland
What you're getting: The menu is a la carte, so pick what you please -- we recommend the roe deer with guava, root veggies, and "poudre du voyage" (a mix of sesame, sumac, cinnamon, thyme, and other spices), or get a five-course menu for €112.
Jacob Jan Boerma and Kim Veldman opened this former shoemaker's studio on the edge of the Veluwe, the Netherlands' largest nature reserve, in 2002. Thirteen years and three Michelin stars later, their menu mantra is still "local and organic"... and they stand to pick up the crown Oud Sluis put down when it closed last year. The streamlined modern look is definitely a different world from the town-center church next door, and some consider the wine menu even more epic than the food.
West-Terschelling, Waddenzee Islands, Friesland
What you're getting: The chef's menu ranges from three to eight courses (€39.50-75, wine €17.50-40), or pick up dishes like ribeye with beluga lentils, shallots, aioli, and red wine gravy (€29) or brill with potatoes, carrots, and tarragon (€24.50) à la carte.
Seeing as this is one of the Netherlands' two most popular nature-getaway islands, it's no surprise Terschelling's best restaurant is part of a boutique spa hotel. The food is a taste of the island, so expect small plates of lamb, seafood, and planty stuff from the garden. The restaurant also has heavy Portuguese influences -- especially on the wine menu.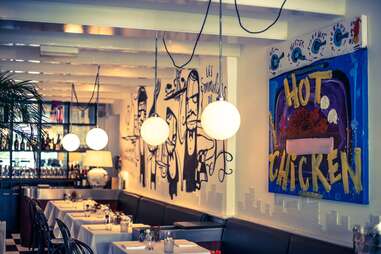 Ouderkerk aan de Amstel, Noord-Holland
What you're getting: Three- to six-course (€38.50-60, wine €19-38) and à la carte menus feature colorful, artistic plates like prosciutto with crispy red quinoa, freeze-cooked egg yolk, sweet-and-sour radish, croutons, and wasabi cream or chicken rolled around Indonesian stew with carrot, petai beans, corn cookies, and coconut meringue -- and then semi-solid strawberry mojito skulls for dessert.
The edgiest restaurant on the list comes from one of the most picturesque settings: just a 30-minute bike ride from the center of Amsterdam, this photo-ready little village has somehow managed to not only avoid getting absorbed by the city but to even keep a rural buffer around it, too. Chef Jaimie van Heije's menu, an Indonesian-led melting pot of different kitchens and cooking techniques, is anything but traditional, though. (Ditto for the street art-influenced decor.)
Maastricht, Limburg
What you're getting: For dinner, a four- to five-course menu (€79-89) featuring (also à la carte) dishes like St. Jacob's scallops with marinated salmon and oscietra caviar (€32) and lamb rack from Texel sheep with a red pepper cream and Provencal gravy (€32).
It might technically be located in one of the country's most important cities, but this hotel feels like a fancy castle hidden in the French countryside. Inside and out there are actually four ways to eat and drink: Michelin-starred Restaurant Château Neercanne for dinner, the equally popular L'Auberge serves lunch in the early-18th century chapel (with vaulted ceilings for the full-time travel effect), wine can be enjoyed in the creepy-cool marl wine caves, and there are huge terraces and gardens when the weather cooperates. Not special enough? Book out the castle tower for a private meal.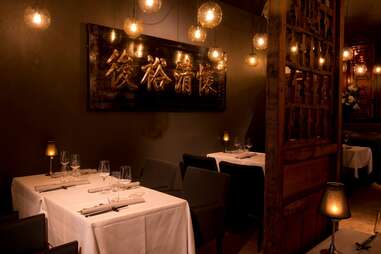 Den Haag (The Hague), Zuid-Holland
What you're getting: A three- to five-course chef's menu (€37-57) of small plates like raw wild salmon with apple, red beets, crème fraîche, seaweed, and tiny Dutch shrimp (€14.50 à la carte) or grilled Wagyu beef with celery, figs, water chestnuts, beef tendon, and Chinese bean sauce (€32).
Part Chinese, part French, part traditional, part modern -- the HanTing menu is def gonna haunt your taste buds. The red-and-wood interior and draped lights could easily be a movie set: a kung-fu thriller where all the action is happening on your plate. No wonder Michelin, GaultMillau, Lekker, and others are throwing high scores and prizes at them.
Onderdendam, Groningen
What you're getting: A three- to six-course menu (€42.50-72.50) featuring stuff like slow-cooked pork belly with Dutch pea stew garnishes, crumbs of rye bread, and a smoked sausage broth, or pearl barley with old cheese, cannelloni of leek, roasted onions, onion soubise sauce, cream of chives, a potato-based sauce, and star anise.
The old windmill this restaurant sits in isn't even necessarily the best-looking part of this tiny village of protected buildings 15km North of Groningen city. But since the restaurant's 2013 opening, it's probably the most visited. People are coming for not just the charm but also the food: despite the historic settings, the menu is all modern, putting together affordable local fare in inventive combinations that tip their hats to Dutch kitchen classics. A visit also soothes the conscience: Chef Steven Klein Nijenhuis refuses to serve any animals not raised completely ethically -- so no foie gras, chickens who grew up in tiny cages, or overfished tuna. And most of the greens are grown in the village.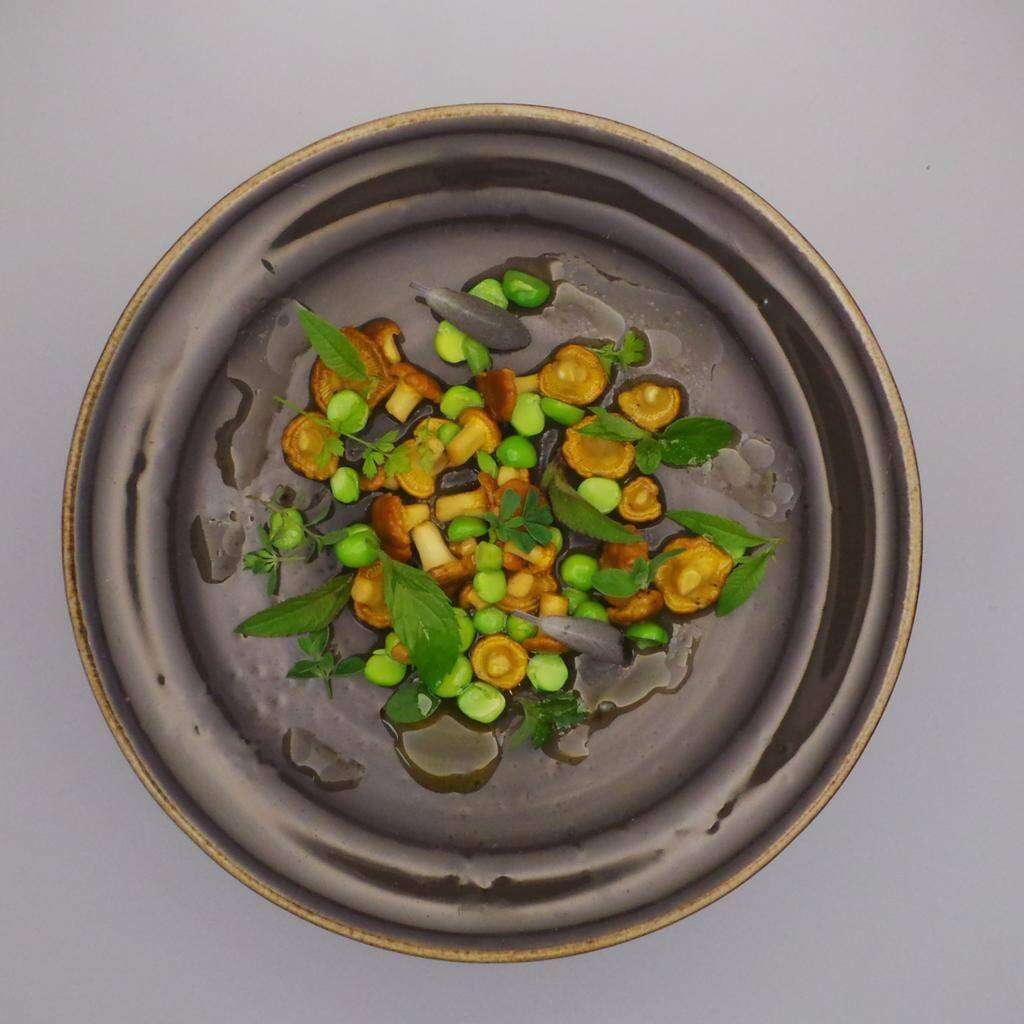 Utrecht, Utrecht
What you're getting: The six-course Podium menu (€65) dishes out things like "ravioli" with candied beef tail (also à la carte for €21) and "Label Rouge" chicken with plums, mulberry, masala, cocktail onions, and miso gravy (€25).
The dishes are simple but surprising. The hotel and restaurant interior is slick but colorfully modern. And it's in the very center of Utrecht, spitting distance from the colossal medieval church this spot is named for. What's not to love?
Sign up here for our daily Amsterdam email and be the first to get all the food/drink/fun in town.