The 8 Coolest Restaurants in Amsterdam
Perhaps on account of their ovens, The Dutch have never been considered a global food powerhouse. Thanks, however, to the country's illustrious history of owning other countries, Amsterdam's resto scene has, over the decades, cultivated a globe-spanning array of delicious colonial dining spots that've both challenged, and raised the game of the more locally inspired places. Here are the eight best in town...
De Klos
Why You Absolutely Need To Go There: You've never eaten this much meat
This carnivorous cavern is no nonsense: no website, no reservations, and no menu. OK, so there is a menu, but it's scrawled on a chalkboard and printed on T-shirts, and it's just a list of meats, with a heavy emphasis on ribs and steak. In fact, the only meatless items on there are baked potatoes, cheesy French onion soup, and beer. Despite its location in the middle of the Leidseplein tourist masses, its intimidating interior -- a tiny, dark 17th-century-style tavern both packed with, and dependent on heavy wood beams -- discourages the casual passing traffic from popping in. Still, the locals are obsessed, so expect a wait.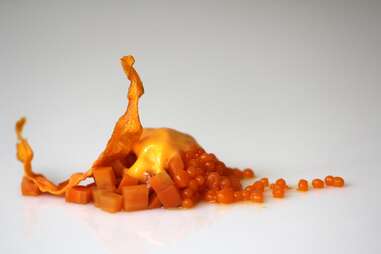 de culinaire werkplaats
Why You Absolutely Need To Go There: You pay what you want for food that could be art
On the other end of the scale, the Westerpark eatery de culinaire werkplaats ("the culinary workplace") is totally vegetarian, but makes up for it with insane inventiveness. Monthly menus are inspired by abstract concepts (like "light", "water", or "architecture"), which are then translated into six small courses of fruits, veggies, and grains reimagined with modern twists like "vegetable paper" or "deconstructed apple pie". Eating in this bright, white space is a bit DIY, as in, take your own dishes to the sink, but they'll happily make you an extra serving of your favorite. Also? At the end of the meal, you decide what to pay.
De Bakkerswinkel
Why You Absolutely Need To Go There: You can get a beef tartare sando AND cake
This mini Dutch lunch empire now has five locations dishing out its homespun goodness in Amsterdam alone, but this is the flagship brunch and high-tea spot. Get there by noon to skip the wait, and load up on specialties like addictive savory scones and mouthwatering quiches of the day, or open-faced sandwiches topped with hearty meats, veggies, or bacon and egg. Needless to say, save room for dessert.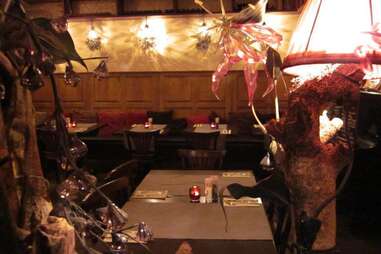 Tomaz
Why You Absolutely Need To Go There: It's some of the best local food in town
Just outside the tourist entrance to "secret" central courtyard de Begijnhof, Tomaz's terrace sits in the shadow of the skewed houses and narrow streets of Amsterdam's medieval quarter. Inside, its two rooms with wine bar are loaded with charming Dutch coziness, which, like the Dutch-style menu (boasting such local delights as stamppot, a veggie-potato mash topped with a massive smoked sausage or meatball and gravy), is best experienced on a chill winter night.
Pancakes!
Why You Absolutely Need To Go There: Uh, see above
Obviously the one traditional Dutch dish that few tourists are likely to miss is pannenkoeken (that's "pancakes"). The local take is thinner, and more crepe-ey, and loaded with a pretty wide range of sweet/savory toppings. But not all pancakes are created equal. Pancakes! earns its exclamation point with a menu that's part classics (think ham and cheese, or baked apple with ice cream) and part world tour (including a buttermilk American style, with real maple syrup and bacon). The one downside is that, although pancakes are elsewhere dinner fodder, this kitchen closes by 7p.
Café Kadijk
Why You Absolutely Need To Go There: You've never had Dutch-Indonesian food before
Whether or not you knew Indonesia was once a Dutch colony, you can't miss its culinary effect on the city. Cooler locals come to this diminutive spot on the postcard-perfect, drawbridge-and-giant-arch-adjacent Kadijksplein for well-spiced Dutch takes on classics like hot pumpkin-paprika soup and the mini "rice table" dinner sampler. Then they linger until closing (1 or 3a) to chat up the cool-kid bartenders over cigarettes and wines by the glass.
Semhar
Why You Absolutely Need To Go There: They have flavored beer in coconut husks
Despite never being a Dutch colony, Ethiopian food has nonetheless somehow left a sizable stamp of its own on the Amsterdam culinary map. The meal consists of delicious spongy pancakes (called injera) covered in spiced piles of meat and/or veggies, shared and eaten by hand. Centrally located Semhar ticks off all the Ethiopian-restaurant boxes with reliably delicious food, flavored beer served in coconut husks, and an Africa-vibing décor. Grab a pot of the potent, incensed coffee before you go.
Mashua
Why You Absolutely Need To Go There: Duck breast flambeed in pisco, that's why
The subtitle of this stylish, canal-side restaurant near Leidseplein is "Peruvian Fusion", which apparently means influences from Southern Europe, Asia, and a bunch of other places collide with Latin flavors to produce the likes of duck breast flambéed in pisco, 4hr beef ribs in white wine, and rabbit legs cooked with peanuts. The space itself has a terrace running along the canal, and boasts an ultra-slick modern look inside.
Sign up here for our daily Amsterdam email and be the first to get all the food/drink/fun in town.