Amsterdam's HORECA train has been picking up some major steam in recent years. However, it's been making more stops in some neighborhoods than others. But which neighborhood is the very best? Well, we've kindly taken the guess work out of it by slicing up the city 14 ways and ranking each part by its contribution to the town's overall gustatory well-being. Consider this reference material for your next apartment hunt.
14. Zuidoost
Despite being the city's destination for large-scale entertainment (stadiums, mega-concerts, IMAX), the city's Southeast is mysteriously bereft of good restaurants. One of the most popular eateries in the area is IKEA. Seriously. (But if you're going to go kitsch, we recommend the FEBO Boulevard.)
13. New West
Outside the ring to the West lies a collection of high-rises, park-ringed lakes, and Osdorp. The real estate is cheap... and probably not just a little bit because this 'hood barely edges out Zuidoost in terms of eating options. However, edge it out it does with local spots like trendy waterside hotel-café Buiten, Arabian-themed Syriana, and trendy coffee spots like Coffeemania and coffee@last.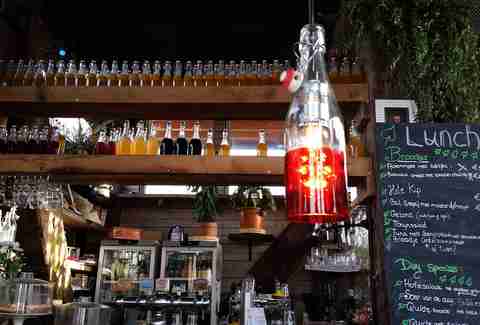 12. Noord
Noord is constantly being called the next big thing -- but like the Noord Zuid metrolijn that will eventually make it more accessible, it just isn't there yet. That being said, the offerings get more and more promising every year... mostly around the central ferry, where you'll find THT, and especially NDSM, home/near to Noord's biggest (foodie) hotspots like Bistro Noord, pllek, and Cafe de Ceuvel.
11. Plantage
The buzz in this quiet, lovely neighborhood is largely collected around Kadijksplein/Rapenburgerplein, the front entrance to the zoo, and the Entrepotdok that connects them. That's where you'll find Cafe Kadijk, Cafe De Druif, Cafe Restaurant De Plantage, and Burgermeester. For even more dining options, Nieuwmarkt and the rest of the Medieval Center is so, so close.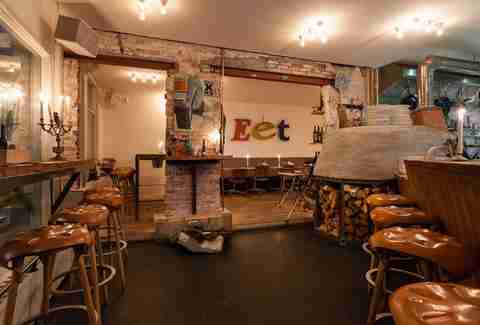 10. Oost
Amsterdam's Eastern denizens tend to be passionate about their choice to live on the less-trendy side of the city. (Look at all the parks!) But until recently, there hasn't been very much to be passionate about in the food & drink department. Thankfully, that's changing quickly with Oosterpark and Beukenplein hotspots like De Biertuin, Bar Bukowski, and Smokin' Barrels. Meanwhile, a smattering of promising places like Walter's - The Walter Woodbury Bar (Javastraat), Michel-Inn (Pretoriusstraat) pinchos and pizza, and Pompstation (Zeeburgerdijk) for steaks are fleshing out the offerings in the rest of the 'hood as well. (Literally: Oost likes its meals meaty.)
9. Zuid
Everybody knows that this is where Amsterdam's money lives. It just seems like Amsterdam's money goes to bed kinda early. Don't expect late-night eats, and options are limited on Sundays, but this is still home to some of the most-talked-around restos and drink dens in the city, like Le Garage, classic steak cafe Loetje, Asian-themed Dragon i, and the new RIJKS and Taiko restaurants. This is also where you'll find the Butcher's Tears tasting room.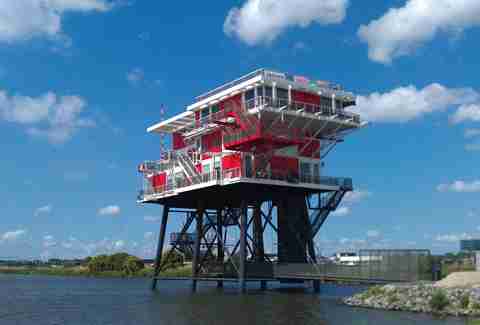 8. The IJ Islands
The newest islands in the city, on either side of Centraal Station, are bringing some serious culinary game to the table. From sometimes-hit-or-miss Fifteen (of Jamie Oliver fame) to newer, fancy megaspace The Harbour Club, and immediately double-Michelin-crowned &samhoud|places by Moshik Roth (not to mention the massive floating Chinese Sea Palace), the East side is representing. But the Western islands still take the crown with comforting havens like Bickers a/d Werf and show-stoppers like the boat-based Pont 13 and REM eiland, the reconstructed sea outpost of a former pirate radio station.
7. Leidseplein
Leidseplein would be higher on the list if it weren't such a mixed bag. (Mixed with tourist traps, that is.) Skip anywhere that posts a promoter outside to lure you in and head to Mashua Peruvian fusion, organic Indian Maurya, (more than usually) authentic Mexican eatery Los Pilones, or meaty Cafe De Klos to eat, and Bo Cinq (also good for food), Suzy Wong, or De Balie for drinks. The Waterhole for those grungy, live, music-backed late-night drinks. Or Chupitos when you want to get sloppy. Yeah, there's a lot going on here.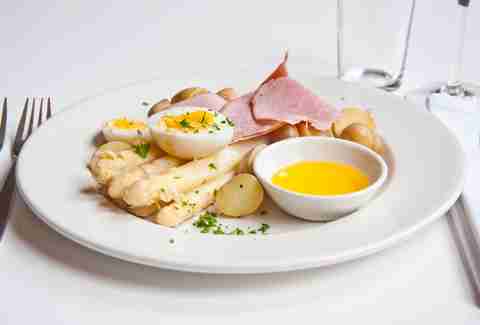 6. Medieval Center
Another sufferer of tourist trap-itis, the city's oldest areas nonetheless know how to set a table and shake their cocktail makers... even in the Red Light District: hello, Mata Hari bar, chic Restaurant ANNA, and the original location of the Bakkerswinkel (Amsterdam's best lunch spot). Elsewhere, you can find authentic Indian at Ghandi on the Damrak, head back in time in the Spui at d'Vijff Vlieghen and Cafe Hoppe, and work your way down the Nes past Bubbles & Wines, the Bierfabriek for home brews with ridiculously delicious roasted chicken, or a posher meal at Brasserie Harkema. In Nieuwmarkt, dine at Lastage, the Michelin-star restaurant that doesn't want to be known as a Michelin-star restaurant, pick up Indonesian takeout at Toko Joyce, or eat in style at In de Waag.
5. West
Amsterdam's Western 'hoods are entering their post-gentrification stage (especially Westerpark, which we'll get to next). This means that there's a ton of good stuff to eat and drink here. The excellent Texas roadhouse kitchen recreation Graceland BBQ, festive Waterkant, stylish Golden Brown Bar, orgasmic Tex-Mex takeout spot Tomatillo, and Mercatorplein star Cafe Restaurant Zurich to name a few. The area's also a gathering ground for wood-oven pizza places, from YamYam to La Perla. Plus a bevy of delicious meat-and-veggie-topped injera pancakes and coconut husks filled with fruity beer at Ethiopian spots like Lalibela and Abyssinia. It's, however, the addition of De Foodhallen that pitches this neighborhood over the more central tourist areas.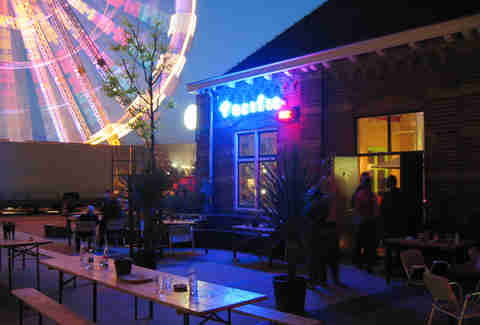 4. Westerpark
It's true, this is technically part of the larger West. But it's such an intense concentration of goodness that we're singling it out... and throwing in the Spaarndammerbuurt too. The food and drink here tends to be high-concept and on the healthier end, especially at the surreally inventive vegetarian De Culinaire Werkplaats, gluten-free-friendly Bocconi Sani, leftovers-users Instock, Algerian Rainarai, and it's-all-in-the-name Mossel & Gin. But you can also get your burger fill at Cafe de Walvis. Finally, when the sun comes out, it's terrace time... especially at Pacific Parc and Westergasterras. Plus: more food festivals than anywhere else in the city.
3. De Pijp
De Pijp has long been one of the city's most popular areas to socialize -- and that has a lot more to do with the shops and restaurants of the Ferdinand Bolstraat and Eerste van der Helststraat than the daily (except Sunday) Albert Cuyp Market... though that's pretty sweet, too. (Especially if you pick up a stroopwafel.) Not sure where to begin? We recommend Oolong for evening dim sum and cocktails, Bazar for inexpensive North African food in a lively environment, Balti House for Indian curries (and, of course, balti), and Chocolate Bar for a drink with friends. Oh, did we mention that this is also the 'hood where you'll find the Hotel Okura with her four Japanese and French restaurants (each recognized by Michelin) and two bars (including Twenty Third Bar with a view)?
2. Jordaan
This is the 'hood that's considered the epitome of Amsterdam culture, from the local style of music on sing-along display at Cafe Nol to the history (and organic markets) around the Noordermarkt and Westerkerk... and, yes, all those restaurants. (Especially when we cheat and include De 9 Straatjes as well.) Half the fun of the area is stumbling into an unexpected cafe. But, if you want help picking a destination, may be suggest: jazzy BRIX, Italian Cinema Paradiso, boozer favorite Werck, Kagetsu for sushi and such, Japanese Pancake World, Daalder (where the entire restaurant is served the same meal in multiple courses, which change every night), and Winkel (whose apple pie is generally considered the best in the city).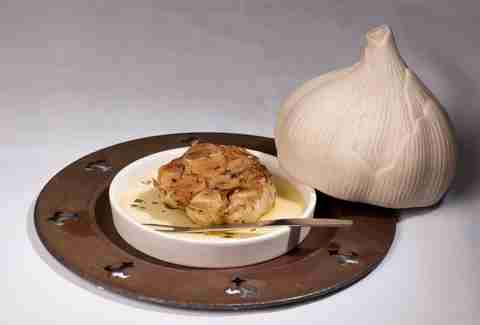 1. Rembrandtplein
This may be a controversial first pick, but let us explain. Sure, you'll find some great resto-bars in the party square itself, like Van Rijn and De Kroon, as well as fast food with class (Salsa Shop, Vapiano). But it's the adjacent Reguliersdwarsstraat and Utrechtsestraat that make this 'hood outrank the rest. On the former, you'll find high-style hotspots like Lion Noir, Snappers Resto-Bar, and Cannibale Royale, as well as kitschier places like Garlic Queen (this is "the gay street," get the pun?). On the latter, there's Made With Love By Tagore for Indian, tapas spot Pata Negra, vegetarian Golden Temple, and so much more. Add in the other assorted treats in the area (Incanto's high-end Italian, wine-loving Utrechtsedwarstafel, and French-style Restaurant Breitner to name a few) and Rembrandtplein takes the crown.