There have been whispers of an "Amsterdam Renaissance" over the past year -- which has more than a little to do with the bevy of new bars and restaurants opening up around town on a weekly basis. Over the last couple of months, there have been too many new spaces for us to possibly cover... so we've narrowed it down to 31. So break out your wallet and loosen your belts -- you've got some serious eating to do.
Watergraafsmeer
The Hannekes Boom team is at it again with a new sunny spot to pass the summer. Just around the corner from Amstel Station, the setting is a farmhouse from 1702 (the restaurant), the old cow stalls next to it (the bar), and the surrounding grounds (the terrace and picnic garden). Head around back for table service, or pull up a picnic table or patch of grass and pick up your farmer-chic food, classed-up international snacks, and something from the full menu of drinks at the bar.
IJplein
After a cruel number of setbacks, including losing the planned original location in the Western Islands, Amsterdam's new favorite brewer finally has a home where you can consume its herbaceous Gaia and spicy Mannenliefde ("Man Love") on the spot. Sure, said spot is only open Friday and Saturday afternoons and evenings, and the décor is decidedly "warehouse who-gives-a-chic," but it's got the whole hoppy lineup here -- way more offerings than you'll find in your local Albert Heijn's beer aisle. And it's on tap. We recommend the summery Rhubarb Ria.
Rokin
Bar Italia is no more. But that doesn't mean the party is over, just that the menu has gone French bistro. Cafe de Paris will still be entertaining schmoozing crowds and dancing feet into the wee hours as always.
In the basement, where Pop-Up Paper Planes was for a while (don't worry, it'll be back in a new location soon), you'll now find Metropolitan -- which offers an all-day breakfast (until 5pm), from eggs Benedict to burgers.

De Pijp
Venster 33 is so a proud product of de Pijp. Not only does it sit in the thick of the neighborhood's horeca haven, perfectly blending into the bustling café scene around it, but the name refers to the Canon of Amsterdam, the official history of the city divided into 51 "vensters" ("windows" into history). No. 33 is about de Pijp. The restaurant has hidden nods to the city's heritage around the café... but you're here for the food. The small dishes here -- like the fennel sausage with tomato salad and croutons or the fried white asparagus with mini potatoes, egg, and Hollandaise sauce -- are designed to be shared. The wine menu comes courtesy of the Grapedistrict chain of wine shops.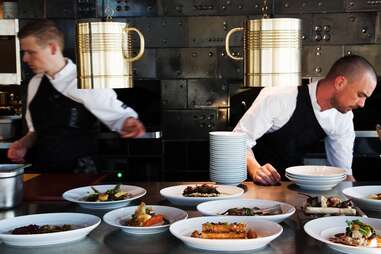 RAI
Meat lovers and conference-goers rejoice! The RAI is now one mega-meaty menu richer. The brainchild of Michiel Deenik (previously known for the other other white meat, fish that is, at Visaandeschelde across the street), ROAST pairs its sausages and burgers with a dramatic industrial interior. (The butcher does his work in a teal-rimmed glass box.) The slow-braised Wagyu beef with pumpkin, mushroom, marrow, asparagus, and bordelaise sauce; 700g côte de boeuf of choice; and other 20 or so dishes of the ROTISSERIE (the fine-dining restaurant upstairs) offer equally impressive constructions on the plates. Downstairs in the BAR, there's a more casual brasserie-style menu, no reservations needed, with a menu of burgers (topped with stuff like foie gras and truffle mayo), ribs, a pâté of the month, and specialty beers.

Westerdok
Choose the future menu when you dine at this new resto from Michelin kitchen-trained Chef Michael Wolf, who has taken over the glass-enclosed former railway bridge hanging out over the water behind Centraal Station (recently vacated by pop-up Le Coq). The menu is divided into two sections: nder "Galerij" ("Gallery"), you'll find Wolf's proven signature dishes, like marinated pork belly with stir-fried langoustine, couscous, mint, coriander, and carrot cream in an herb jus or fried foie gras in a foie gras cream with raspberries and cabernet sauvignon vinegar. Under "Atelier," you'll find Wolf's latest experiments. Feeling adventurous? Give it a try, and if you (and a bunch of others) like it, it might make it into the Gallery.

Volewijck
Inside, it's the model of textured rugged minimalism. Outside, it's got a leafy terrace in the sun. The main focus of this new Noord spot is coffee, but it also serves locally sourced lunches (think burgers and other sandwiches) and dinners (steak, tomato risotto, sea bass, etc.) as well as strong drinks. Yes, also in your coffee. (Reservation-only high teas are served on Tuesdays and Thursdays.)

Bijlmer/Zuid-Oost
After the opening of the Foodhallenled the way, the city's culinary attention turned to hotly anticipated plans for two more indoor food markets. This is the first (in a neighborhood that really needs it), with more than 20 concrete stands selling international street food. Expect another fancier hall in a new department store opening on the Rokin in September 2016.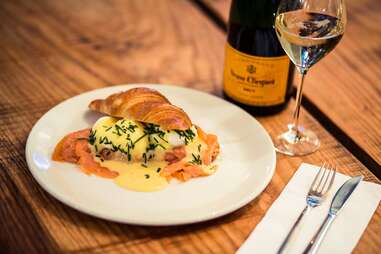 Helmersbuurt
All. Day. Brunch. (7am-7pm, that is.) Like its signature eggs Benedict, made extra decadent with a croissant base. There are plenty of lunch dishes too, from burgers to meatball sandwiches. And naturally it has your favorite brunch cocktails, plus wine and bubbly.

Helmersbuurt
Just a couple blocks from TEDS, Bar DK is part lunch and "borrel" (after-work) spot, part art gallery. The art is by INK Amsterdam (and is periodically for sale) and the food consists of hearty sandwiches, soups, and salads. The borrel menu features minor twists on bar favorites, like a plank of bread with mackerel mousse, red beet tartare, and mango hummus.

Java Island
Bye-bye Oliver Gastrobar, hello KAAS. As "kaas" means cheese, you can bet your sweet soul you'll find some of that on the "New Dutch" menu. Cheese fondue and cheese plates aside, the menu features Hollandish classics with modern foodstuffs, like the lamb carré Saratoga with eggplant, savoy cabbage, and triple-fried fries or the stewed veggies with quinoa and nuts. The restaurant is also positioning itself as a neighborhood hub, with comedy nights, pub quizzes, neighborhood BBQs, and stamppot nights.

Diamantbuurt
Bar Huf, Bar Paul, and Bar Breitner have a new sibling. And it's another win for the carnivores. Steaks, ribs, shrimp, and chicken are served on wooden planks with simple sides, and you're encouraged to eat with your hands whenever possible. (Fans of Café de Klos will feel at home here.) The medieval-feeling wood interior with bench seating matches the menu perfectly.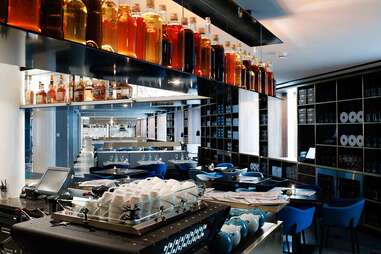 Nieuwezijds Kolk
The social heart of the shiny new INK Hotel offers breakfast, lunch, dinner, coffee, drinks, and snacks meant to share, plus an adjacent lounge bar and library in which you can hang out. Named for the editorial staff of De Tijd, the newspaper that used to have its offices here, this is exactly the sort of crowd the space is looking to attract. Which means the Wi-Fi is free. Stop by during aperitivo (5-11pm) to score some free bar bites.
Kinkerbuurt
This is the latest from the people who brought you the Americano, Carter, Hugo's, and Franklin's Bar & Kitchen. The look is a jaw-dropping mix of rustic potted plants and rusted warehouse siding with polished wood-patterned walls; bright, birdcage-like lamps; and glass and metal screen partitions. The dinner menu is simple and market-driven, featuring charcoal-grilled seasonal fish, meats, and veggies. It also has cocktails by the pitcher. That's right, cocktails by the pitcher. See you there.
Westerpark
Westerpark has another restaurant! (We know you were worried the area was lacking options.) On the menu: organic sandwiches for lunch and grill fare and pastas for dinner. There are also plenty of sweet boozes to wash it down, mostly in the form of wine, cocktails, and whiskeys.

Stadionbuurt
The old garage next to the Olympic Stadium is positively buzzing between BAUT Zuid (see "old favorites in new locations" below) and this pop-up, a collaboration between the people behind De Goudfazant, Lof, and Café Modern. Situated in the former garage of guess what car brand, you can literally drive into the restaurant... or just walk up the entrance ramp. If the weather is nice, take your welcome aperitif to the roof terrace, where the restaurant's garden of ingredients grows.
Canal Belt
Plush velvety seating under a low ceiling with characteristic beams reflected by a mirrored backdrop make this snug space cozy without feeling claustrophobic. As for the food, the flavors are as exotic as the flowery presentation: proving that saté is more than just a spicy peanut sauce, the menu offers skewered pan-Asian food in the form of prawn with chilli, lime, and pineapple; garlic-ginger-cilantro goat; and 12 other varieties (plus bites, apps, sides, desserts, and drinks).

Nieuwmarkt
It's been a little while, but Amsterdam has a new speakeasy. The bar is literally underground with an unmarked back entrance (actually the back door of restaurant Geisha, which doesn't own the bar but provides sushi and dim sum there). However, the vibe is no-nonsense and there's no dress code. The cocktails are strong (with mezcal as a recurring ingredient), but not frilly. Cocktail geeks are invited to kindly shut their traps and keep their mixology jargon to themselves. To get in, buzz the bell between Geldersekade 17 and 19 -- but as there are only 40 spots inside, it's probably a good idea to text ahead your reservation to +31 (0)6 2261 4496.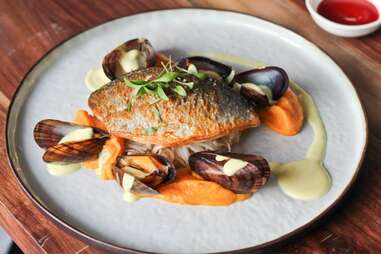 Rokin
The menu spans lunch, dinner, street food, and late-night drinks and features French-Asian faves like spring chicken with bamboo, noodles, Asian spices, and bok choy. It's got cocktails, but its homemade iced tea is its signature sip.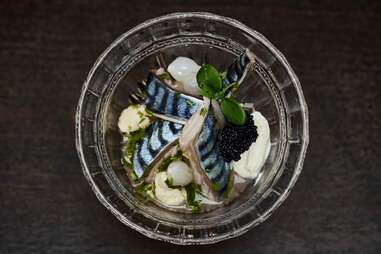 Jordaan
Come for the Argentinian meats, ceviches, and tapas; stay for (or because of) the giant cocktails and Spanish and South American wines. Enjoy the scenery (the people and the décor) while you're there.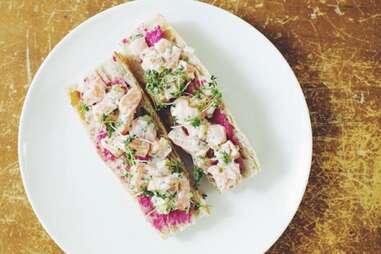 9 Straatjes
Once the hangout of Enlightenment thinkers, the historic Felix Meritis has more recently been the home of popular pop-up restaurants (most recently Foyer). Now it is Staets' turn. Choose between three-, four-, and five-course menus of flower-bedecked Flemish food. You have until the end of the year.
And some old favorites in new locations...
Gs Oost (address and info)
Transvaalbuurt
Brunch more days and more hours at the new Transvaalbuurt location of one of our fave brunch spots.
The Harbour Club Kitchen (address and info)
Oud-Zuid
With five locations in Amsterdam, Rotterdam, and The Hague, The Harbour Club is officially a chain. A very classy one, which suits its new Oud-Zuid (Wyndham Apollo Hotel) location. Now, however, it's added BBQ to the menu.
Eetbar Wilde Zwijnen (address and info)
Indische Buurt
Located right next to the original on the Javastraat, the new "Edible Wild Swine" offers small plates instead of multi-course menus and mixes the Dutch inspiration with Spanish and Italian influences.
Instock Amsterdam (address and info)
Czaar Peterbuurt
The haute-leftovers pop-up whose food and Instagrams we love equally has found a permanent location: due east in the Czaar Peterbuurt. There's also now a takeout spot in de Pijp and a wandering food truck.
Ron Gastrobar Oriental (address and info)
Leidseplein
Ron Blaauw, the Amsterdam chef who gave up two Michelin stars to focus on affordable cuisine with class (see The Fat Dog), looks to China for menu inspiration for his newest venture near Leidseplein.
The Seafood Bar (address and info)
Spui
If it comes from the sea, it's probably on The Seafood Bar's menu. And now that menu's on offer at a second location at the Spui.
San George (address and info)
Leidseplein
The George family of restaurants expands with a seventh offering, across the water from Leidseplein, this time with an Italian brasserie-style kitchen.
Cafe Kootje (address and info)
Oosterdok
Massive Belgian-born beer bar Delirium has a new buddy next door -- except this terrace-sharing sibling focuses on local brews.
BAUT ZUID (address and info)
Stadionbuurt
Just like former neighbor-club Trouw, we always knew international restaurant BAUT was temporary -- which is why we're thrilled it has a new pop-up location next to the Olympic Stadium.
Cannibale Royale (address and info)
Pijp
The late hours are out but the meaty, horror-themed menu remains at this second location between de Pijp and Museumplein.
Sign up here for our daily Amsterdam email and be the first to get all the food/drink/fun in town.