Courtesy of Restaurant Black and Blue
Courtesy of Restaurant Black and Blue
Meat and potatoes: although it isn't considered the most exciting dish in the world, it's certainly one of the oldest, and most widely served... and the Netherlands has perfected it. So far, we've looked at the best BBQ joints in town, but now it's time to get down to the real meat of the vlees scene: the steaks. Amsterdam is chock-full of steakhouses, but these 10 below are singlehandedly the best.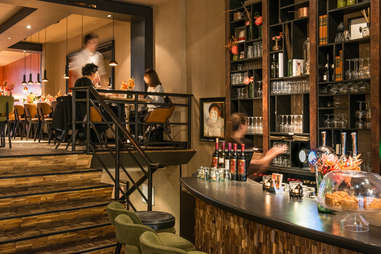 <em>Canal Belt</em><br />
The URL of this restaurant is literally "steakrestaurantamsterdam.nl" (clever, clever), so you know what to expect. Luckily, it puts its meat where its mouth is (or where YOUR mouth is), fulfilling the bovine boasting with organic Black Angus tournedos and rib-eye out of a charcoal oven, plus burgers and a couple non-cow things like Cornish game hen and lobster. There's even a succulent steak salad if you're watching your figure. But for those who could care less about their figure, try the "death by chocolate" dessert, or the lemon cheesecake, all served in a soothingly mod setting.<br />
<br />
<!-- single line template -->
Jordaan
Apparently the first Argentinian restaurant to open in the Jordaan (in 1990), this brown cafe-style meatery is definitely no tourist trap. Here, you'll find meat from all around South America and Europe. Our recommendation: get the mix of four, each of which show up sporting tiny flags, naturally. Come by on Friday or Saturday to catch some live music, or Saturday afternoon for one of the Argentinian meat pies.


<em>Canal Belt</em><br />
If surf &amp; turf is what you're looking for, then head to Red. It also offers caviar, fries, and a pasta dish for the vegetarians too. But this spot knows, and plays to, its strengths: 1) steak &amp; lobster, and 2) swanky, dramatic decor. There's also a respectable wine menu... which we suppose could clock in at No. 3.
<em>Rembrandtplein</em><br />
This tidy cafe with a spacious, tree-dotted terrace has spent 40 years haunting this corner of the Rembrandtplein (it's named after the artist's most famous painting) with a meaty menu in an almost-chic interior. There are at least eight ways to order a slab of beef straight off the charcoal grill to your plate. There aren't too many options beyond that, though frog legs are one (a pair?) of them. True to its name ("The Night Watch"), it's open until 12:30am (and 1:30am on Fri &amp; Sat).<br />
<br />
<!-- single line template -->
<em>Nes</em><br />
For something a little different, you have this "hidden" spot with no tangible menu -- the wait staff will recite it for you. There are some tightly packed tables for small groups relieved by some charming, if tiny, terrace space, and the lack of price listings can be unnerving... though prices remain quite reasonable. The draw is the inventive, changing menu, ranging from giant sandwiches, to Indonesian chicken, to mackerel mousse. But its signature dish is the steak. Here, it's all about preparation: this steak is served on a bed of goat cheese and topped with strawberry sauce: dinner and dessert in one. (Also, they don't take reservations.)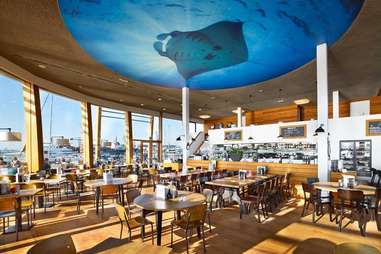 <em>Museumplein (&amp; other locations)</em><br />
Every discussion of steaks in Amsterdam begins (but thankfully doesn't end) with Loetje. The original, just on the edge of both Museumplein and de Pijp, is still going strong, but with five locations in the Amsterdam area alone, there's a spot for you probably closer to home (boat owners: may we suggest Loetje aan 't IJ, with its massive waterside terrace, for the summer months?). At any rate, the meat is imported from Uruguay, and most people go for the slightly spicy Bali steak, fried in butter and topped with a chili pepper-based sambal sauce.<br />
<br />
<!-- single line template -->
<em>Canal Belt</em><br />
This third-generation family business was first famous for its steaks, then infamous for serving people horse steaks without telling them... and <strong>now</strong> is famous for its horse steaks. In case you haven't been to the local butcher and don't know, eating horse is not a big deal here. It was never outlawed, since the Dutchies didn't need tons of horsepower for any sort of Western Expansion. It serves beef steaks, too, but Seabiscuit is cheaper and tastier.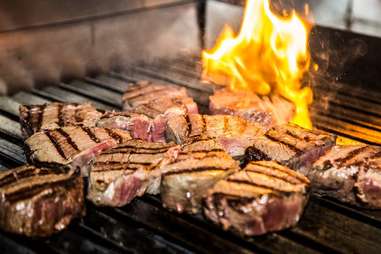 <em>Centraal Station</em><br />
Argentinian steakhouses are something Amsterdam has no shortage of, but this is one of the absolute best. That title's due to the dedication the staff shows customers, as well as the tasty, picturesque meat treats coming out of the kitchen. OK, so it's not <em>totally </em>Argentinian: you can taste the flesh of animals from seven different countries, from Canadian bison to two types of Japanese wagyu beef. You can also mix &amp; match (with seafood as well). Going back to the Argentinian theme, you have your pick of sauces, as well.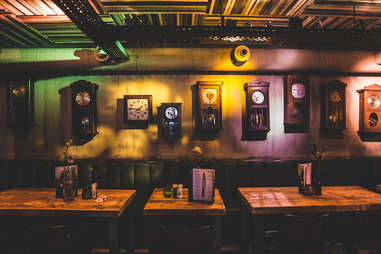 <em>Spui, de Pijp</em><br />
We've said it before and we'll say it again: if you're looking for meat -- whether burgers, ribs, or steaks -- do not pass Go, do not collect $200, just get your ass to Cannibale Royale. But plan/call ahead if you want to join the ranks of the Cannibale elite -- it needs 24-hour notice to prepare the 1kg hunk of beef known as L'Absurde that will get your name up amongst the chalkboard heroes (if you can finish it... ).<br />
<br />
<!-- single line template -->
<em>Leidseplein</em><br />
This medieval-feeling meat spot is known for ribs. But from its perspective, its thing is <em>all meats</em>, and it's got over seven perfectly cooked varieties of beef, lamb, and pork steak on the menu to prove it.<br />
<br />
<em><a class="vortex-open" data-campaign="5332" href="https://signup.thrillist.com/&quot; target="_blank">Sign up here</a> for our daily Amsterdam email and be the first to get all the food/drink/fun in town.</em><br />
<br />
<em>Elysia Brenner is a freelance food &amp; wine writer with a voracious and adventurous appetite... who has definitely eaten horse (yum), but somehow never frog legs. </em>