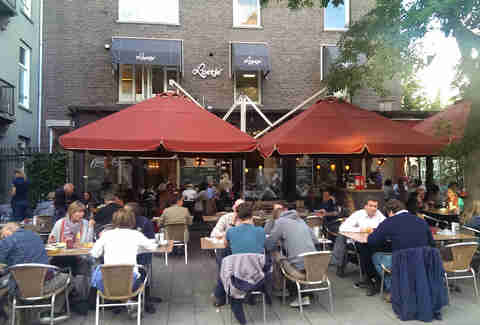 Chinatown
This was the first of now three locations started here on the Zeedijk in 1981 with 16 seats and a Cantonese chef and foodie "friend" (or "kee") named Nam Chan. His restaurant grew its name in the neighborhood and beyond by sticking to the classics, eschewing the influences of the local Dutch cuisine. That fame skyrocketed in 2000 with the release of the Kees van Beijnum novel The Oysters of Nam Kee, later turned into a steamy (read: NSFW) film of the same name. More importantly, though, the no-frills food is plentiful, cheap, and crazy delicious.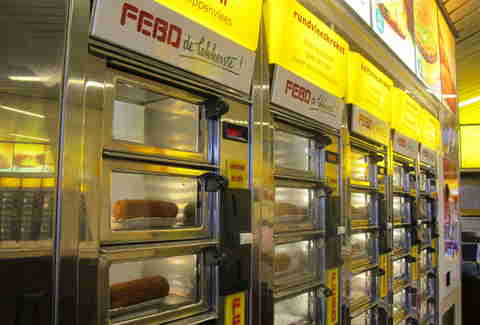 De Pijp
This chain of fried food stored in heated holes in the wall for post-bar people and tourists has a nonsense name (pronounced "fay-bo") with a story. The deceptively fancy-sounding "Maison FEBO" set up shop as a bakery in 1941... contrary to popular legend, not on the Ferdinand Bolstraat. The Ferdinand Bolstraat was merely where the original owner apprenticed, and he wanted to give a shout out to his mentor. (FeBo -- see it?) So, that's the much-later-opened location we're honoring here. The original is long gone, but 75 years later, this wartime startup is going strong with 25 spaces in Amsterdam and almost 40 more in towns and cities across the country, not to mention half a dozen copycat chains. Love it or hate it, it's an Amsterdam icon: we've even power ranked all its most popular offerings. And now there's a sit-down restaurant, too.
Supperclub
Dam
Amsterdam restaurant heavyweight IQ Creative (behind Nevel, Vyne, and a bunch of other hotspots) made its name with this concept combo of nightclub dinnertainment, where the performances are as quirky as the food. (We once watched a fortune teller/dancer "give birth" to a baby doll while we ate pâté out of doggy bowls.) The emphasis is more on spectacle than the hit-or-miss food... and doing that, Supperclub has made fans: in addition to the original and an Amsterdam cruise, there are now also Supperclub locations in San Francisco, Istanbul, and LA.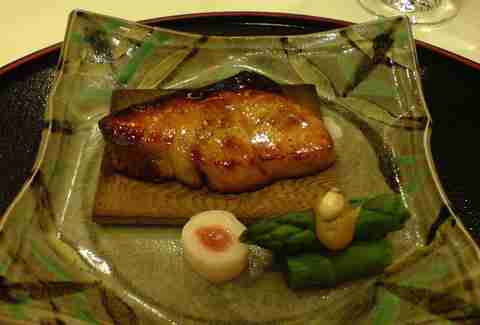 De Pijp
The first Michelin-starred Japanese restaurant outside Japan keeps it totally traditional, with Kyoto-style kaeseki cuisine and sushi chefs trained in Tokyo. The €100+ chef's menus are on the experiential aspirations list of every glutton in the city.
Houthaven
It's an impressive sight, hovering over the water halfway between Houthavens and NDSM. The view from inside is pretty impressive, too. But neither is as cool as the building's history: this is the transplanted former pirate radio station that used to broadcast illegally from the North Sea, until the government got their patch of water rezoned as Dutch territory and sent the Marines to shut them down in 1964. The menu is a respectably prepared mix of modern international bistro fare.
Rembrandtplein
The bricks and mortar of this cheery lunchroom serving everything Dutch, including pancakes, plus English and American breakfasts on the Reguliersdwarsstraat, date back to the 17th century. But the reason that this is one of the most important restaurants in Amsterdam is that it was the city's first openly gay café (opening in 1970), paving the way for the rest of the street to follow with some of the city's best dining and partying, catering to crowds of every orientation.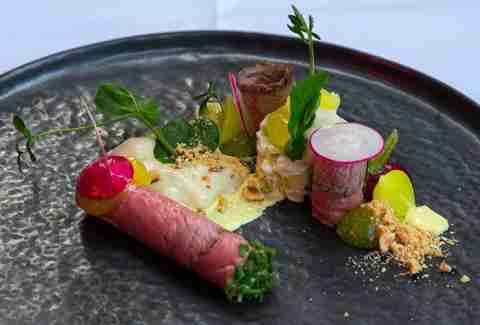 Central Station
"The Silver Mirror" is a fancy spot, where the food is as pretty as the interior of these two 1614 houses (named after their wealthy original owner, Meneer Spieghel, who liked to get punny with his last name -- he called the other house "The Golden Mirror"). The spot has been a café since the full restoration in the 1930s. During WWII, hidden rooms protected a large family of Jewish regulars (who managed to stay hidden through six raids), and the restaurant became a hangout for the resistance press. The food's not bad, but let's be honest: you're coming here for the history.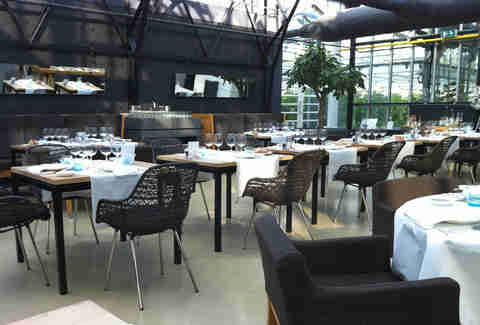 Watergraafsmeer
"The Greenhouse" is exactly what it says: a giant greenhouse dating from 1926 in the middle of Park Frankendael, full of plants and everything. Plus 140 seats. Because this greenhouse also cooks up those plants (and meats and cheeses and other stuff sourced from the local countryside) and serves them in some pretty posh, pretty delicious three-course meals -- a new one for the whole restaurant each day. Open since 2001, De Kas gets at least part of the credit for ushering in the Amsterdam locavore movement.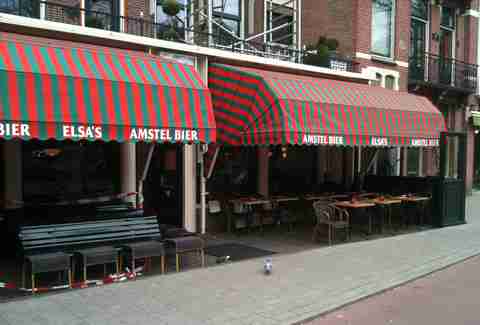 Watergraafsmeer
Riad Farhat, Jason Berg, and Piet van der Graaf have opened 10 (insta-popular) restaurants and bars together over the past seven years, including De Biertuin, Smokin' Barrels, Waterkant, and Eddy Spaghetti. But this is the resto, just steps from De Kas, where they met. Their first venture, Cafe MAXWELL (Elsa's last name), ushered in a new dominion of horeca hotspots where the focus is on quality food and drinks and friendly service at reasonable prices... with menus and interiors tarted up for a more trend-conscious crowd than Elsa's here. Finally giving the residents of Amsterdam's other neighborhoods more reasons to head Oost.
Dam
For 150 years, the restaurant occupying Die Port van Cleve has been called De Poort. (Both mean gateway.) In fact, the restaurant was the first building in the city to get kitted up with electric lights in 1879. However, more recently, the old-fashioned menu and stodgy atmosphere had worn a little thin; so it's no bad thing they renovated and re-opened in March as the much sharper-looking Maximiliaan, named after the Habsburg emperor who helped make Amsterdam famous, and serving brasserie-style continental cuisine. Whatever they call the place, the whole complex started as a beer brewery in the late 16th century. In 1863, a man named Heineken bought the place to set up his own beer brewery (later moving to the spot where the tourists are sent now). Yep, global beer domination started here.
Overtoom
Unlike Indonesia, Ethiopia was never a colony of the Netherlands (or anyone elses! Go Ethiopia!). Yet the city boasts a plethora of Ethiopian restaurants. Credit should be given to Lalibela, the first, which taught the Dutch to love eating savory stew-covered injera pancakes with their hands and drinking banana beer from a gourd, finishing it all up with rich and spicy coffee.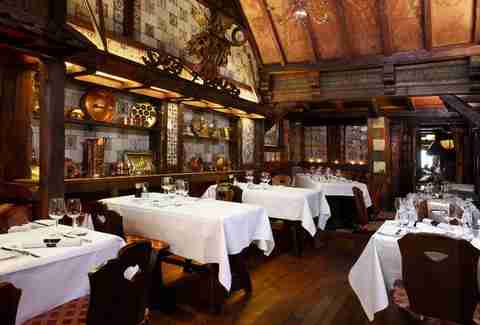 Spui
Stepping into d'Vijff Vlieghen is like stepping into a lavish cave decorated in the Golden Age with gold leather wallpaper and original Rembrandt etchings. The restaurant was opened by Nicholas Kroese, who acted as a benefactor for the '60s Provos, a group that liked to provoke the police to violence in front of the press by, for instance, singing, dancing, and pretending to smoke cannabis next to a statue on the Spui square. After their "happenings," Kroese would let them hide in his restaurant. He gave them a whole building to use as an anti-tobacco "church"... until they accidentally burned it down. The menu is now an organic-oriented update on classic Dutch.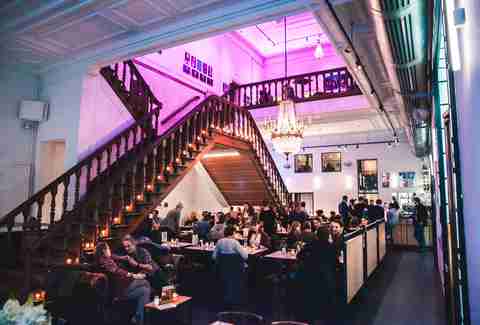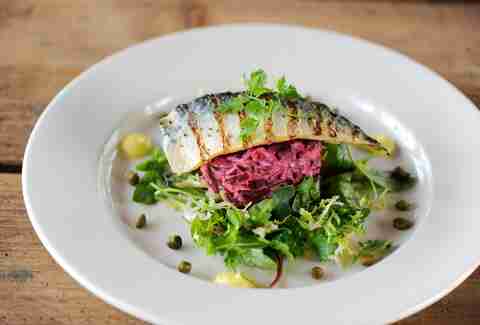 NDSM
The increasingly popular formerly squatted artistic enclave in Amsterdam Noord comes by its industrial chicness honestly: it used to be a ship-building yard. And this waterside restaurant, formerly known as De Baanderij, was where the workers (or the laid-off workers, once the shipyard shut) would come to organize themselves, shoot some pool, and blow off some steam. The city completely renovated the space, and it opened as a restaurant serving Dutch-palate-pleasing international foods in 2005. Now NDSM leads Noord in top restaurants (some better than this one), but de IJ-kantine paved the way.
Kinkerbuurt
Last year Amsterdam foodies must have been really good, because they finally got the gift sitting at the top of their collective wish list: a really classy food court -- that is, Amsterdam's first food hall. Burgers from The Butcher, classed-up bitterballen at the De Ballenbar, New Zealand Wild Moa Pies, sushi hand rolls at Mr. Temaki -- there's something for every kind of eater. And now Amsterdam's about to get a second food hall: the World of Food will open in Zuidoost in May. (Maybe that will bump that 'hood up the food & drink rankings.)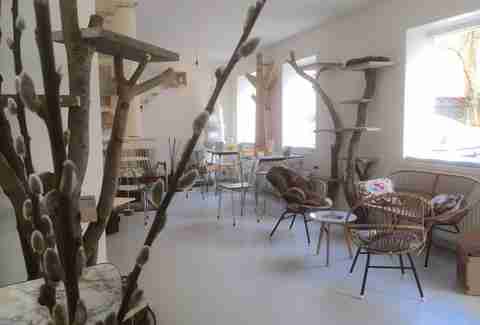 De Baarsjes
This new opener is Amsterdam's (fully crowd-funded) first cat café, named for the word the Dutch use to describe when a cat affectionately rubs its head against you. Make a reservation and you can sit around petting kitties for €3/two hours (plus whatever cakes and sandwiches you can eat). No more explanation necessary.