There's nothing better than sitting down to a nice brunch... except sitting down to a presumably even nicer brunch picked by some of Atlanta's sweetest chefs, which is why we got 11 of 'em to do exactly that. Feast your eyes:
Recommended Video
This Burger Has a Pizza Bun
Chef Michael Patria of Ecco
His pick: Atmosphere (address and info)
Morningside
Chef Patria is partial to brunch at Atmosphere because regardless of your mood, "the food is really spectacular." For a sweet treat, he enjoys the decadent French toast with strawberries and whipped cream. On the more savory side, the croque madame -- the ultimate ham and melted Swiss cheese sandwich topped with fried eggs, and served with house-made French fries -- "always hits the spot. And their Bloody Mary is excellent."
Chef Stuart Tracy of Parish
His pick: TWO Urban Licks (address and info)
Old Fourth Ward
Chef Tracy's advice? Skip your typical pancakes & eggs brunch and head straight for a burger -- and not just any burger; it needs to be a behemoth. "I like walking the BeltLine to grab the Big Ass Burger at TWO Urban Licks' brunch," Tracy says. The 100% ground short rib patties lend the burger an unbelievably delicious flavor, and the addition of applewood-smoked bacon and rustic cheddar make it "just what I need after a hard weekend in the restaurant."
His pick: Local Three Kitchen & Bar (address and info)
Buckhead
Atlanta's king of Southern hospitality and locally inspired cuisine heads here, where the incredible-tasting food is only bested by the sheer volume of selections. "When I manage a Sunday off," he says, "my fiancée and I love to enjoy Local Three Kitchen's brunch buffet." Sure, the line can back get a little backed up, but the incredibly delicious variety of options (including biscuits & chorizo gravy and peaches & cream custard French toast) more than make up for it.
Chef George Yu of Makan
His pick: La Tavola Trattoria (address and info)
Virginia Highland
Like Chef Tracy, George Yu considers beef a vital component of a great brunch. He hits up La Tavola on the reg, especially during patio season because it brings a rare European charm to the heart of the Highlands. "I always get the steak and eggs," Yu says, claiming it's perfectly marinated. Also, don't forget about the smoked salmon crostini with pickled red onions, marinated olives, and chive mascarpone -- it's irresistible.
His pick: Ria's Bluebird (address and info)
Grant Park
Hector Santiago, of the forthcoming El Super Pan (going into the Ponce City Market this fall), digs the brunch classics at Ria's Bluebird for brunch. "I love to go for pancakes at Ria's Bluebird. Add a side of Pine Street Market bacon and a few eggs, and I'm in heaven!" he says. His second pick? The bold, delicious flavors at Arepa Mia. "When I get south-of-the-border cravings (way south), I go to Liz at Arepa Mia for an Arepa de Guayanesa, with tangy and tender Venezuelan cheese." Washing it all down with a refreshing Malta, he says, "also fills me in all kinds of ways."
Chef Mike Perez of Colletta
His pick: Oak Steakhouse (address and info)
Alpharetta
Interestingly enough, Mike Perez doesn't often want sweet breakfast foods. So it's all about savory, American-inspired sandwiches that are also appropriate for other meals. "The lobster grilled cheese sandwich with kettle chips is stupid delicious," he says.
His other pick: King + Duke (address and info)
Buckhead
When he's not blasting his belly with sandwiches from the 'burbs, he's... um, doing the same thing with sandwiches from King + Duke. "Their fried chicken sandwich is insane," he says. He's right.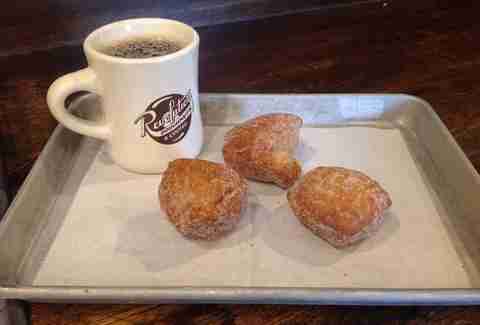 Chef Cameron Thompson of Farm Burger
His pick: The Grant Park Farmers Market (address and info)
Grant Park
The perfect brunch for Cameron Thompson means a trip to the Grant Park Farmers Market. Not only is there a wide variety of delectable local treats to choose from, he says there are "no crazy crowds or long waits." Since local favorites like Revolution Doughnuts and the Spotted Trotter can be found there hawking their wares, a typical brunch for Thompson includes coffee, donuts, and sausage. And then probably more donuts.
Chef Savannah Haseler of Twain's
Her pick: The General Muir (address and info)
Emory Point
The General Muir is Savannah Haseler's pick because of its versatility -- it's casual enough to bring the family to and it's also a solid choice for a special occasion. She orders the poached eggs and grits plate. It's a classic choice with a gourmet twist. "Their silky poached eggs and cheesy grits are so delicious," she says. Perfectly poached eggs placed atop earthy roasted mushrooms and served alongside rye toast sticks and rich, buttery Gruyere grits mean "I always have a great brunch when I'm there."
His pick: Argosy (address and info)
East Atlanta
When Chef Joey Stallings isn't slinging some of the city's sweetest 'cue, he likes to kick back and relax like the rest of us... and that often means an adult beverage or three. "When I wake up in time for brunch, my cure for the libations still in my system from the night before can be found in the fried chicken at Argosy," Stallings laughs. "It has some sort of honey glaze that makes it perfect. And I like to stay local to my home in East Atlanta for my delicious quick fix!" Stallings is also a fan of the bartenders here, and pairing brunch with their Irish American cocktail: with espresso, Jameson, and Irish cream.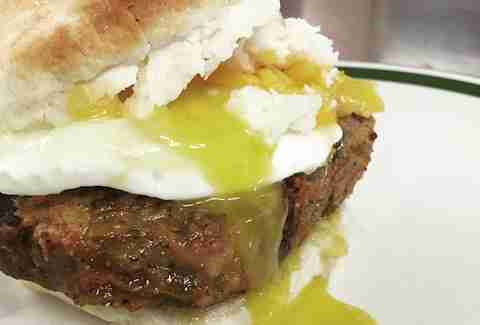 Their pick: Home grown (address and info)
Reynoldstown
Co-chefs of perennial hometown favorite ONE. Midtown Kitchen, Matt Weinstein and Chris Maher are renowned for the unique cuisine they create with their differing, complementary styles. Interestingly, despite those culinary differences, they agree when it comes to brunch: Home Grown is the move, calling it their "go-to spot for brunch." They typically alternate between the specials and a menu staple, the Comfy Chicken Biscuit: fried chicken crammed into a soft, buttery biscuit, all of which groans under the weight of a gorgeously obscene amount of sausage gravy. Plus, coffee.
Sign up here for our daily Atlanta email and be the first to get all the food/drink/fun the ATL has to offer.