Old-school meats & umami blasts ruled the year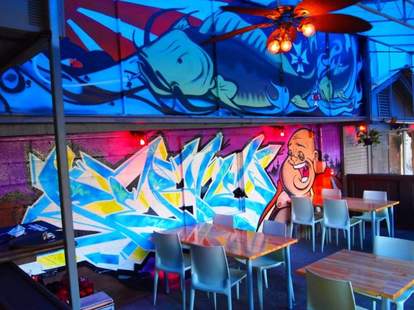 2012 saw Atlanta being blessed with plenty more new spots than just the ketchup ones you got on your ironic D.A.R.E. shirt -- see what some of the city's finest food & drink minds thought rose to the top
Paul Calvert, Bar Manager, Victory Sandwich Bar"In no particular order: Proof and Provision, Octopus, STG Trattoria, and The Little Tart. I think they actually opened in 2011, but I love that place. I like that the folks that run these spots are taking their jobs seriously without taking themselves too seriously. As for The Little Tart, go buy a croissant.
Mike LaSage, Owner, Bone Lick BBQ"Octopus Bar, the pop-up over at Soba, is a really cool, great, innovative late-night dining spot. Also Harold's Fried Chicken over on Edgewood. I know it was a long time in the making for them, however, every time I stop by the Speakeasy at Vesuvius for a late night drink, I get out of my car and am smacked in the face with the lovely smell of frying chicken. It's a goddamn Sunday morning country song, seven days a week. I love it.
Art Smith, Owner, Southern Art"Farm Burger. I adore their burgers and love their special salads of the day. You can't beat pizza at Tartufo Italian Pizza, love my neighbors.
Navarro Carr, Bar Manager, The Sound Table"First and foremost, Octopus Bar. They have amazing food late-night, which is what a person in my profession needs on a weekly basis. The food is elegant, consistent, and well executed and has made this city a stronger culinary destination. The One Eared Stag, not sure if it qualifies as new, but simply put, they have some of the best food in the city.
Sonia Chopra, Editor, Eater Atlanta"I like Proof & Provision. I think it's a great bar for so many occasions. You can get dressed up and head over before going to, or pretending to go to, a show at the Fox, you can go with some friends for happy hour and snacks, it can be anything you want it to be. Zeb and Nate are awesome, and the cocktails are fantastic.
Zeb Stevenson, Executive Chef, Proof & Provision & Livingston"I don't know if it necessarily qualifies as a new spot but I can't get enough of the Tonkatsu ramen at Miso Izakaya. It is immensely satisfying, rich, and intense. It's an umami blast!"