The bacon-filled bacon benefit is back, and is bringing bacon. Bacon.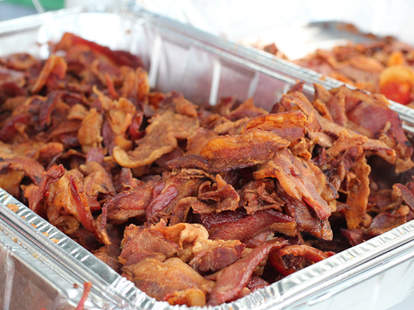 What happens when The Vortex and D.B.A. Barbecue prepare 1000+lbs of bacon, and pair it with ice-cold Grolsch? Cardiologists go buy catamarans. And also a little porktravaganza called BaconFest, which is back to fill you with swine and suds, crown a Bacon King and Queen, and host a silent auction with restaurant gift certificates, local art, and dinner for six at Kevin Gillespie's forthcoming restaurant Gunshow
There are multiple ticketing options, but you're basically a dirty vegan if you get anything besides the Bottomless Bacon package that also nets you unlimited beer.
Of course the true Boss should go Whole Hog, which also lets you in on the P'cheen gang's roasted wonders.
The whole thing benefits the Dad's Garage comedy crew, who'll be on hand setting up all manner of attractions. They're still working out what this year's going to bring, but last year's Terrible Caricature Booth was a hit with people who don't have 6yr-olds with poor manual dexterity handy to draw them.
They'd better be bringing this one back: a guided tasting of only the finest vintages of Boone's Farm, Cisco, and MD 20/20
"Safe Is Sexy" has never been more/less true than at the Sanitary Smooching booth
Tricks are something a whore does for money. Nobody's really sure what Olaf the Flamboyant does
Hunt an Improviser: they say you look like Gerard Depardieu, you hurl water balloons at them
Yes, that's Kevin Bacon. At last year's BaconFest. This really happened. Now clean your brain off the wall and go get your tickets.