Atlanta We'd really be a-Noid to hear you've still been eating Domino's when we've already told you about Atlanta's best pizzas. But, that's not possible, right? In fact, you've totally eaten all of our picks by now, right?! So, we figured it was time to find you five great, new ATL pizzas, all of which you can try right now.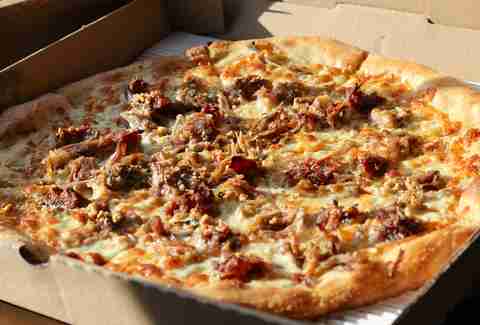 Duck confit pie, Timone's
This pie is so rich that Scrooge McDuck would totally hate it, even if it wasn't covered in... well, duck, plus dates, almonds & delicious caramelized onions.  Continue Reading
Pizza Burger, Jack's Pizza & Wings
Already eaten all of Atlanta's best burgers, too? Then Jack's has something for you: a juicy beef patty wrapped in their pizza dough, along with pepperoni, cheese, sauce, and whatever else you want.
Vascello, Argosy
Argosy's latest pizza voyage involves some sweet peppadew peppers, delicious sopressata, a blend of goat & mozzarella cheeses, and some fresh tarragon designed to give you an earthy herb scent to complement the more familiar protein/melted-dairy flavors.


Vegan Giardino, Ammazza
Made entirely of non-animals, but still actually pretty awesome, this cashew cheese- (?!) covered number boasts raw onions, spinach, Roma tomatoes, basil, fresh garlic, and button mushrooms all baked on a bed of Ammazza's signature sauce.
Hawaiian and Mexican Coke, Fellini's
Fellini's unsullied white board never really changes, so look for this sucker on one of the little hand-scrawled signs taped above the (totally hot!) cashier: a Hawaiian-style pie served on their thick, Sicilian crust (one crunchy slice is plenty), and paired with the still-very-rare-in-Atlanta Mexican Coke.