5 new Atlanta burgers to consume
Atlanta A new burger place opens in Atlanta about as frequently as you want to eat a burger: every day. But the sheer number of legitimately sweet meat-wiches can make it hard to choose which's best... so we did it for you (yayyy!). Here are five new ATL burgers you should formally introduce to your face:
Flip Burger Boutique
Lamburger at Flip Burger Boutique: This Strauss lamb, feta cheese, marinated vegetable, arugula, pickled red onion, tzatziki & garam masala spice creation isn't baaaaaaaaaaaa-d. In fact, it's pretty frickin' badass. Continue Reading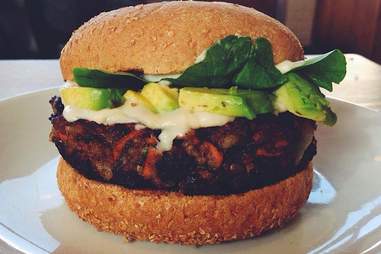 Yeah! Burger
The Vegan at Yeah! Burger: This thing's got provolone-style cheese, sliced organic avocado, hydroponic arugula, vegan mayo on a Rudi's vegan bun, and... wait, there's no meat on this thing? We didn't even notice the housemade organic vegan patty, and you probably won't either.


US Cafe
The Pounder at US Cafe: The "secret menu" Pounder burger is pretty simple -- it's just lettuce, tomato, mayonnaise, mustard, pickle & onion on top of guess-how-much beef or turkey.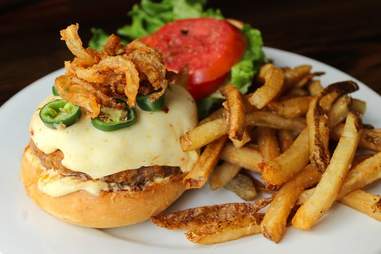 The Rey Mysterio at Cypress Street Pint & Plate: What makes this thing good isn't any mystery. It's the half-pound blackened burger patty, wing sauce, pepper Jack cheese, cayenne mayo, fresh jalapeño & Tabasco-marinated fried onions.
Breakfast All Day Burger at BurgerFi: This all-natural, Angus patty w/ American cheese, hickory bacon, a fried egg, hash browns, grilled onions, and ketchup is drizzled with maple syrup, which means you'll never have to choose between the two best food groups -- brunch and burgers -- again.