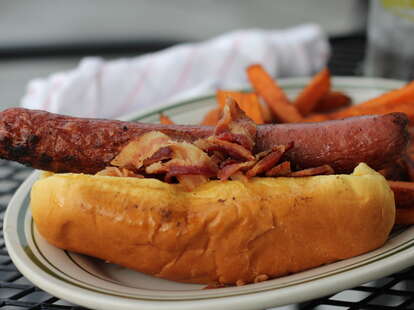 SEBASTIAN DAVIS
SEBASTIAN DAVIS
Atlanta Nothing says Summer more than hot dogs... except maybe these 12 things, or Seth Cohen in the first season of The O.C.... but still, hot dogs are super-Summery, especially if they're pimento-topped or inside waffles like some of the five new ATL hot dogs you have to try now. Feast your eyes...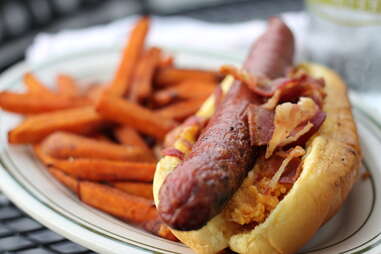 Pimento cheese and bacon hot dog at The Imperial
Oakhurst's giant patio is the perfect place to grab a couple of cheap pitchers and one of these meaty monstrosities. They'll throw almost anything on top, but if you keep it simple and Southern with their pimento cheese and bacon, you might even keep your hands clean (and avoid the cardinal sin of using a knife and fork). Continue Reading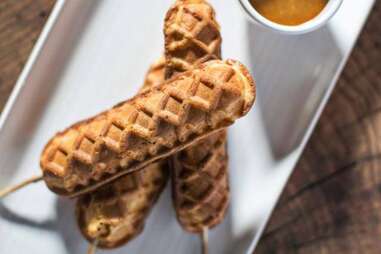 Waffle Dogs at Painted Pin
This bowling alley takes a "petite" beef frank and coats it in malted waffle batter, gives it the old cross-hatch treatment, and then pairs it with a sweet soy aioli dipping sauce, giving you a chance to eat two of the world's best foods... at the same time! ON A STICK!!


Red Haute Hot Dog at Flip Burger Highlands
After revamping his old HD1 spot and opening one the of the city's best rooftop patios in the process, Richard Blais decided to keep a little bit of that old gourmet wiener spirit alive via this high-end red-link that's covered in pimento jack, beef chili, and diced red onion.
12er Patak Footlong at Pallookaville
The pile of sweet onions and peppers is the perfect way to balance this intensely savory, specially blended meat log. Pro tip: combine it with one of their many boozy shakes and you've got what might be the ultimate meal. And some stretchy pants, hopefully.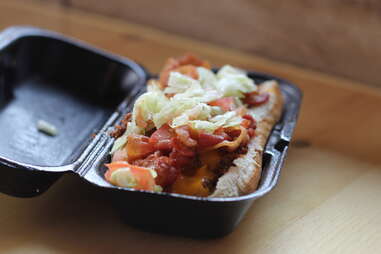 Mexi Hot Dog with bacon at Cook-out
This new, must-try fast-food spot is getting all sorts of love for its burgers and shakes, but their char-grilled dogs are a fine piece of work as well. The "Mexi" version is covered in nacho cheese, chili, hot sauce, and veggies. By the time you add on extra bacon, the actual link will be well out of sight.