With all the rain we've been getting this Summer (seriously, we've already had more than all of last year, people!), you may not have noticed we've also been showered with new and delicious places to eat and drink, ranging from unbeatable breakfast slingers like Folk Art, to elevated chicken shacks like Chick-a-Biddy, not to mention these five glorious new spots which you may have missed, but that you're gonna want to check out immediately.
On Tapa the World
Check where they're at today; 404.731.9249
This street food operation is serving up can't-miss Spanish small plates, including chicken, beef or veggie empanadas, and perfectly seasoned sliders like a cumin/ roasted jalapeños/ cream cheese number called The Bold, which is... ugh, beautiful.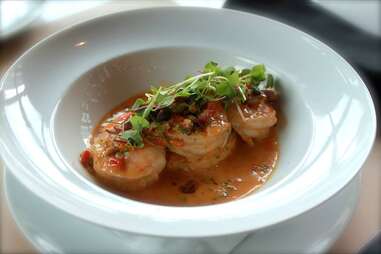 Portico at Le Meridien Perimeter Hotel
Dunwoody
OTP gets more fine-dining in the form of Portico, Le Meridien Perimeter Hotel's new globally inspired bistro where you... err, someone who'd actually be caught dead in Dunwoody, can nosh on eclectic plates of lemongrass-infused lobster bisque and steamed mussels.

Hola Mexican Cantina
Decatur
During happy hour, this colorful cantina has gratis appetizer platters loaded with... um, loaded nachos, quesadillas, etc. The regular menu is highlighted by glorious piles of sizzling fajitas that you can pair with a curated selection of craft brews… or craft cerveza, if you want to get technical about it, señor.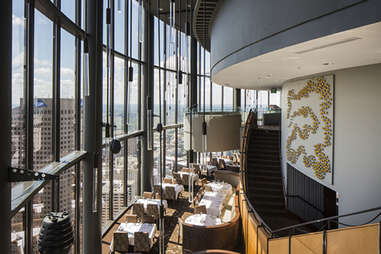 Sun Dial Restaurant, Bar & View
Downtown
This revolving mainstay's graced the Atlanta skyline since 1976, but it just got a brand-spankin'-new paint job... and everything else that comes with a $1.3mil renovation, including much more dining space, and a revamped menu focused on seasonal dishes and locally sourced ingredients.

Rock 'n Taco
Buckhead
If Sammy Hagar's proved anything, it's that he can't drive 55 rock & roll and Mexican restaurants go great together. Further evidence that it's a winning combination can be found at this road house, where they're promising sweet Tex-Mex eats, margaritas, rock music all night long, and a "super sexy staff", which, even if not technically true, is just a "Little White Lie".