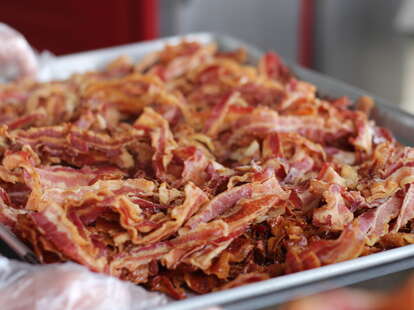 Atlanta We've already told you about the 20 things Atlanta does better than any other city. Unfortunately, eating/cooking bacon didn't make that list, but here are six places that are doing something about it by giving you six sweet ways to eat bacon in Atlanta: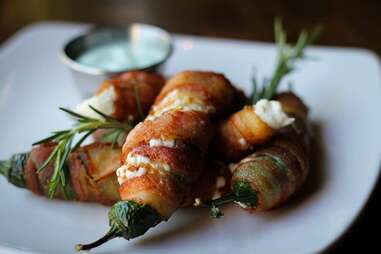 Serranos con Tocino at La Urbana Tequila & Mezcal Bar
This new Westside joint stuffs serrano peppers with Oaxaca cheese and ties them up in a marbled bacon bow. La Urbana's house mint ranch is the perfect liquid partner for your crunchy meat-wrapper. Continue Reading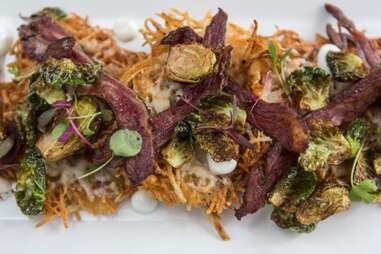 Loaded Latkes with lamb bacon at MAX's Wine Dive
Crispy fried potato pancakes are topped with melted white cheddar, sour cream, and fried Brussels sprouts. MAX then heaps on stacks of lamb bacon (which you now know is a thing), turning it into a fancy (and much better) version of your usual hash browns.


Bacon Popcorn at Polaris
This retro, rotating-rooftop restaurant is baconing up your swanky night out with this crunchy, sweet, and meaty appetizer (or heck, dessert) that'll make you feel even worse about digging into a bucket of heavily buttered kernels at Transformers 4.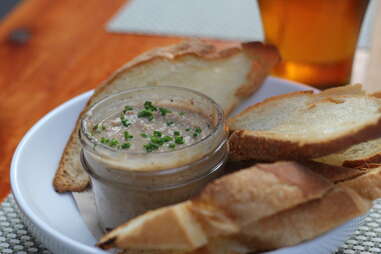 Black Eyed Pea & Bacon Hummus at The Lawrence
It was a smart, soul food play by Midtown's Lawrence to take what is traditionally thought of as a "healthy" spread and baconize the hell out of it, plus, adding black eyed peas makes it even more Southern. Now, if only they could deep-fry the whole thing.
Montanarine Genovese at Don Antonio
This "appetizer" is a fried puff of Italian dough covered with a blend of pancetta (Italian bacon), Pecorino Romano cheese, and sweet grilled onions. It's a grown-up, bacony donut that hopefully you're mature enough to hand... oh, shut up and GIMME!!!!!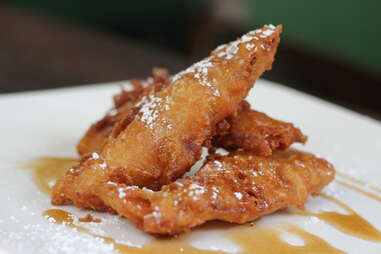 The Randy at Folk Art
It's not often that an item can make the grade both in deep-friedness and baconicity, but the new folks in Inman Park have done it. Their apple bacon in pancake batter will ruin you for any normal breakfasts from here on out, and make you curse yourself for not thinking of it first.