I'm unsure of the exact moment when I fell in love with gas station food. Was it the time I tried the Krispy Krunchy Chicken at the station on Moreland? Maybe it was when I walked out of the Clermont Lounge at 1am and handed the man standing by a smoker a $10 bill in exchange for the biggest BBQ sandwich I've ever seen. Whenever it was, it wasn't love at first sight. But the spark had been struck. And that spark would ignite a bonfire.
But allow me to backtrack a bit. I'll admit that eating gas station food is not for the weak-willed or faint of stomach. The first time I tried the fried chicken at the Exxon, I was nervous, hungry, and could feel the gaze of the cashier silently judging my seemingly odd choice. The gas station had always been within walking distance of my house, but aside from the occasional tank of gas, I never thought to pick up my actual dinner from there.
And then I did. And the more I went, the more I enjoyed the crispy dark meat accompanied by a flaky honey biscuit. A few weeks later, I visited a hot chicken pop-up in Candler Park, where the chef validated my palate by telling me that the Exxon I was frequenting was one of his favorite chicken joints. I knew I was onto something.
The chef validated my palate by telling me that the Exxon I was frequenting was one of his favorite chicken joints.
You see, we often think of gas stations as semi-filthy highway oases at which we stop on road trips for a bathroom break or to pick up a family-sized bag of pizza-flavored Combos (which are so fire, by the way). But in the South, where food rules our souls, we have access to a good pairing of coleslaw and BBQ, at gas stations that don't have Subways attached to them. The best are the ones that offer up a good biscuit, the flaky, made-with-lard kind… like the kind from Mt. Paran Country Store on Northside Drive. The morning biscuits there are top-notch; that's a capital-T Truth. I've also found gas stations that, despite being nowhere near a body of water, have some of the freshest fried catfish money can buy… and they serve it up with a side of hush puppies, of course. Go to Texaco on Northside Drive, on the west side of the city. You won't be disappointed.
Onto one of my favorite places, a spot that's in a state of constant flux. Every other weekend or so, a man rolls into the Texaco on Memorial Drive with his smoker in tow. He drives a large unmarked truck that has seen better days, but his face remains young and enthusiastic. Fully suited with his apron, he moves the meat around the smoker seamlessly -- knowing where each piece needs to be placed every time. His voice is raspy -- possibly from singing, possibly from smoking, we never really talk about that -- and I still hope for the day that he recognizes me. His mobile restaurant cares not for health scores or having somewhere to sit. His restaurant is truly food-focused. I know that if I stop by, I'm going to pick up a crispy, fall-off-the-bone rack of ribs for only a few dollars. After ordering, I often walk back and sit in my car with the window open and my feet over the wheel and sip on a Coke.
And those are the times I feel immense pride for the city I live in, the times I'm incredibly grateful I grew up in Georgia where, despite what many folks say, the barbecue is finger-lickin' good. While I don't think we should identify a region solely on stereotypical food (ahem, sweet tea), it's a blessing to have spots in Atlanta -- and beyond -- that are served with a side of no bullshit and no frills... simply paper plates and your jeans to wipe your hands on.
And by this point, I know what you're thinking: not all gas station food can be this good. Perhaps you've had a bad experience, perhaps you're simply a skeptic. Whatever the case, allow me to help you distinguish a legit spot from a dud. Realistically, you're playing roulette, but I will offer you my best tips: check out the gas station preemptively, walk in and see what they have. Don't be afraid to talk to the cashier about the selection. I didn't for a long time at my favorite fried chicken spot, and when I finally decided to approach him, he would give me tips on the best pairings. Let's just say we talk a lot more now.
The city may not love you back at times, but man, it's aching to sate your stomach, and your soul.
When I stopped by the smoker guy at the Clermont Lounge (I know it's not a gas station, but it's on the street), I asked him about his options. He steered me to the pork with coleslaw, despite my incessant clamoring that I hated coleslaw. As it turns out, I don't hate coleslaw at all, and to this day, his coleslaw is the best I've ever had. After I graciously accepted this BBQ offering fit for the gods, I took an open seat on the sidewalk and voraciously inhaled the sandwich. As I sat enamored with how good this pork was -- and doing my best to stave off a food coma -- the cook talked to me about dogs, life, and even offered some marriage advice. I'm not sure it was sound advice, but I didn't care. His sandwich-making skills were enough to convince me he was sagacious enough in his years. And besides, at least it makes for a pretty good story.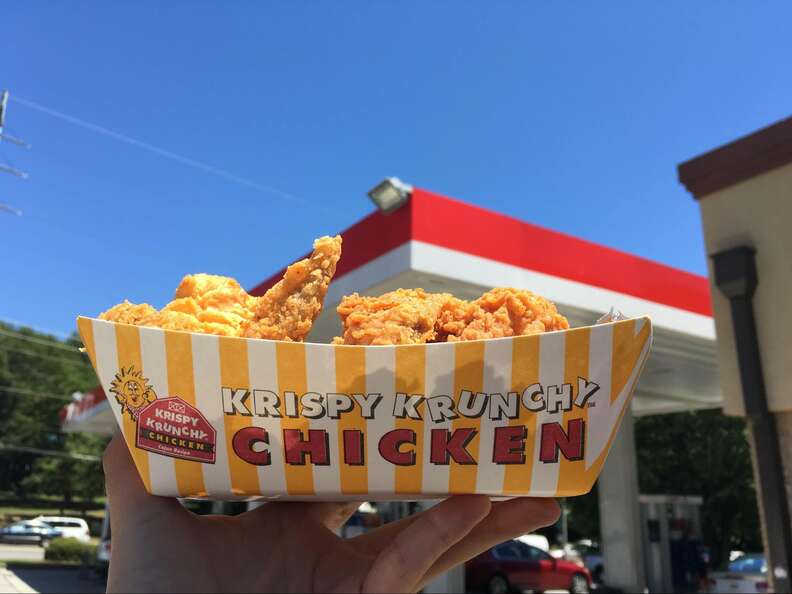 I've lived in Atlanta for around 16 years now, and while the city is constantly revising, amending, and evolving itself, it's also trying in earnest to preserve its essence, its soul. You see, beyond the multi-use developments like Ponce City Market and the impossibly trendy new places that've opened Downtown, there are spots that lie in plain view but are almost forgotten. Whether it's a pop-up in someone's house, a random guy grinning ear to ear flipping crepes in front of a gallery (find him in Candler Park), or in my case, gas station fried chicken, thinking outside the box when it comes to food in Atlanta will keep the romance and soul alive indefinitely. The city may not love you back at times, but man, it's aching to sate your stomach, and your soul.
Sign up here for our daily Atlanta email and be the first to get all the food/drink/fun the ATL has to offer.
Muriel Vega is a freelance writer and dreams about hot fried chicken on a daily basis. Follow her gas station adventures at @murielvega.