Everybody is excited about the long-awaited opening of Ponce City Market. There are retail shops (Frye, Onward Reserve, Ponce Denim Market, etc.), apartments (one of which reportedly contains Winona Ryder), and cool architectural design all around, but a big reason everybody's amped to visit is the Central Food Hall, which is basically a James Beard convention in the form of a fancy mall food court. Here's a breakdown of what's really good and everything you need to know.
The design is amazing
Most of us remember that before it was purchased by Jamestown Properties -- the same folks behind NYC's famed Chelsea Market -- this was a government building. But for 66 years before that, it was the Sears, Roebuck & Co. building where your great-grandfather sat around for hours outside a dressing room, complaining about your nana's shopping habits and lack of both fashion sense and respect for his time/money. Elements from the building's OG rendition, from the steel-frame windows, to towering round columns and antique machinery discovered during the gutting, are incorporated into the lovingly renovated structure to make it look and feel like it's been this way all along.
The food is simple, yet super-delish, because the restaurant owners are highly-respected local, regional, and national chefs who clearly grew up eating in shopping malls
Aside from one or two spots that are run by relative culinary newcomers, all the food here is brought to you by master chefs with cult-like foodie followers and widespread recognition, ranging from the James Beard Foundation to TV's Top Chef. That includes celebrity chef Jonathan Waxman (Chez Panisse in San Francisco), Adam Evans (The Optimist), Anne Quatrano (Bacchanalia), Linton Hopkins (Restaurant Eugene, Holeman + Finch), Hugh Acheson (Empire State South), Hector Santiago (Pura Vida), and Sean Brock of Charleston, SC restaurant Husk, which was named "Best New Restaurant in America" by Bon Appétit in 2011.
There are snacks, goodies, and treats... oh my!!
King of Pops has a shop tucked near the back, with food, frozen popsicles, and a full bar of KOP cocktails. You can also grab creamy love from Honeysuckle Gelato, and there's an old-fashioned sugar shack called Collier Candy Company selling rare candies that let you once again taste the acne-infested angst of your long-lost teen spirit.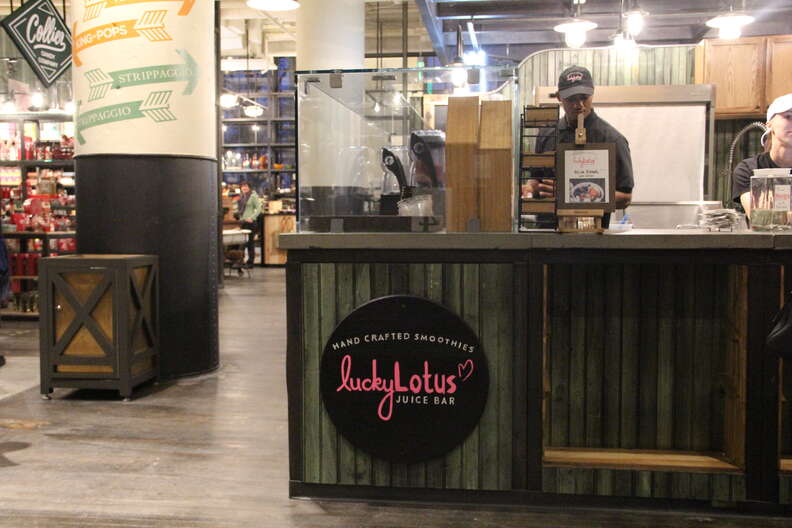 You can also choose to be hella-healthy...
Euro-cafe and farm-stand Farm to Ladle dish out hearty, winter-slapping soups that you can order at the counter or take home in freezer-ready containers, as well as locally-sourced raw veggies, sammies and such. They're also one of the only spots offering breakfast. Just a few steps down is cold-press juice bar Lucky Lotus, whose holistic menu features vegan dishes, smoothies, and vitamin-rich energy shots that'll give your skin that health-elitist glow.
But why be healthy when you can have HOLEMAN & FINCH CHEESEBURGERS ALL-DAY, EVERY DAY?!?
That's right. The Turner Field location doesn't count now that baseball season is over, and even there the menu is abbreviated. Here at PCMCFH, you can get the double-meat burger sensation that stole ATL's heart (maybe literally) since appearing in limited quantities at Holeman + Finch Public House. This location also features a smaller single-pattied version, a Spotted Trotter all-beef hot dog, and drinky drinks including their house "National Common" beer, plus drafts (beer and wine).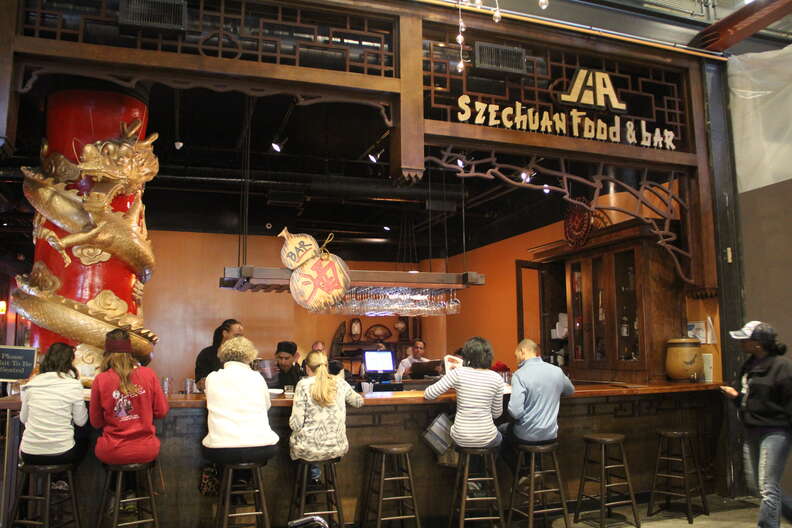 An alumnus of the infamous Peter Chang's Tasty China has his own Szechuan spot
Jiguo Jiang, who took over and held down the kitchen at Tasty China after wandering chef/legend Peter Chang left ATL, is now plating spicy greatness like crispy-fried quail over potato "nests" and a whole lot more. Just a tip: you may want to ask them to chill on the heat, but the taste? Pretty damn tasty!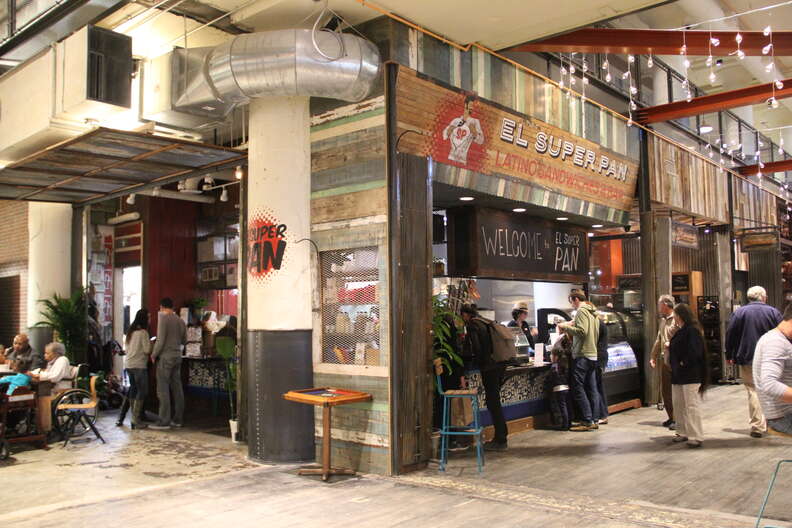 Minero, W. H. Stiles Fish Camp (Dub's), El Super Pan, Simply Seoul Kitchen, and Hop's Chicken are also awesome
Linton Hopkins is going after that looooonnnnng Chick-fil-A money with hot chicken sandwiches and biscuits. Anne Quatrano's squad is lobster rollin' and oyster-shuckin' at Dub's. Sexy Mexican lounge-eatery Minero is an instant institution for taco-and-tequila-lovers. And nice warm Asian buns are ready for your hands and mouth at Simply Seoul. And: Do. Not. Miss. The Cuban pork sammies at El Super Pan. Do. NOT!
There are two Italian restaurants
One is Bellina, which is a hybrid restaurant and deli market, with meats, cheeses, pasta, and more that you can take home and heat up, or eat fast-casual-style at tables, or full-service-style at the bar.
The other is Brezza Cucina
Run by the dynamic duo of Jonathan Waxman and Adam Evans. At press time it is the best thing cooking in the whole PCMCFH kitchen, and on the low you should absolutely be paying at least twice as much for anything on the menu, including the pizza, which you've already seen, or the chickpea fries (yes, chickpea fries), the pork chop, and the rosemary-sprigged "Shrub" cocktail (vodka, red wine, and balsamic citrus somehow mixed to be amazing). Try it before you deny it.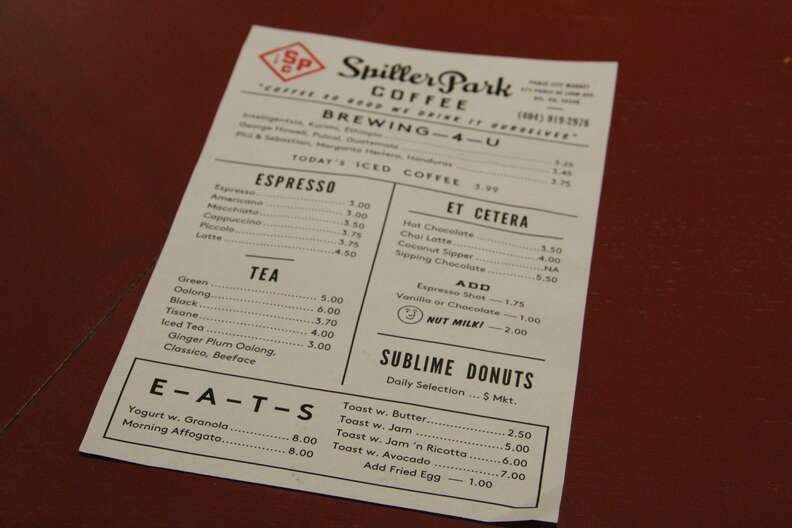 Hugh Acheson has... a coffee shop?!?
Yep -- Spiller Park Coffee. It's in the middle of the hall, like a damn giant kiosk. But that java ain't no jive. Get a cup to help you snap back after a few too many "Shrubs" at Brezza. Or don't, and forget where you live and just leave yourself in the hands of some rando Uber driver. Hopefully all he or she will do is steal the Sublime Donuts you bought from Hugh's counter.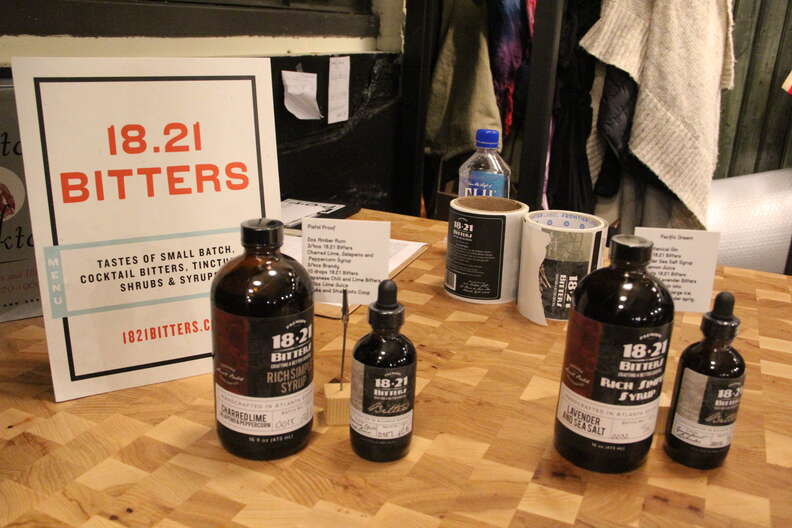 If you like playing bartender...
Go to 18.21 Bitters and have a sit-down with the staff, who'll ask you what type of drinks you like and what bottles you currently have stocked at your house. Then they'll go all expert on your ass and bring out house-made concoctions ranging from bitters to syrups and old-fashioned tonic concentrates.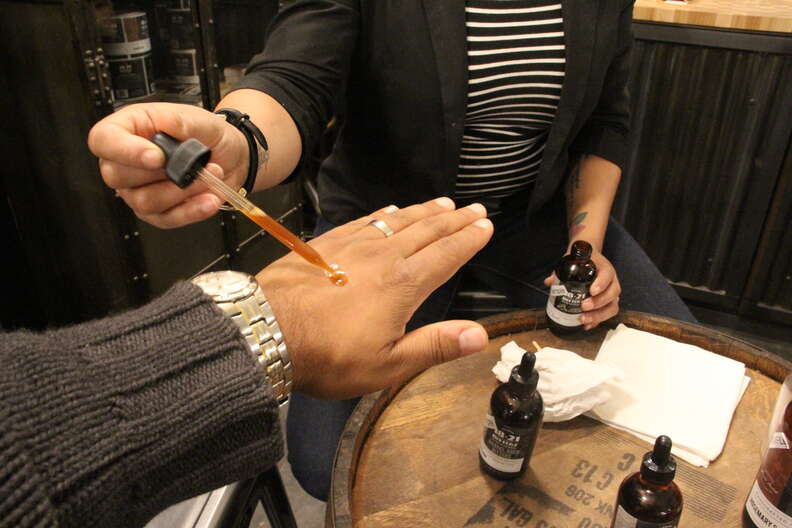 You taste tinctures of bitters (placed on your hand via eyedropper) and samples on stirring sticks until you select the one you want. It's not exactly cheap -- everything is around $19 a bottle, but you should get about 75 cocktails out of each mixing agent you purchase, so it's justifiable if you drink a lot.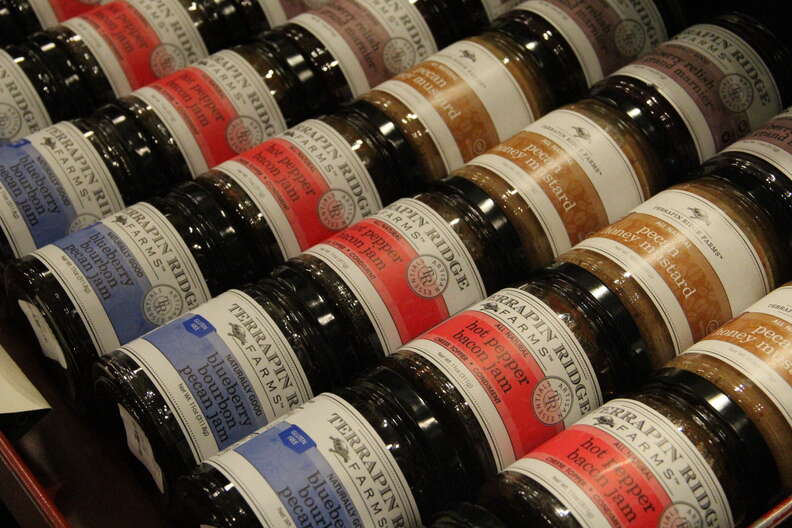 And if you're not broke yet... get your pantry and spice rack right
Stop by Strippaggio for ridiculously yummy infused olive oils, aged balsamic vinegars, craft salts (smoked salt, Himalayan salt bricks, etc.), and natural jams, mustards and relishes. Oh, by the way, if you poop and it stinks, they sell concentrated essential oils called "Poo-Pourri," which you spray before you deuce-drop. Why is it displayed near the blueberry bourbon pecan jam? Oh, there's a reason.
But, there's more on the way...
Coming any day now are Biltong Bar (a jerky shop from the Yebo/10 Degrees South camp), a ramen spot called Ton Ton, Indian street food from Boti, a classic cocktail bar called The Mercury, and who the hell knows what else. Just get there. Live there if you can.
Sign up here for our daily Atlanta email and be the first to get all the food/drink/fun the ATL has to offer.
Mike Jordan, Thrillist ATL's founding editor, blew a check at Ponce City Market while working this story, and now Christmas is cancelled. Find him on Twitter at @michaelbjordan taking advantage of his famous name and looking for endorsement opportunities.