Sebastian Davis
Sebastian Davis
Most chefs in Atlanta aren't fancy, "I've-got-my-own-TV-show" kinda chefs. No, our chefs are more likely to have cooked for decades in places with hot tin roofs, or in parking lots. In places smaller than your dorm room at Georgia State. Places where, when you walk in, you could be called "honey-child", or kicked the heck out for breaking the rules. Places that are part shack, part restaurant, so, naturally, these are Atlanta's best "shackstaurants".
Ann's Snack Bar
Kirkwood
Home of "The Ghetto Burger", which many lists name as the best burger in America, the titular Miss Ann doesn't screw around: two giant hunks of meat go down on her tiny griddle along with piles of onions, chili, and cheese. But don't cuss, remember to close the door behind you, and wipe your feet, or she'll have you right back out that door by the ear... without that glorious pile of beef.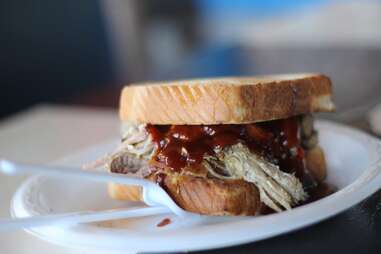 Daddy D'z
Grant Park
This convenient (for now) joint is easy to spot, thanks to the giant metal pig on top of their "patio", which looks like something that shouldn't pass code... unless the inspectors were "persuaded" by some of Atlanta's most badass Q, which, in addition to Southern staples, includes Daddy D'z Famous Que Wraps -- BBQ pork wrapped in bite-sized bits of dough and then deep-fried.
Enat Ethiopian Cafe
Morningside
You've probably driven by this tiny building on Cheshire Bridge a thousand times, without ever realizing what amazing African eats are available inside. Pro tip: don't ask for utensils -- that's what the injera (flatbread) is for.
Mi Barrio Restaurante Mexicano
Grant Park
You can tell Mi Barrio is Mexican family cooking, because grandma is seated at a back table watching her "stories" en Espanol during the lunch rush and because, in addition to all your South-of-the-Border favorites, they've got a ceviche that doesn't taste anything like it was made in a building smaller than a double-wide. An actual double-wide, sure, but this place?!
Wyatt's Country BBQ
Kirkwood
It seems like a miracle that Wyatt's is even standing. The building is a patchwork of shingles and plastic, the porch boards groan under your feet, and you can actually see into the building through the smoker. The actual miracle is that they can make full racks of perfectly crusted pork ribs taste this good.
Jamal's Buffalo Wings
Northside Drive
Next time you're headed to a Falcons game, don't get pulled over for having tinted windows like Roddy White skip the five-deep line at the sports bar, and get a to-go order of the hottest, freshest wings you can get in a parking lot.
Nick's Food To Go
Grant Park
The owner isn't called "The Gyro Nazi" for nothing. He has an extremely short temper, and doesn't want to deal with stupid questions, (or people playing Flappy Birds on their phones while ordering). Keep it simple, order the lamb plate with everything, and don't loiter in front of the takeout window. Oh, you want more sauce? No souvlaki for you!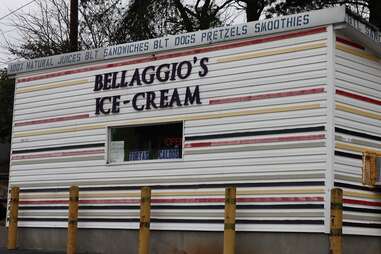 Bellaggio's Ice-Cream
Buford Highway
Sure, it says it's an ice cream parlor, but their "puerco queso" sandwich is a lunchtime-must if you're anywhere near Buford Highway... or are already at the adult movie theater, where Bellaggio's is posted up in the parking lot.
Delia's Chicken Sausage Stand
East Atlanta
Delia's specializes in hand-spun shakes and chicken sausage sliders that're packed with more poultry-goodness than the colonel could have ever imagined, and are rapidly becoming a late-night mainstay among the weekend EAV bar crowd.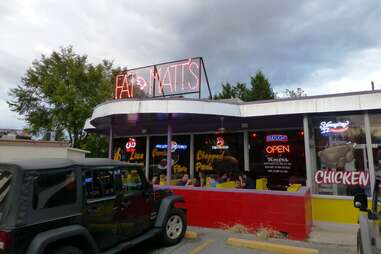 Fat Matt's Rib Shack
Morningside
How do they manage to cram majestic barbecue ribs, a walk-up bar, and live blues into something the size of a school trailer? Go yourself and find out, but get there early, 'cause while the music's good, the 20-deep line outside before they open is a strictly meat-based phenomenon.