Remember that scene in ATL when T.I. was like, "What kind of name is New New, anyway?" And then Lauren London was all, "I'm New New 'cause I always rock the new, new shit, like Thrillist's list of the latest burgers in Atlanta. Thank you." Or something like that. Anyway, here is said list of the eight best new burgers in the ATL.
Pijiu Burger
Pijiu Belly (address and info)
Westside
Open since December 2014, the casual and cool Pijiu Belly serves up incredible Asian-inspired bar food alongside an impressive beer and cocktail selection, but don't miss the deliciously greasy Pijui Burger, a beast topped with cheese, house-made kimchi, and a fried egg. While it comes with great hand-cut fries, take it from us: opt for the Thai tater tots instead. You're welcome.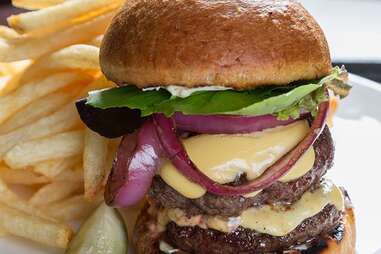 Atlas Burger
Atlas (address and info)
Buckhead
At $29, it's pricy, but it's worth it. Located in the St. Regis Hotel, Atlas is swanky, but not stuffy. Its menu celebrates seasonal and European cooking, but its burger is one delicious piece of Americana: once you get a handle on the two, thick, freshly ground dry-aged beef patties topped with rich, aged American cheese on a brioche bun (alongside a dill pickle and fries), don't let go, or you'll struggle to regain your grip.
Republic Burger
Republic Social House (address and info)
Grant Park
Think turkey burgers are inferior to beef? One bite of the new Republic Burger from Republic Social House's recently revamped menu will make you a devout believer in poultry-as-a-burger. A thick and juicy ground turkey patty topped with sautéed spinach and mushrooms and smooth, creamy goat cheese, it'll make you feel almost sophisticated when you stuff your face.
Bourbon BBQ Bacon Cheeseburger
The Whelan (address and info)
Westside
Occupying the space formerly used by Corner Tavern, the brand-spanking-new Whelan serves up traditional bar eats in a cozy industrial space. While it offers several burgers, the Bourbon BBQ Bacon Cheeseburger really crushes the others thanks to its thick, 100% hormone-free Black Angus patty topped with pepper jack, caramelized onions, bacon, and house-made secret bourbon BBQ sauce.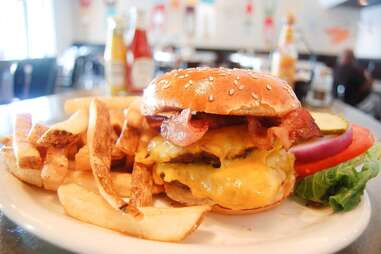 Killer Diner Burger
Hi-Five Diner (address info)
Midtown
From the genius who brought you Grindhouse Killer Burgers comes Hi-Five Diner and its Killer Diner Burger: two incredibly juicy, hearty beef patties with an addictively crisp sear, LTO, and special sauce between a sesame seed bun. Oh, and you're likely to be even MORE satisfied if you add on some bacon.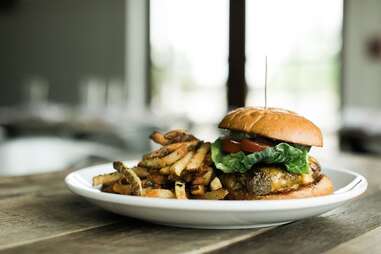 SB Burger
Southbound (address and info)
Chamblee
Burger perfection is hard to achieve, but the SB Burger's unbelievably juicy double grind of brisket, short rib, and chuck really hits the mark. Served with all the classic fixin's -- rich cheddar, LTO, pickle, and all house-made condiments -- this burger is nearly a religious eating experience, which means you should definitely get a piece of salted pistachio chocolate chess pie as well. You know, just in case it's your last supper.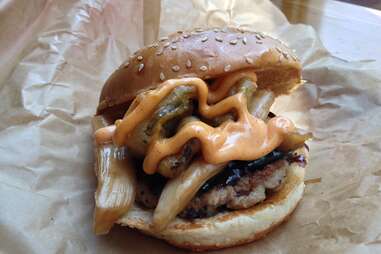 The Pastured Pig burger
Farm Burger (address and info)
Multiple Locations
Farm Burger recently elevated its already solid game by changing up the way it cooks: it's now rendering the tallow from its own fatty meat scraps and using it to cook. Why do you care? It results in the juiciest, richest burger imaginable. Try its newest addition, the Pastured Pig: a pasture-raised pork creation smothered in Chinese BBQ sauce, pickled bok choy, and fried & pickled jalapeños, all balanced perfectly with the bite of creamy paprika mayo.

Lusca's burger
Lusca (address and info)
Buckhead
Taking a cue from the much-ballyhooed burgers at Holeman and Finch, each Friday and Saturday from 5-7pm, Lusca serves up double-patty behemoths with cheddar and American cheeses, a savory special sauce, and pickle. It's only available at the bar and raw bar, and there are only about 20 available each day, which means this meatwich's already explosive flavor is no doubt enhanced by its exclusivity, and helped Lusca get praise from GQ, Bon Appétit, etc.
Sign up here for our daily Atlanta email and be the first to get all the food/drink/fun the ATL has to offer.