The 9 Things You Have to Eat in Atlanta This Summer
The season that gives Atlanta its horrible nickname has only just begun, but you've already got lots of things to do, from road trips to hitting the city's best summertime date spots, and doing said lots of things will require energy, so we've thoughtfully identified nine calorie-filled things you've gotta eat in the ATL this summer... 
Georgia white shrimp
The Optimist (address and info)
Westside
While the city may be landlocked, you can still feel -- and eat -- like you're seaside at The Optimist, which has been touted as serving up Atlanta's best seafood. You be the judge, but its incredibly fresh, massive peel-and-eat Georgia shrimp with tangy comeback sauce and sopping toast sure does make a convincing case.
 
Brook Bolen/Thrillist
A grilled lemongrass chicken bánh mì
We Suki Suki (address and info)
East Atlanta
This East Atlanta hole-in-the-wall enjoys a cult following for good reason: each of its toasted baguette-based sandwiches is smeared with Sriracha mayo and then stuffed with cool pickled veggies, fresh herbs, and tender, juicy meats like lemongrass chicken, providing bright explosions of flavor.
Raw oysters
Kimball House (address and info)
Decatur
So it's not technically in Atlanta, but who cares? Set in the former Decatur train depot, Kimball House pays sophisticated homage to the art of old-school drinking and dining. With a rotating, seasonally based menu and killer craft cocktail menu -- including an absinthe service -- everything is on point. But it's the silky, impossibly delicious, melt-in-your-mouth raw oysters that simply can't be missed.
Ice cream
Queen of Cream (address and info)
Multiple locations
From toppings to the ice cream itself, everything Queen of Cream serves from its signature yellow cart and umbrella is 100% handmade from scratch using local ingredients and dairy products. Even better: there's a storefront coming to Old Fourth Ward!
 
Brook Bolen/Thrillist
A popsicle
King of Pops (address and info)
Multiple locations
The popsicles King of Pops makes are way more than the frozen, chemical-laden primary colors on a stick that you loved as a kid: they're fresh and all-natural edible works of art. With rotating flavors like chocolate sea salt and honeydew lime zest, your only concern will be eating it slowly enough to avoid brain freeze.
Victory Sandwich Bar
A Jack and Coke slushie
Victory Sandwich Bar (address and info)
Inman Park
Yes, this place has serious sandwiches and snacks, but there are really only four words you need to concern yourself with: Jack and Coke slushie. When thick, icy Coca-Cola meets smooth, smoky Jack Daniel's, it's the most refreshing, thirst-quenching buzz you've ever had. No wonder they claim it's world famous.
The Spotted Trotter 
All-beef hot dogs
The Spotted Trotter (address and info)
Kirkwood
Summertime means grilling out. If you know what's good for you, head to this boutique charcuterie now and grab some of its sausages, which, like everything else, are made in-house. And these folks don't just use the freshest local ingredients, they marinate each batch before grinding for the most flavorful franks you've ever had the pleasure of cramming into your mouth.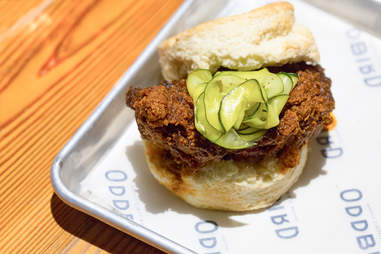 Oddbird/Matt Wong
A hot chicken biscuit
Oddbird (address and info)
Westside
One of Atlanta's newest pop-ups, this restaurant-in-a-restaurant takes over West Egg Cafe Wednesday through Saturday nights, bringing mouthwateringly good fried chicken and Nashville hot chicken biscuits, sandwiches, and waffles with it. It also has beer, cocktails, and homemade pie. Pair the hot chicken on a light, flaky biscuit with a beer and you'll really be living.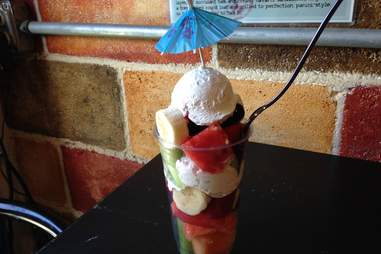 Brook Bolen/Thrillist 
A Cremolatta
Lottafrutta (address and info)
Old Fourth Ward 
This cozy and quirky spot serves up sandwiches, salads, and interesting candies, but it's its Latin American fruteria-inspired fruit cups that will really rock your world. Full of plump grapes, sweet sliced strawberries, juicy chunks of honeydew and watermelon, bananas, and papaya beneath a pillow of silky homemade coconut crema, you will lick the cup for every last taste. Don't worry, everyone else does, too.
Sign up here for our daily Atlanta email and be the first to get all the food/drink/fun the ATL has to offer.