Nobody's saying you should stop eating at Atlanta's most beloved bbq joints (d.b.a., Fox Bros., Bone Lick, Fat Matt's, Heirloom Market, Community Q, Daddy D'z, etc.). Hell, you're probably eating at one of them right now, but they're not the only sweet meat-slingers in town, so we rounded up the ATL's 12 most underrated Q spots, 'cause we think your knowledge of Atlanta BBQ should be as well-rounded as your belly after you eat at all of 'em.
Castleberry Hill
This hidden 'cue camp's not far from a literal bridge to nowhere among unfinished downtown overpasses. Instead of caring about Smoke Ring's visibility though, care about how the spice-rubbed brisket is tender as hell, the smoked wings are somehow crispy and moist at once (science?), and the beer and bourbon lists are seriously solid. Whatever it is that chef Jordan Wakefield knows about running a smoked meat restaurant, he sure didn't learn it shopping with Guy Fieri.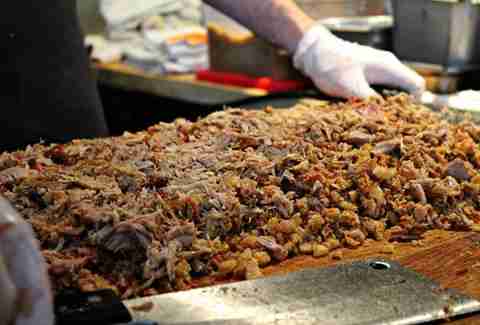 Glenwood Park/Decatur (catering only)
A Kevin Gillespie BBQ catering set-up operating out of his Gunshow resto (and rumored to either be moving to his new Southern spot Revival, or its own brick-and-mortar), TC requires 72 hours advance notice to hook you or your football party up with tubs of chopped whole hog w/ pepper vinegar, or smoky bourbon barbecue pulled chicken, and sides like creamed golden potatoes and slow-cooked green beans. If you can pull together at least nine other homies who like BBQ lunch, you can also get the place to make sandwich boxes with a side and a "sweet treat."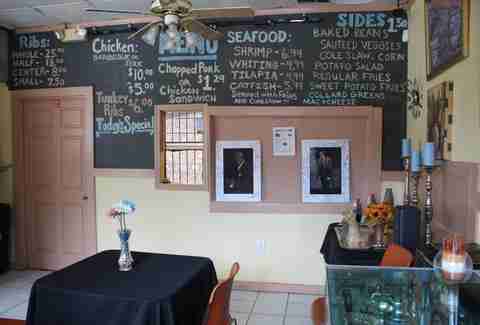 Southwest Atlanta
This super-shacky spot has the requisite enclosed smokehouse right out front, no printed menus (everything is on the chalkboard, dammit), and an owner whose nickname reminded you of how depressing House of Cards was last season. At least this "Po'" Freddie (who ironically is said to own most of the block upon which his restaurant sits) has nearby friends who like his BBQ so much they convinced him to open a restaurant with delish and affordable chopped chicken or pork samsters ($1.29!), center-cut ribs, BBQ or jerk chicken, plus sides of collards, mac & cheese, sweet potato fries, and more.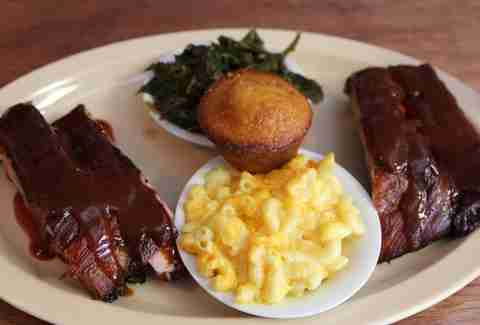 Kirkwood
Lekesia Phelps, a Kirkwood native whose fam has been in the neighborhood for generations, uses the grilling, sauce-making, and baking strength of relatives/childhood friends to push plates of smoked meat sandwiches, rib slabs, turkey leg dinners, and more.
Alpharetta
Serving smoked meat out of an almost 200-year-old building, Smokejack offers a mish-mash of meat-eating diversity, with killer sandos (hickory-smoked turkey melts, a smoked pork/ham "Cue Bano"), chicken and sausage gumbo, bone-in/smoked/flash-fried/white BBQ sauce-smothered "'Bama-style" chicken, or a sampling of three meats (pulled pork shoulder, burnt brisket ends, etc.) and two sides via the Mojo combo.
North Buckhead
You don't expect barbecue this good in a Kroger shopping complex, but you also don't expect Key & Peele to know Andre 3000's coffee order so well. Things sometimes just happen. Make sure you happen to visit 521 for the daily smoked meats (try 'em w/ Coca-Cola-braised collards), or get all cosmo and try the special beer-braised brisket, or hit Sunday brunch for a smoked pork loin frittata.
Downtown
Don't let conventioneers eat up all the simplified, fast-casually served goodness at this art-decked, easygoing Luckie-Marietta District spot. The flavor of the slow-smoked whole Springer Mountain chicken from here in GA, or the Creekstone Farms all-natural brisket from Kansas, is something you'll agree more locals need to claim for themselves. Especially when you start your lunch or dinner with burnt ends chili, and chase it with a Bulleit bourbon-bombed vanilla milkshake made with locally produced High Road craft ice cream.
Castleberry Hill
Compton is home to this Texas-style 'cue-ery's first location. So think about how gangster you'll sound when you say your BBQ comes straight outta Eazy-E's hometown (unless you get there too late and the place runs straight outta ribs). Here in ATL, Bludso's meats are smoked out back on a big ol' rig from Missouri -- everything from Angus beef ribs to turkey ribs -- with sides flavored with turkey instead of pork (you know, because BBQ eaters are all about health).
North Buckhead
Sitting right off Roswell Rd, this un-fancy spot with its super-regular Sans Serif sign outside seems almost too simple until you taste the popular Brunswick stew, wet or dry ribs, chopped brisket (which is also used to season the baked beans), and specials like country-fried pork loin w/ white pepper gravy, and fried -- yes, fried -- ribs.
Inman Park
This market counter stand earned its braggy name through competition 'cue-cooking, and ran with the title because the barby is just that good. Not that you needed the New York Times to tell you what good BBQ tastes like (do they really know?), but still, it ain't like they got it wrong when they said the brisket and pulled pork are "excellent," and the ribs are equally amazing.
Buckhead
Because Buckhead's BBQ has to be a little fancier, one-year-old Smokebelly puts sides like smoky braised kale and chilled sweet corn/edamame succotash next to cherry cola ribs, but you can still get respectable 21-hour-cooked Angus brisket, smoked sausages, and turkey breasts that're the biggest ones you'll find in this part of town without plastic surgery.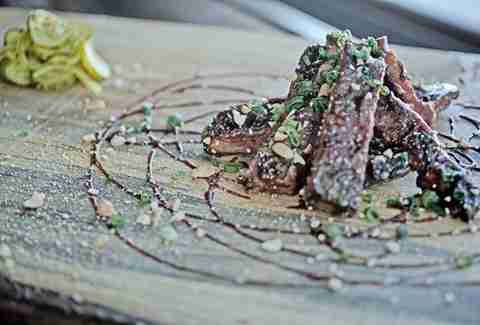 Virginia-Highland
From the Curb Market Downtown to the Food Truck Park and now in the Highlands, Sweet Auburn has smoked up a successful following by combining its underdog-ish neighborhood flair with the catch-all meshing of Asian and Southern flavors in its BBQ. Don't like Memphis-style ribs? Try the coconut lemongrass version. Want pulled pork? Get it with two sides on a 'cue plate or in tacos with pear slaw. Oh, smoked wings? Have them tossed in sweet/sour "Wu-Tang" sauce so good you'll say "thank U God."
Sign up here for our daily Atlanta email and be the first to get all the food/drink/fun the ATL has to offer.
Mike Jordan was Thrillist Atlanta's founding editor, and can't decide if D.B.A. or Bone Lick BBQ is his favorite, but has had ribs at every place on this list because diets are for suckers. Send saucy tweets to him at @michaelbjordan.