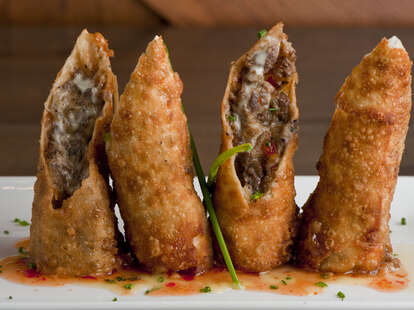 Deep-frying is truly the highest form of cooking because it improves any food, so why stop at chicken or potatoes? Atlanta's top chefs certainly don't, which is why we've rounded up the 11 most epic fried foods in the city, and why you should round up your stretchiest pair of pants and immediately go out and get some fried cheese, fried cheesecake, and more.
Fryinstein Monster
Pallookaville (address and info)
Behold this giant, fried wiener in three sections. It's broken down into beef, then kielbasa, and then Italian sausage, dipped in one of their batters (we recommend cheese, of course), and then deep-fried until it's ready to be inhaled.
Frito Pie Croquette
Fox Bros Bar-B-Q (address and info)
Fox Bros takes this classic, beautiful mess of a snack and turns the chips, chili, and cheese into delicious finger-sized balls instead of something that resembles a mud puddle.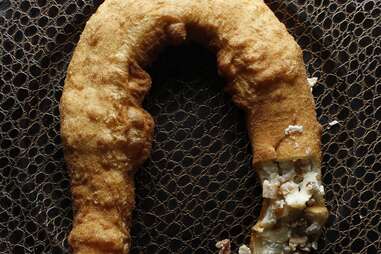 Corna di maradona
Don Antonio by Starita (address and info)
This U-shaped fried calzone is filled with fresh ricotta and pork. It's half-Italian and half-Georgia hillbilly, so it's perfect for when your cousins visit from New Jersey (or Naples).
Fried goat cheese
Ecco (address and info)
Sometimes simple is best. Tangy goat cheese, a light batter, cracked pepper, and a drizzle of honey combine for a delicate balance of flavors and crispy creaminess. It's fancy fried food.
Kale pakora
Chai Pani (address and info)
This Indian street food is made with fresh kale in a curried chickpea batter and served with green chutney and sweet yogurt. Next time your friend tries to foist a green smoothie on you, hit 'em back with this.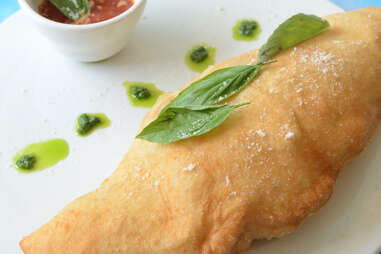 Reginella
Varuni Napoli (address and info)
Italian for "princess", the Reginella is a fried calzone that's stuffed with mozzarella, ricotta, corbarino tomatoes, salami, cicoli, black pepper, and Romano. Then it's topped with basil and extra virgin olive oil. You may just want to marry this piece of food royalty.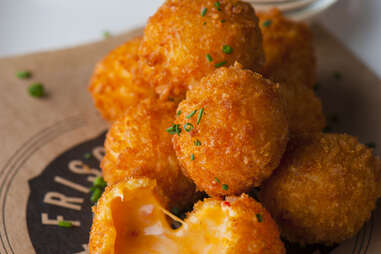 Pimento cheese fritters
Del Frisco's Grille (address and info)
Crack open one of these golden nuggets and watch a river of pimento cheese ooze forth. With your trusty chipotle ranch dipping sauce, you'll be a regular cheese prospector.
The Randy
Folk Art (address and info)
Inman Park's new fried meat logs are strips of apple bacon that are dipped in pancake batter and drowned in bourbon maple syrup. If this isn't the ultimate Southern food, nothing is.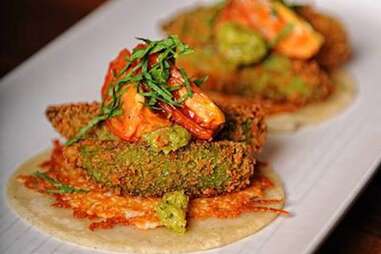 Fried avocado taco
Alma Cocina (address and info)
Deep-fried avocados ride atop a platter of fried Cotija cheese, topped with some poblano pesto and roasted tomatoes. Served on corn tortillas.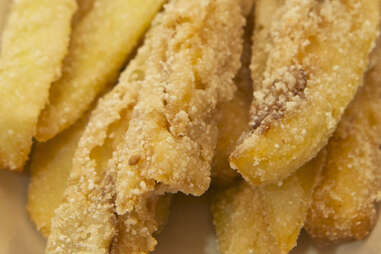 Eggplant fries
Watershed on Peachtree (address and info)
You've kept that New Year's resolution so far, but it's time to meet it halfway. Yes, you're going to have delicious fried food, but this is a vegetable, so it's "healthy"!!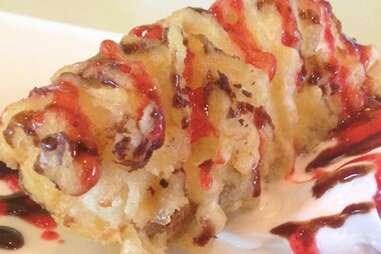 Fried cheesecake
Genki Noodles and Sushi (address and info)
Let's not skip dessert. Genki takes their tempura batter and a delicious slice of cheesecake, then the hot oil does the rest of the work. Yeah, it seems indulgent, but at least you're using chopsticks, and not your bare hands, to eat it, right? Right.
This list -- and all the rest -- look even sexier in our iPhone app. Get it now!