Barbecue may be the best food ever, and Atlanta has some of the best in the world, but what if you're not in Atlanta? What if you're... *gasp*... Outside the Perimeter? Don't worry, our list of Atlanta's 11 best OTP BBQ spots has you covered: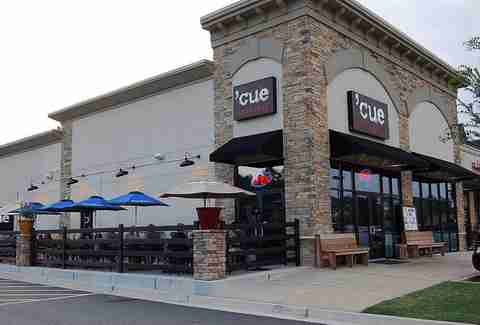 Cumming
Don't be fooled by the casual, fun vibes and laid-back atmosphere -- the barbecue slingers here are serious about their work. They not only make everything they serve from scratch daily, they offer a rotating menu using local and seasonal produce. Better still, they have a solid beer and wine selection and feature weekly local live music.
 
Marietta
A favorite of members of the Senate, Fortune 500 companies, and everyday folks, Dave Poe's has been serving up award-winning barbecue for nearly 40 years. Brisket, ribs, chicken, and pork alike get slow smoked for 16 hours, creating rich meats that slide off the bone and right down your gullet. Another standout is its "Redneck Lasagne," with rich, gooey mac & cheese layered with Brunswick stew.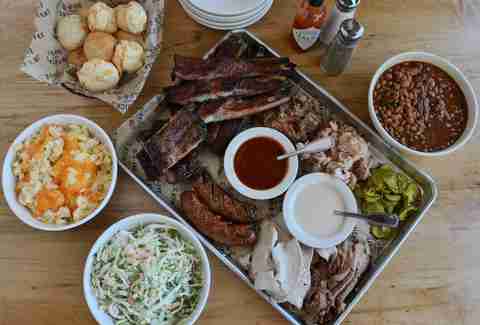 Smyrna
As if its generous portions, reasonable prices, and reliably delectable food weren't enough to make Jim 'N Nick's a premier spot, it also has a convenient drive-thru: this means that you can conceivably acquire amazing barbecue without having to wear pants. It also has a legit list of sides and desserts, including its signature cheese biscuits and decadent peanut butter pie.
Kennesaw
In addition to its wonderfully straightforward name, this family-owned and operated hot spot has 'cue so good it was named "Best in Atlanta" before Big Shanty Smokehouse had even been in business for a year. While it's known for its pork, don't pass on the brisket. With a perfectly charred exterior containing all that tender, juicy meat inside, you may be tempted to forego napkins and just use your tongue to clean your hands so you won't miss a drop. Don't.
Jackson
The undisputed OG of Georgia barbecue, Fresh Air is the oldest pit-cooked barbecue joint in the state (it's been in business there since 1929). Using a combination of hickory and oak in its pit not only infuses its meats with insane flavor, you can almost taste the love. After all, it's still producing perfect porcine in the same labor-intensive way it's been cooked for more than 80 years.
Marietta
The culinary work of former Kansas City Chiefs player Al Boyce, Al's Barbeque pummels your taste buds... but in a good way. Though the meats -- which run the gamut from traditional smoked pork, beef ribs, and chicken to shrimp, turkey wings, and catfish -- are all melt-in-your-mouth good, it's the sides that are seriously exceptional. Throw yourself into a sea of seemingly limitless options like fried okra, potato salad, and sweet yams and eat your way out.
Canton
In 1990, the Williamson brothers spotted the location and transformed an old, empty Marietta restaurant into this popular destination. Since then, the brothers have been serving tender meats from their traditional-wood burning pit, cooked slowly and basted with your choice of original sauces. Williamson Bros. now has three other locations, making it a favorite spot for people who love BBQ. And now you.
Acworth
Because it's been slinging the finest smoked, hand-pulled meats and Southern-inspired sides and desserts since 1950, you know Bar-B-Cutie really brings it. Even its style is a little retro, which makes sense because it does things the old-fashioned way -- letting the hickory-smoked meat speak for itself. Pro tip: start you order with the fried pickles and end with the creamy, cool banana pudding. You'll be glad you did.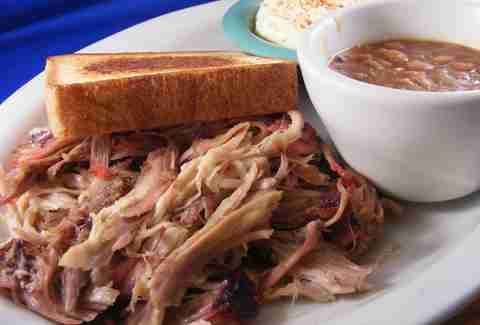 Kennesaw
This gem, whose new storefront is in an otherwise ordinary strip mall, isn't known for its fancy decor: it's known for its fantastic food, including daily specials, including all-you-can-eat BBQ pork, fried catfish, and complimentary homemade peach cobbler. Rest easy knowing that whenever you show up, you're in for some good eatin', especially if you start your meal with an order of deliciously messy BBQ nachos.
Blue Ridge
There's not a whole lot to do in Blue Ridge... except chow down on some of the best BBQ in Georgia. Pulled pork and ribs draw rave reviews, but honestly, it's hard to make a bad call, especially since its smokey wares have received national recognition. To make things even tastier, it dry rubs its meats and then offers a variety of BBQ sauces to suit your mood.
 
Sandy Springs
A local favorite for its great food and friendly atmosphere, Slope's BBQ specializes in slow-smoked meats and a zesty, signature sauce, but it also makes killer sandwiches and chili dogs. And if you have room for dessert... you um, probably haven't had enough meat, or you just need to stuff your face with out-of-this-world cobbler. Better still, get some more 'cue, and just get the cobbler to go.
Sign up here for our daily Atlanta email and be the first to get all the food/drink/fun the ATL has to offer.