Briarcliff
What you're getting: The Yuki roll and yellowtail & eel sashimi

You're probably not getting your sushi fix here, but you totally should be. That's because the easy-to-miss strip-mall spot's menu is nearly as big as the strip mall itself. Oh, and it also serves up some of the freshest, most melt-in-your-mouth sushi in the city -- and it does it in a totally accessible environment, with service that's attentive without being overbearing.

Grant Park
What you're getting: Lamb gyro

Can a gyro be life changing? If you've had one at this takeout-only spot, you already know the answer.* The slow-cooked lamb number (a freshly made pita crammed with a shton of meat and creamy, tangy tzatziki sauce) is even better with an order of crisp, seasoned Greek potatoes, and some sweet, flaky baklava. *Hint: it's yes.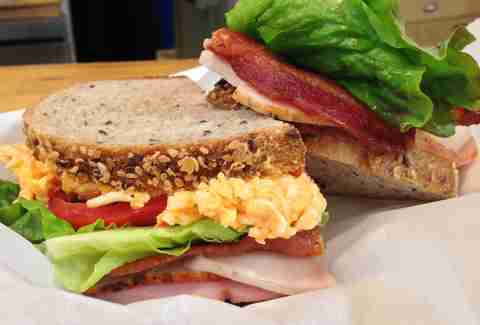 Candler Park
What you're getting: Candler Park club

Whether it's your neighborhood market or you're just passing by, there are some legit treasures to find here, especially in the deli, located at the back of the store. It offers salads, soups, and baked goods, as well as killer build-your-own breakfast, brunch, and lunch sandwiches. We think its praises aren't sung nearly enough.
Old Fourth Ward
What you're getting: A king slice

This little dive gets points for its late hours, generous servings, and reasonable prices. What it should get more points for is the king slice, essentially a piece of nearly head-sized pizza, big on everything essential: lots of gooey cheese, perfectly tangy sauce, and deliciously chewy yet crisp crust. Oh, and because EP has expanded, now has a full bar, and is open until 4am on the weekends, it's also a killer place to continue, not just end, a night of drinking.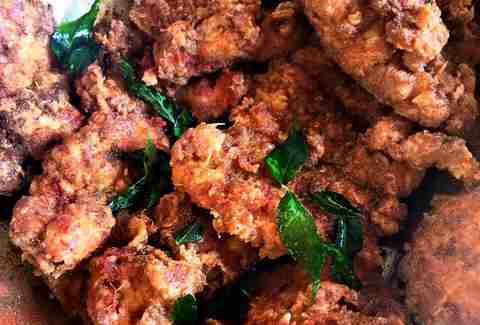 Old Fourth Ward
What you're getting: Kerala fried chicken

As much as we loved Chef Asha Gomez's previous venture, Cardamom Hill, we're even happier with Spice to Table. You'll get similarly complex, flavorful dishes, this time with a charming rustic feel. In addition to the aforementioned fried chicken, try StT's Southern take on chicken biryani, a traditional Pakistani/Indian dish, or a winter special, like the spiced meat pie with beef, chicken, and goat. Yes, goat.
Kirkwood
What you're getting: Pineapple jerk chicken

How many times have you stumbled past this dark, unassuming storefront without giving it much thought? Trust us, the exterior belies what you'll find inside. The atmosphere, staff, and pub-style eats are all casual and unpretentious -- and better still, half the on-tap beers are always local. Pro tip: don't miss the off-menu shot, the Right Side Failure, made with vanilla vodka, Baileys, and alcoholic root beer.
Avondale Estates
What you're getting: Smoked fried chicken

Somehow this gastropub flies under the radar despite slinging seriously sweet reimagined American classics, including ridiculously flavorful smoked fried chicken, which just like the name suggests, is smoked before it's fried to the perfect crisp.
Westside
What you're getting: The animal-style burger and Gangsta tots

The more casual, rustic little sister to Alpharetta's popular Bite Bistro & Bar, Bellwoods Social House made a small splash when it opened last fall, but with its spectacular food, craft cocktails, and service in a lovely setting, it really deserved something more like a tidal wave. Be forewarned: juicy, messy, and meaty, the huge animal-style burger and cheesy, bacon-y Gangsta tots will test the limits of your zipper.
Clarkston
What you're getting: Blue cheese and bacon burger

From the nondescript storefront, you might not expect much, but inside, this mom-and-pop spot offers a rotating seasonal craft beer list, great cocktails, and excellent food with daily specials (like half-price burgers!). With tons of TVs inside so you can comfortably catch the game, as well as what's sure to be your new favorite outdoor patio, this may be the best place you're probably not going to.

Buckhead
What you're getting: Soft tacos, queso, and chicken soup

Ask for authentic regional Mexican eats, and most people will send you to Nuevo Laredo Cantina (or the South-of-the-Border spot closest to their house). Equally as inspired but less talked about is this delicious dive. With flavors inspired by Mexico City, the kitchen pumps out outrageously good comida -- in the form of delectable enchiladas, quesadillas, chimichangas, and much more -- that would make anyone's abuela proud.
Marietta
What you're getting: Chicken makhani and garlic naan

Lahore Grill might be slightly OTP, but for these authentic Indo/Pakistani flavors, you shouldn't worry about the trek. The space itself leaves a little to be desired, but the food more than makes up for it -- especially the tender chicken makhani in a smooth, almost perfectly spiced sauce. Definitely get an extra order of the fluffy-yet-crispy garlic naan to sop up any extra.

Sign up here for our daily Atlanta email and be the first to get all the food/drink/fun the ATL has to offer.

Brook Bolen is an Atlanta-based writer who, when she's not penning things for sites like Jezebel (and Thrillist, obviously), is eating Gangsta tots, and posting things on Instagram: @redvelvetfemme.