Monstrous fried-chicken burgers & gourmet wings three ways
Why did the chicken cross the road? Who cares?! Especially when the dudes behind Morningside cluck shack Bantam + Biddy are just gonna fry it up and serve it in their new spot, Chick-a-Biddy. Despite being fast and casual, the Atlantic Station eatery is still serving farm-fresh flightless birds in ways that, like a good punchline to the aforementioned joke, you couldn't possibly come up with.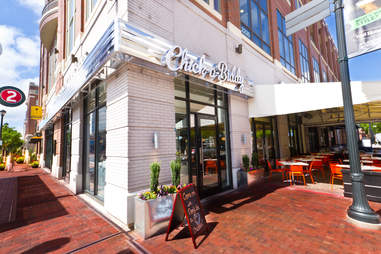 The Atlantic Station chicken house is diner-esque...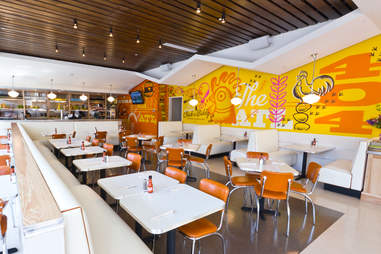 ... with bright whites tables/booths, leather-clad orange seating, and murals on the walls paying tribute to our feathery friend's journey from egg to plate... or chicken to plate. Whichever came first.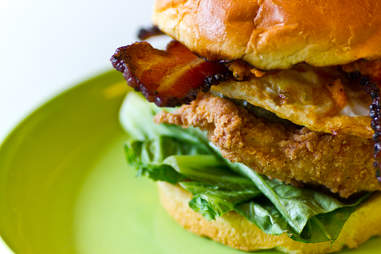 That journey's ultimate conclusion is this glorious fried-chicken sandwich behemoth. The all-natural pastured poultry is fully loaded with B&B pickles, pimento cheese, bacon & a fried egg.
More traditional chicken choices include this Southern-fried three-piece w/ sides like broccoli-jalapeno slaw & fingerling potato salad.
Biddy's fancied-up wings come in three creative flavor options: Thai chili and peanuts, spicy green Tabasco & wood-grilled piri piri.
Let's talk turkey: This double blackened chicken burger is not to be missed/made with zero percent turkey.
While a few of these frozen mint julep- and watermelon-basil margarita slushies won't make it any easier to cross the road... they might make other people think your jokes are funny!