ATL's response to the Cronut: Doughssants, Cro-Doughs, and more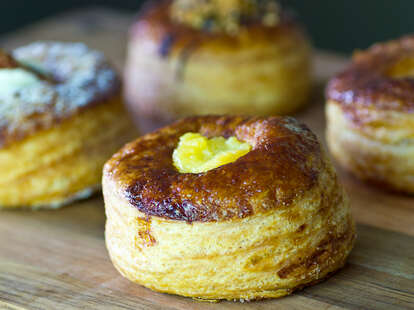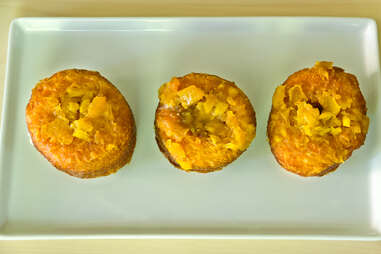 The Doughssant, Cake Hag
The merry bakers over at Cake Hag were the first to bring this labor-intensive (croissant dough takes two days to make!) treat to the A. They offer two upgraded versions, one that's filled with Madagascar vanilla bean cream, then topped w/ brown sugar & brandied peaches…
… and a version covered with caramel and the only foodstuff that can rival the Cronut for ubiquity: bacon.
Available: only on Tuesdays from 7-10a via special pre-order at info@cakehag.com.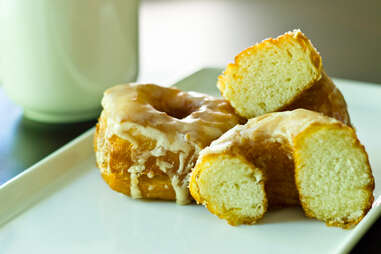 The Cro-Dough, Revolution Doughnuts
While the Decatur doughnut shop's motto is "Put Something Good In Your Mouth", they apparently don't give a damn if said something going in your mouth is good for you. The evidence: a wheel of awesomeness with delicate layers of croissant fried up golden brown and covered in a buttery bourbon maple glaze.
Available: daily, but their obvious awesomeness means they're typically gone in an hour, so get there when they open at 7a.
The Dossant, Star Provisions
The West Midtown bakery and gourmet shop has distinct offerings dubbed "dossants" -- these include the standard plain w/ burned sugar; a Bavarian creme-filled topped w/ seasonal fruits; a decadent chocolate hazelnut; and one filled w/ lemon curd that's presumably whey better than the others.
Available: daily, from 10a until they run out, which isn't long, so get their early.
Frosted Croissants, Sublime Doughnuts
These delicate pastries are so good, they're probably the ones Kanye was asking the French waiter to hurry up with, and have been a staple at GA Tech's early morning sugar stop Sublime Doughnuts for years, so it's really you that's late to the game, guy from Dominique Ansel Bakery.
Available: all the time! Hours vary daily.