Hartsfield-Jackson Atlanta International Airport used to be, at best, a melancholy mall food court with an insane amount of plane traffic and a cameo in a Robert Downey Jr. movie no one remembers called Due Date. However, that's all changed (shout out to Ludacris!). These days, local chains are moving in and have ostensibly turned one of the busiest airports in the world into a culinary destination. But in an airport so damn big, how do you know where to find the best pre-boarding bites? Well, let us tell you. We went concourse by concourse and picked out the places you need to hit to fuel up before that long flight.
Recommended Video
The Fasties: Kat Thompson Mukbang
The Atrium
Atlanta Chophouse & Brewery
If you're looking for a sit-down meal that will make you feel like a high roller before you sulk through security with the rest of us, this bi-level steakhouse is the move. Stop by for the best New York strip in the airport and pair it with a pint of SweetWater. There are also three flatscreen TVs to help you catch up on sports and at least give you something to say when someone asks: "Hey how 'bout those Birds?!"
Concourse T
Grindhouse Killer Burgers
Grindhouse opened in historic Sweet Auburn Curb Market in 2009 and features the Grindhouse burger which regularly ranks as one of Atlanta's best burgers. The burgers are made with fresh beef, turkey, and veggie patties that are thrown on potato buns and you can make your own concoction or choose from one of their creations (get the Grindhouse). Be sure to add Grindhouse sauce to dip your crinkle fries in. It's also open for breakfast, making it an alternative to the line at every Chick-fil-A.
Papi's Cuban & Caribbean Grill
With locations in every direction of the city, Papi's is where you hit when you want amazing Cuban food. Owner Reynaldo "Rey" Regalado named his restaurant for his late father after fleeing Cuba. The expanded airport menu includes fish tacos, empanadas, and even Cuban coffee. But be sure to grab the tostones and the Cuban sandwich, which is likely the best you'll find in ATL.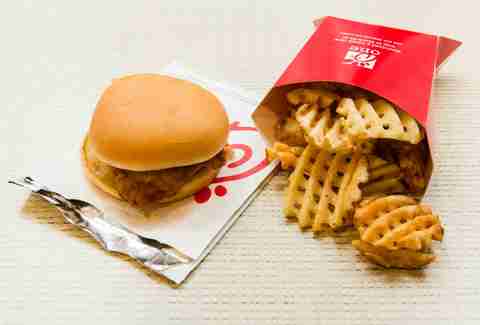 Concourse A
Chick-fil-A
We can't mention eating at the Atlanta airport without including Chick-fil-A. The nationwide chain (at this point, can we call it an institution?) has its headquarters in College Park and first opened in Greenbriar Mall in 1967. If you didn't find your way into one of the locations around the city, you can pick up some of their famous waffle fries at Concourses A and C. During breakfast hours, there's almost always a line to get some chicken biscuits, but it's entirely worth the wait.
Tap
Fans of the Peachtree St original will find a few of their favorite dishes here. The menu includes the simple but efficient pub burger and the Cowgirl Creamery grilled cheese. Breakfast is on order until 10:30am and a full bar stocks up with craft beer, wine, and cocktails. Note: It is smoker-friendly and purchase is required!
Varasano's
Atlanta's best pizzeria absolutely has a location in the airport. The pies enlist sourdough yeast that's baked thin with fresh toppings straight from the Italy. Nana's house specialty pie has their secret mixture of herbs and fresh mozzarella set atop a crispy, delicious crust. Pair that pizza with local beer from Three Taverns as you listen to live jazz tunes from the piano bar or watch the incoming flights from the windows.
Concourse B
Paschal's
Fun fact: Martin Luther King Jr. planned marches at the Castleberry Hill location. You won't find the same history here, but you will find their renowned Southern dishes, including the best fried chicken in the city. It's been a staple since 1979 and is one of the longest-running airport vendors.
Lottafrutta
For a fresh meal on the go, opt for this Old Fourth Ward favorite. Choose from smoothies, fresh salads, and sandwiches. Pro tip: Check out the Limonatta fruit cup, which includes papaya, pineapple, melon, and cucumber topped with lime juice and chile guajillo. Basically, if you're looking for the best healthy dining choice in the airport, you've found it.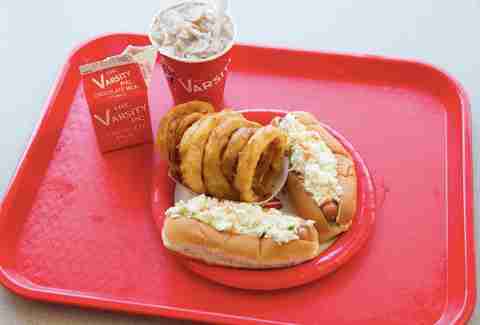 Concourse C
The Varsity
"What'll ya have!?" The servers in red hats will still greet you at the airport outposts, but you won't wait in line with the college students or sports fans who flock to the 1928 North Ave original. The airport iteration serves up its famous chili dogs, onion rings, and Varsity Orange beverage, and of course, burgers covered in chili. There's breakfast too... but you might be wiser sticking to a later meal from here.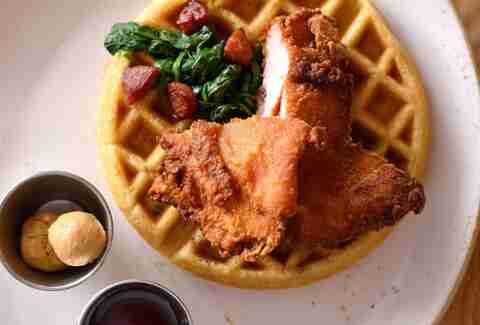 Concourse D
Chicken + Beer
Ludacris' long-awaited restaurant opened in Atlanta's airport after years of buzz. Named for his eponymous 2003 album, the menu assuredly features both items. Aside from poultry and booze, you'll find Cajun boiled peanut hummus and shrimp and grits. The company that partnered with Luda also runs One Flew South, so you know it's good.
Food Network Kitchen
This is pretty much the only place in the airport that serves coffee that isn't Starbucks. The kitchen has locally roasted Octane Coffee and dishes that focus on what's seasonal. Sandwiches on H+F bread make for a great grab and go, or you can stay a while and have a beer, a wine, or both! There's even Buford Highway-inspired pho if you don't get the chance to experience the city's ethnic dining mecca.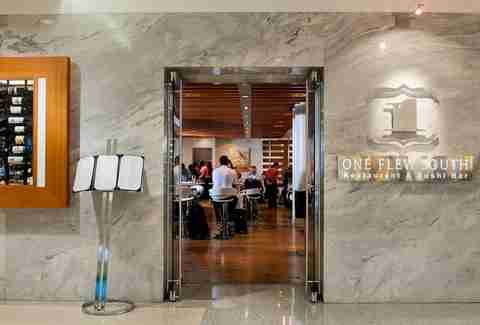 Concourse E
One Flew South
This upscale dining spot completely changed the airport when it opened as the only non-chain restaurant (at the time). Its regional cuisine, sushi, and craft cocktails have even been nominated for a prestigious James Beard award. It's not a stretch to say that THIS is the best restaurant in the airport and, quite possibly, all airports. Even the decor pays homage to its Georgia roots by using Cherokee marble and native heart pine wood.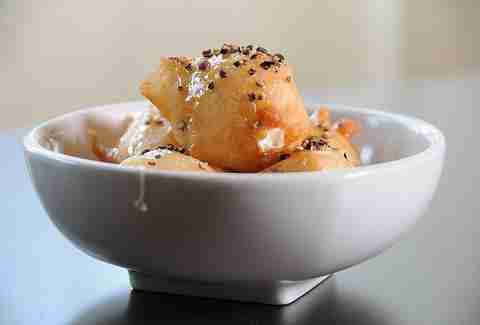 Concourse F
Ecco
The airport now has its own Ecco outpost, open for lunch and dinner. Travelers can enjoy pasta, charcuterie, pizzas, and paninis whilst sipping on wine and delicious cocktails. The real gem, though, are the fried goat cheese balls and gelato that might have you sitting around wondering if you should re-watch Due Date.
Jekyll Island Seafood Company
It might sound crazy, but yes, you can get a taste of the Georgia coast at the airport. Named for an island in the Golden Isles, the restaurant focuses on seafood dishes native to the area... so even if you don't make it to the island (or coast) itself, you can still sample dishes like shrimp and grits, Georgia grown trout, and fried or blackened catfish.
Sign up here for our daily Atlanta email and be the first to get all the food/drink/fun the ATL has to offer.