What to Eat at Atlanta International Airport
Hartsfield-Jackson Atlanta International Airport sees over 100 million passengers every year from every corner of the globe. But until the past few years, its food options were lacking, akin to a sad mall food court. Thankfully the interest in local businesses grew, replacing many of the national chains.
These days, visitors passing through the airport can experience some of Atlanta's most beloved restaurants without leaving the confines of the terminal. Give yourself plenty of time for your connection to experience the best of these planeside eateries, which we tracked down at every terminal. And as of 2020, there is no longer smoking allowed inside the terminals, so all eateries and lounges are now smoke free.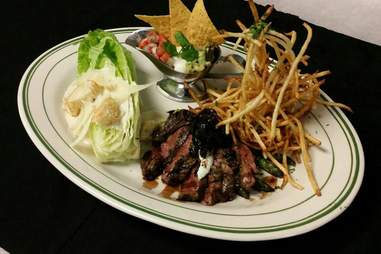 Atlanta Chophouse & Brewery

| HMSHost
Atrium
Atlanta Chophouse & Brewery
Closest Gate: Pre-Security Atrium (North Side)
If you want a sitdown meal before you go through security, this two level steakhouse makes you feel like a high roller. Stop by for the best New York strip in the airport with a pint of local Sweetwater beer. You can catch your team's game on the three flat screen televisions, and it's the perfect place to charge your phone and wait for your Uber into town.
Terminal T
Grindhouse Killer Burgers
Closest Gate: T11, additional location at D30
The burger chain inspired by grindhouse films is a local success story, growing from their stall at the historic Sweet Auburn Curb Market to five brick-and-mortar locations and two more at the airport. Their griddle-cooked burgers come in beef, turkey, and veggie varieties on potato buns with their signature sauce. Insiders know that it's great for breakfast, offering breakfast sandwiches, burritos, and avocado toast. 
Papi's Caribbean Cafe
Closest Gate: T8
From Havana to Atlanta, you can experience authentic Cuban food day or night in the T Terminal. Papi's has locations around the city, named for owner Reynaldo "Rey" Regalado's late father. Their expanded airport menu includes fish tacos, empanadas, and strong Cuban coffee. But be sure to try the tostones and the all important Cuban sandwich.
Terminal A
Chick-fil-A
Closest Gate: A Center, additional location at C21
No, we can't mention eating at the Atlanta airport without including Chick-fil-A. The nationwide chain and all-around institution has its headquarters in College Park (the neighborhood where the airport is) and first opened in Greenbriar Mall in 1967. If you didn't find your way into one of the locations around the city, you can pick up famous waffle fries on the way to your gate.
Tap
Closest Gate: A3
The gastropub is now the only location after the Peachtree Street location closed in 2018. But some of their best dishes live on, including the pub burger, which tastes like a classier version of Wendy's, and Cowgirl Creamery grilled cheese sandwich. Breakfast is also on order until 10:30am and a full bar includes craft beer, wine, and cocktails. 
Varasano's Pizzeria
Closest Gate: A Center
You don't have to put up with Sbarro anymore as Atlanta's best pizzeria has a location in the airport. Their pies use sourdough yeast dough baked thin with fresh toppings straight from the motherland. Nana's house specialty pie has their secret mixture of herbs and fresh mozzarella on a crispy oven-fired crust. Pair with local draft beer from Three Taverns as you listen to live jazz tunes from the piano bar or watch the incoming flights from the windows. 
Terminal B
Paschal's
Closest Gate: B Center
There's fried chicken and then there's Paschal's. Civil Rights activist Martin Luther King Jr. planned marches at the Castleberry Hill location. You won't find the history here, but you can get their Southern dishes, including the best fried chicken in the city, along with breakfast. It's been a staple since 1979 and is one of the longest-running airport vendors. 
Lottafrutta
Closest Gate: B23
For a fresh meal on the go, opt for this Old Fourth Ward-based favorite. Choose from smoothies, fresh salads, and sandwiches on their sweet Latin bread. Go for the Limonatta fruit cup, which includes papaya, pineapple, melon, and cucumber topped with lime juice and chile guajillo for a punch. Best of all, they open at 6am if you want to start your day off right. If you're looking for the best healthy dining choice in the airport, you've found it in Lottafrutta. 
Terminal C
The Varsity
Closest Gate: C21, additional location at F Mezzanine
"What'll ya have?" Servers in red hats greet you at the airport outposts. But you won't wait in line with college students or sports fans like at the 1928 North Avenue original. The Varsity serves their famous chili dogs, onion rings, and Varsity Orange beverage at this location and even has breakfast if your stomach can handle the delicious grease. Sure, you may find dozens of burgers in the airport, but how many are covered in chili? This restaurant wins for best translation from the Atlanta original. 
The Original El Taco 
Closest Gate: C14, additional location at F Mezzanine
Open from 9 am daily, the beloved Virginia Highland taqueria has two outposts at the airport. Here you'll find their signature frozen margaritas along with baha fish, pork carnitas, and even vegetarian tacos and burritos. Pair with the all-important guacamole. But don't sleep on the breakfast tacos, which have bacon, egg, and guac. 
Bantam + Biddy
Closest Gate: C Center
The Southern-style diner grew from its Ansley Mall location into two others across state lines. The airport location is a standalone restaurant in "The Connection" food court that serves their most popular dishes like fried chicken, sandwiches, and Southern-style sides. They open bright and early with breakfast. You can order at the kiosks to save time and grab a sweet treat at the neighboring Krispy Kreme.
Terminal D
Chicken + Beer
Closest Gate: D5
Forget that Popeye's chicken sandwich. The chicken sandwich at the Ludacris-owned restaurant is where it's at. Named for his 2003 album of the same name, the menu has both of them. The Cajun boiled peanut hummus and shrimp and grits are also favorites. The company that partnered with Luda on this Southern-style eatery also runs One Flew South so you know it's good. They also have a great selection of Georgia craft beer, served in pints and flights. 
The Market by Food & Wine
Closest Gate: D Center
Formerly the Food Network Kitchen, the Market by Food & Wine has dishes inspired by surroundings like the Big Peach sandwich (on bread by Holeman + Finch) and Buford Highway-inspired pho. Grab them to go or stay and enjoy a coffee, local beer, or glass of American wine. 
Terminal E
One Flew South
Closest Gate: E Center
This upscale dining experience completely changed the airport when it opened in 2008 as the only non-chain restaurant. Its regional cuisine, sushi, and craft cocktails have been nominated for a prestigious James Beard award for outstanding service. It's not a stretch to say that this is the best restaurant in the airport and possibly all airports. Even the decor pays homage to its Georgia setting by using Cherokee marble and native heart pine wood. 
Terminal F
Ecco
Closest Gate: F Mezzanine
The Italian-inspired restaurant is among the best in the city. The airport has their own outpost, open for lunch and dinner. Travelers can enjoy pasta, charcuterie, pizzas, and paninis with wine and cocktails. But their fried goat cheese balls and gelato are enough to make you hunker down into the airport like Tom Hanks in The Terminal. 
Jekyll Island Seafood Company
Closest Gate: F9
Atlanta may be inland, but you can still experience a taste of the Georgia coast at the airport. Named for an island in the Golden Isles (where there's another location!), the restaurant focuses on seafood dishes native to the area. If you don't make it to the island itself, you can still sample dishes like shrimp and grits and Georgia grown trout.
Sign up here for our daily Atlanta email and be the first to get all the food/drink/fun the ATL has to offer.
Caroline Eubanks is a freelance writer and Atlanta native. Her work has been published by Afar, BBC Travel, AAA, and National Geographic Traveler.