If there's just one thing that Atlanta is known for, it's probably the traffic. But if there was just one more thing, it'd be food. That's why, if you're from the ATL, there are certain things you've got to eat, things like BBQ, mac & cheese, and these nine iconic, signature Atlanta snacks...
The Frosted Orange
The Varsity (address and info)
Multiple locations
If you haven't answered the famous "What'll ya have?" with, "A Frosted Orange," you're missing Atlanta's most iconic snack: a creamsicle in milkshake form.
Totchos
The Nook (address and info)
Midtown
Available Redneck-, Cajun-, or Macho-style, Totchos are Midtown Atlanta's collective hangover cure, and the answer to the timeless question: "what would happen if you replaced the tortilla chips in nachos with tater tots?"
A-Town Cream
Sublime Doughnuts (address and info)
Home Park
The A-Town Cream is Sublime owner Kamal Grant's answer to a Boston Cream Pie, in A-shaped doughnut form. Their motto is "Eat one that's worth it," and this custardy, freshly fried pastry most certainly is.
Frozen Pints Ice Cream
Frozen Pints (address and info)
Multiple locations
Atlanta in the summer is really, really hot, and you probably consume a lot of ice cream and cold beer. The kind folks at Frozen Pints combined the two into one product, beer ice cream, for multitasking. You're welcome.
Chocolate Sea Salt Pop
King of Pops (address and info)
Multiple locations
The King of Pops, Steve Carse, started KoP as a one-man operation on a Poncey-Highland corner. Now found in restaurants, shops, and carts citywide, the chocolate sea salt pop is the classic that started the craze.
Pork Clouds
Bacon's Heir (address and info)
Multiple locations
Pork rinds are better than they sound: chips made of puffed pork skin. Bacon's Heir Pork Clouds are exactly what they sound like: addictive, airy, faintly porcine bites.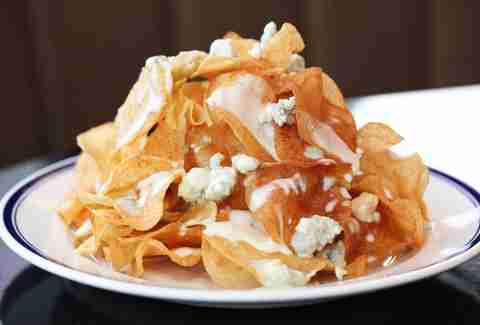 Warm Maytag Blue Cheese Chips
Buckhead Diner (address and info)
Buckhead
The blue cheese chips -- and the banana cream pie -- at Buckhead Diner are the reason every celebrity who visits Atlanta makes a pitstop at this Piedmont Rd institution, even though many great new restaurants have entered the picture since the Diner's heyday.
Pot Likker
Mary Mac's Tea Room (address and info)
Poncey-Highland
Pot likker is a clever term for the "liquor" that's leftover after cooking greens the way grandma used to: to death. Mary Mac's potlikker, served with yeast rolls and cornbread for dunking, is a quintessential Atlanta snack.  
Bonus: Hash Browns -- "Scattered, Smothered & Covered"
Waffle House (address and info)
Multiple locations
Yes, Waffle House is technically a regional chain. But it started in Atlanta, there are 132 of them here, and like Jermaine Dupri said, it's the only acceptable destination after the party. What do people snack on after the party? Hash Browns, "Scattered, Smothered & Covered." Case closed.
Sign up here for our daily Atlanta email and be the first to get all the food/drink/fun the ATL has to offer.